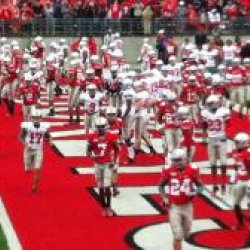 Mattymatt
---
Member since 30 March 2013 | Blog
Recent Activity
If you ask Dez, it was def. a catch.
This classes Dline haul is going to be insane.
Ohio's 12% abv cap is so amazingly stupid. These guys make some fantastic beers, some of which will only be able to be purchased out side the state.
It's almost football season right?
Yea this story is crazy. I have no idea how this is going to shake out. Are people looking at jail time?
Yup, people forget how terrible that 2013 defense was. Didn't that 2013 offense average in the top five in points scored? Put that offense with NC defense from this past year and the result would of been the same, National champs.
Urbz is really doing a great job of bringing in these high character guys. He's going to be a good one for sure.
No team in college basketball gets more calls then Duke.
One of my favorite bands of all time. Im sad I never got to see them live. Hopefully they will get back together in the future. I dig the solo stuff each of them have put out though.
First: Chevelle back in 2004 in Indy.
Best: Not sure how many people know the band but "Fair to Midland" in Cincy back in 09 was hands down the best live performance I have ever seen.
The FIFA episode was pure gold.
One of them was me, it was an accident. Fixed it.
Tradition the last two years calls for any canned beer from Jackie O's in the ol' fridge. Usually friends bring the food over I just supply the brew.
Does it try to start up only to put out cold air? Or is it just completely shut down?
How the hell did they pull 19 seconds of highlights out of the game?!?
My avatar is from Urbans first spring game. That was a blast, so many people there. I'll be there this year, its kind of a family tradition. The entire crew makes the venture.
I hate them to. Hate is a strong word, but I can't think of anything stronger.
Things are getting weird on here lately.
I don't know why, but I have a feeling Urban retires at tOSU. So Ill say, another ten, fifteen years. I know I know, wishful thinking.
Urban: "James, go sit in the corner."
James: "Im going to, only because you scare me."