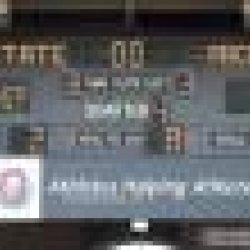 matti
---
MEMBER SINCE September 01, 2010
Recent Activity
I am dead inside is it 2020 yet
Good on Smith for doing this he doesn't often break off and fire off like this. Remember he resigned from the playoff committee when they started doing stupid things and called them out for that as well. Go bucks
Sitting back and letting it sink in. This game feels like the 2005 Texas game Lawrence playing the roll of Vince young on broken and gimmick plays. Go bucks.
His handling of this shows true Class true buckeye and all that you want in people who represent our university and state.
Correct answer is meteorite
Last play watch Brutus awesome!!! Somebody find that!
Gonna say if they played anyone other then auburn week 1 a game they should have won, they would be number 4 in the playoff. That said if Clemson loses I think they should be in this year. Some year someone should be rewarded for playing good teams out of conference, and not having chickenshit Saturdays.
Did not see it during the game broadcast. Quick question anyone see the usual Red away game sign from that true buckeye patriot? He had a some pure gold "welcome home coach Harbaugh" in 2015. Gotta appreciate old school analog twittering.
The SEC and Dabo just did a line of coke with a rolled up hundo (wolf of wall street style) and called OSU rank amateurs at this shit.
I want it noon no bs business trip get back and start getting ready for the last two games ASAP
The question I have is with a big game day 2.5 sacks 2 forced fumbles etc. Does Young start to get some Heisman talk?
That should have been illegal participation on Sparty the 12 th guy was involved in the play not running off field or in the huddle it's a 15 yard penalty not 5
Sure espn will be finding sick kid for Nebraska to rally around for the game can't wait.
seeing 4 straight noon kicks, no way Miami is a 330, can almost guarantee @Nebraska will be at night game with at least 2 sick Nebraska students getting the gameday treatment
I am siding with Tate on this entire thing they bring Fields in fine. Osu has no idea if he will even be available to play. Tate has been here busting it for two years dude is a competitor (aka like mayfield) and all he sees is the new guy chummy with the old guy out in front of everyone at a basketball game. Fields hasn't even touched the osu playbook yet let alone ran plays in live action and played well like Martell has. Martell is a competitor and ain't gonna put up with this nonsense. Also don't mess with other guys family etc. Day has gotta squash this stuff right now before it gets ugly and dudes start taking sides like Haskins already did.
Herbstreit giving Dabo and clemson a nice mouthhug right now
Nothing says heisman runner up like getting replaced in every meaningful game you played in the year
Everyone saw this coming except the playoff committee. Awsome job guys!
Night night Irish see you again in a decade.