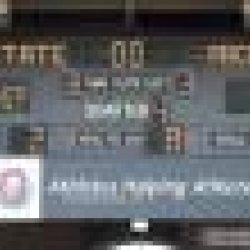 matti
---
Member since 01 September 2010 | Blog
Recent Activity
Well done good list and good job not going for the low hanging fruit. That being said forgot about that stupid roar over the pa for everything yay mcswerly tied his shoes correctly tonight roar roar.
Not a rival, big game yes, but not a rival.
199 why not 1 yard won the last one lol
I remember seeing an hbo documentary about the Washington post newpaper in its heyday after watergate and the heroin child report which the reporter made up and fabricated the story. In the light of this falsehood being published as news, the head editor told the reports just get all the facts and tell the truth warts and all about what happened with this reporter. If you like it or not that's what this committee did it gathered the facts and told the truth warts and all about what happened. Same for all of the 11w staff I enjoy reading the webpage everyday and greatly appreciate you guys just telling the truth warts and all throughout this saga. Thank you for being informative in this story and way better then a certain national sports syndacte who had decided long ago what the story was gonna be long before any facts. Now this is done live and learn from this and go buckeyes.
Still waiting on espn to talk about how court records were sealed ...... guess they aren't going to mention that .... still waiting
How about taking the new court to St. John's and call it a day
Guessing Minn will be the big night game (alternate uni game for the recruits) maybe see alts against TCU. Was gonna say Huskers big night game but travel to Sparty week after. Don't like the guaranteed grey sky noon kick nail biter at Purdue. Also everyone on 11w know Dantonio will use warlock magic to have an bombcyclone hit East Lansing in November. Another sure thing stupid white out again against PSU.
If he is on the university website he is on the payroll. So welcome coach Grinch beat the school up north.
Esecpn epically avoiding all big ten talk in garbage time
That frosh wide reciever wisky has from Ohio has pain in the ass Jerod Abtidaroiiojuioiuioiios wrote all over him
Ballgame. With this win it all insures Hairball losing New Year's Day. No way big ten go undefeated. Also Everyone should be totally ok with Hairball and the weasels losing
This is still the 1993 wisky offence expect a 12 play time running drive for a field goal
No I'll will to app state. always thankful for them allowing us to remember them beating that school up north. Ha ha chuckle chuckle
The bigger point is that the NCAA need a commissioner or a set of rules to even out scheduling power 5 9 conference games other conferences 8. No bullshit 1aa or non power five games in November. Etc
Gets no better next year out of conference
Buckeyes Oregon State TCU Tulane
Nickey And bama Louisville Nuetral site so he gets all preseason to concentrate Arkansas state Louisiana monroe and the chicken shit Saturday in november the fricken Citadel
seriously fuck you bama bitch scheduling he manipulates it every year to never fully be challenged
The committee is southern biased especially when Smith Beamer have to go out the room for votes
herbie said it losses matter. wins no longer matter
Should have scheduled Mercer instead of Oklahoma then cancel the 9 game reg season and then schedule Mercer on a neutral site
Fowler correct sec of mediocrity