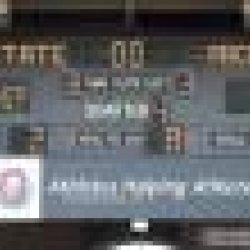 matti
---
Member since 01 September 2010 | Blog
Recent Activity
How about taking the new court to St. John's and call it a day
Guessing Minn will be the big night game (alternate uni game for the recruits) maybe see alts against TCU. Was gonna say Huskers big night game but travel to Sparty week after. Don't like the guaranteed grey sky noon kick nail biter at Purdue. Also everyone on 11w know Dantonio will use warlock magic to have an bombcyclone hit East Lansing in November. Another sure thing stupid white out again against PSU.
If he is on the university website he is on the payroll. So welcome coach Grinch beat the school up north.
Esecpn epically avoiding all big ten talk in garbage time
That frosh wide reciever wisky has from Ohio has pain in the ass Jerod Abtidaroiiojuioiuioiios wrote all over him
Ballgame. With this win it all insures Hairball losing New Year's Day. No way big ten go undefeated. Also Everyone should be totally ok with Hairball and the weasels losing
This is still the 1993 wisky offence expect a 12 play time running drive for a field goal
No I'll will to app state. always thankful for them allowing us to remember them beating that school up north. Ha ha chuckle chuckle
The bigger point is that the NCAA need a commissioner or a set of rules to even out scheduling power 5 9 conference games other conferences 8. No bullshit 1aa or non power five games in November. Etc
Gets no better next year out of conference
Buckeyes Oregon State TCU Tulane
Nickey And bama Louisville Nuetral site so he gets all preseason to concentrate Arkansas state Louisiana monroe and the chicken shit Saturday in november the fricken Citadel
seriously fuck you bama bitch scheduling he manipulates it every year to never fully be challenged
The committee is southern biased especially when Smith Beamer have to go out the room for votes
herbie said it losses matter. wins no longer matter
Should have scheduled Mercer instead of Oklahoma then cancel the 9 game reg season and then schedule Mercer on a neutral site
Fowler correct sec of mediocrity
Buckeyes won the big ten did all that they could have done. JT is the man with those guts dude should never have to touch his wallet to buy a beer anywhere in Ohio. Secspn is just a clown show booger is new mark may just filling a chair. If osu doesn't get in it will kill all out of conference games play Mercer instead of manning up and playing Oklahoma. Saban manipulates his schedule his out of conference big game is always neutral site and start of season with garbage afterwards
The way i see it is there are 3 good teams this year and luckily for osu they need 4 teams. Get in see what happens with urban hyping up the bucks to face Clemson again in the sugar bowl. Gonna take Urban going 2006 Florida hype to get the team up for it which I believe he can. If bama and the sec want two teams in play 9 conference games and don't play fricken MERCER the second to last week of the season.
Congrats to jt dude is the man manned up tonight in jt I trust
For some reason I remember Mo Clarett getting scopes and not missing a game in 2002. With 2017 technology I kinda see it. Get well JT go Bucks beat Wisconsin.
22-17-1 born before the 78 game. Remember the Cooper years all too well. Thats why we all should enjoy the new golden age of the buckeyes.
Be nice now that the offence will leave Penn State and Franklin can go back to averaging only 20 points a game.
Be nice now that the offence will leave Penn State and Franklin can go back to averaging only 20 points a game.