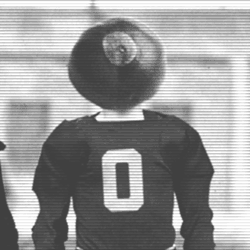 matt.green14
---
MEMBER SINCE September 15, 2016
Favorites
COLLEGE FOOTBALL PLAYER: Braxton Miller
COLLEGE BASKETBALL PLAYER: D'angelo Russell
NFL TEAM: Cincinnati Bengals
NHL TEAM: Columbus Blue Jackets
NBA TEAM: Cleveland Cavaliers
MLB TEAM: Cincinnati Reds
SOCCER TEAM: Fc Cincinnati
Recent Activity
Anybody heard anything about Sermon? Feel like it's been quiet on that front.
Obviously the time table for Edwards and Henderson has moved up but does anybody have a good guess on when we can expect one of them to get that last RB spot?
This is absolutely insane
If it means getting Egbuka then I'm okay with it. I've heard we were going to split the two between Clemson anyway.
If Sermon does come to OSU and Teague and Crowley can get healthy any combination of Teague, Crowley, Chambers, and Sermon will be very good. Especially behind that offensive line. Throw in Fields in his second year along with all of those receivers and watch out.
I hope the NCAA does this or at least something like this. Shut it down for a month or so and get rid of the dead period in the summer. If some schools are cancelling they're visits and spring games then they all should.
Could you imagine if OSU somehow managed to land Henderson and Edwards. I can't think of a better RB haul for OSU in recent history.
Literally all I said was he needed to wake up. Comment police.
Kaleb needs to wake up. Get Liddell in there.
Not saying whether he's guilty or not but polygraph tests are wildly inaccurate. There's a reason they're not used in courts. Need to wait for the evidence to be presented.
You're the one parading it around. I just think this news should be left off here, they're not with the program anymore. Let the legal system play out and wait for the trial.
What is this personal knowledge you'd like to share since you decided to tell everybody you have it.
My thoughts exactly, there are a lot of times to give second chances but if they're found guilty of this absolutely not.
If found guilty you really think they deserve a second chance for what they did if found guilty?
Very good win. Buckeyes are hot right now.
Are you kidding me Washington
Man it's awesome seeing the Schott absolutely packed the past 2 games
I'm not sure if anybody has heard but Illinois is playing for a four way tie in the big ten and a double bye in the tournament. Just a heads up.