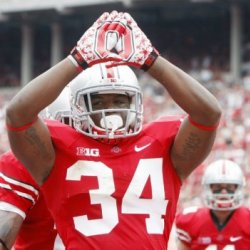 MassiveAttack
---
Columbus, Ohio (via Toledo, Ohio)
MEMBER SINCE June 04, 2013
Computer programmer, college football fan.
Favorites
SPORTS MOMENT: Holy Buckeye!
COLLEGE FOOTBALL PLAYER: Troy James Smith
COLLEGE BASKETBALL PLAYER: David Maurice Lighty, Jr.
NFL TEAM: Which one has the most former Buckeyes?
NHL TEAM: Columbus Blue Jackets
NBA TEAM: Miami Heat, since Shaq days. And now Cavs, too.
MLB TEAM: none
SOCCER TEAM: The Columbus Crew
Recent Activity
+1 for Childish Gambino and 3005. Don't forget to rock "Heartbeat," from him as well.
Nothing like getting triple-teamed and still getting the sack, against great competition.
Are you not entertained!!??
While Teddy Ballgame played WR at Ohio State, I think he was a 5-star at the Corner Back position.
+1 for all Stargate references! On a "sad" note, GateWorld is now defunct, as of 1/1/2020.
My picks, in order:
Nick Bosa
JK Dobbins
Joey Bosa
Ezekiel Elliott
Chase Young
I was texting this to my friends all night.
Did you watch the game? Wisky had 4 turnovers. And the refs did them no favors. Also, they had a highly regarded QB who just left.
Not to sound like a Michigan fan, but the star system is not always accurate. If you look at our 3 star guys, most are from Ohio. I'll take an Ohio 3 star and be happy because this kid has grown up a Buckeye and knows he has to work hard to play.
Northern state 3 star guys can easily be 4 or 5 star guys that just need another year or 2 to develop. Northern states don't have spring football, so these guys don't develop as fast. Ohio State has a strong track record of developing these guys into strong players, and plenty of NFL starter (look at all our our 3 start offensive linemen starting).
Would I prefer all 5 stars? Maybe, but you only have to beat Alabama and/or Clemson once a season. You can do that with the talent we are recruiting. I would pose this question to you, "was the 31-0 loss to Clemson more about coaching or players?" I'm betting it was some of both, but more on coaching. I think that is why Ryan Day was hired.
Pepperoni and Pineapple are a killer combo. Ham and Pineapple are just so-so. A Pineapple pizza will always be the last one left, because everyone is afraid to try it.
My wife and I have been eating pep and pine for 20 years, but no one in her family had ever tried it. We ordered some for a birthday celebration and got mostly gaped mouths and indifference from them, until her brother tried it. After giving his approval, all 3 of the pep/pine pizzas were gone in 20 minutes.
I thought Tate should have transferred to Cincinnati. He would have played a bunch because their QB Ridder was hurt and or not consistent.

I think he was looking at the girls and the sunshine
You wouldn't know it by the lopsided efforts many times give in their bowl games. Really, this is the reason people say there should be less bowls. Granted it is a selfish television viewer's opinion, but when you want 7-6 team A beat 6-7 team B by 30 points and it's not even close, you question the number of teams invited to bowl games.
It doesn't bother me one bit that there are so many bowls, I just want an alternative to watching basketball around the holidays.
Upvote for you. Don't forget that they were locked into General Studies, so they will likely graduate with no real job skills!
I see what you did there!
Match them up with Cincinnati!!!
Defensive Lineman Rashan Gary, was taken 12th overall, to Green Bay. Chase Young had more sacks through the Wisconsin game than Gary had in 3 years of starting at Michigan. 2016=1, 2017=5.5, 2018=3..5
"You got barbeque back there??!! And didn't invite me??!! HURT MY FEELINGS!!!"
The third mistake was that the Replay Official CONFIRMED the targeting call.
That Tweet from Jon about Harbaugh and Dobbins' shoe size was epic!
Allegedly, Xichigan had a huge load of about 40 recruits on hand to watch The Game. Although, I did not notice any halftime de-commits, like we've seen in previous weeks, I wonder how many were given a lot to think about.
2020
4-star OLB Jaylen Harrell (Official Visit)
4-star CB Darion Green-Warren (Official Visit)
4-star OL Myles Hinton
OL Jeffrey Persi (Commit)
3-star OL Reece Atteberry (Commit)
4-star OL Zak Zinter (Commit)
4-star DL Braiden McGregor (Commit)
4-star LB Kalel Mullings (Commit)
3-star LB Cornell Wheeler (Commit)
4-star DB Makari Paige (Commit)
4-star DB Jordan Morant (Commit)
4-star DB Andre Seldon (Commit)
4-star DB RJ Moten (Commit)
2021
4-star RB Donovan Edwards
4-star RB Mar'keise Irving
4-star OL Giovanni El-Hadi (Commit)
4-star OL JC Latham
3-star OL Cullen Montgomery
4-star OL Rocco Spindler
4-star OL Raheem Anderson
OL Ross Maseuli
OL Ru'Quan Buckley
3-star OL Ramier Lewis
4-star OL Caleb Tiernan
4-star OL David Davidkov
OL Caleb Banks
4-star DL Aaron Armitage
4-star DL Victory Vaka
4-star DL Tywone Malone
DE Jason Onye
4-star LB Jamari Buddin
3-star LB Damon Ollison
4-star LB Junior Colson
3-star LB Kobe King
3-star LB/DB Bryce Steele
3-star CB Kalen King
ATH Jantzen Dunn
ATH Deion Burks
​
It's been a while for Georgia Tech, but South Carolina Gabe Georgia it's only loss, about a month ago.
My favorite Key Stat: Xichigan is 1 for 1 in penalties awarded for shoe untying attempts.
I disagree. Cincinnati can get all of the Ohio 2 and 3 star kids, if they keep winning, and keep some consistency at coach. If I were the AD at Cincy, I would lock Luke up for a 5 year contract and tell him to take every Ohio kid that wants to play, but didn't get offered OSU.
Sounds very analogous to Rutgers!
Define "better job." The pay and facilities are better.
Plus you can get all the Ohio 2 and 3 star recruits that OSU doesn't take. 33% of those guys are 4 and 5 stars who just need another 2 years to develop.