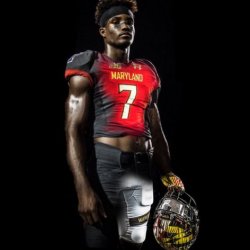 MarylandPride
---
Member since 19 August 2013 | Blog
Favorites
COLLEGE FOOTBALL PLAYER: Torrey Smith
NFL TEAM: Washington Redskins
NHL TEAM: Washington Capitals
NBA TEAM: Washington Wizards
MLB TEAM: Washington Nationals
SOCCER TEAM: DC United
Recent Activity
That's it.
Unfortunately, he's not expected to qualify....pretty much anywhere.
Tennessee's Candace Parker left after her junior year but its very rare.
Almost nonexistent.
As far as I know it is.
In-home tonight. OV over the weekend.
If Locks is dirty I wish he'd do a better job.
He wanted in but Maryland wasn't interested.
Maryland has a limited number of schollies left and they've prioritized other recruits.
http://colefieldhouse.umd.edu/
http://marylandpride.com/new-cole-field-house/
Fwiw, Rowe has a very strong arm. Classic gunslinger type
Brown imo, is the game manager.....with the ability to run.
The issue is that CJ Brown (starting QB) is inconsistent as far as the deep passing game goes.
So because of this they've relied in large part on quick screens etc.
Now if Caleb Rowe (my choice) starts this weekend the game plan changes.
Quicker release with a very strong arm.
Yep. It was Taivon Jacobs.
He won the starting slot receiver job but unfortunately, he injured his knee the first game of the season.
Out for the year.
Yep. It's small. About 55,000.
6/29
Rutgers: Rashad Blunt WR: 6'2 190 over offers from Cincinnati, East Carolina, Pittsburgh.
7/1
Purdue: Wyatt Cook LB: 6'3 225 over offers from Virginia, Maryland
7/2
Maryland: DJ Moore ATH/WR: 6'0 180 over offers from Virginia, Indiana. Illinois
1.) Maryland (home state school)
2,) Florida St.
3) Clemson
4,) USC
5.) Hawaii (My alma mater. I wouldn't choose them for athletics but there are other reasons.....)
6/24
Maryland: Will McClain- OT 6'5 290 over offers from WVU
I WANTED TO THANK THE ENTIRE OHIO STATE FOOTBALL STAFF FOR RECRUITING ME! THEY WERE GOING IN ANOTHER PATH BUT ITS ALL GOOD#StillBlessed

— Dee Fullwood (@realdeewood) June 23, 2014
Gary was known around College Park as a "partier".
I'll leave it at that.....
Ok. Perhaps I should have used a different word.
That was unintentional.
I can't really explain it but Franklin just "grabs" kids.
Even if they have a down season I expect most of the recruits to stay on board.
Personally, I'm not a big fan of his but I do recognize his strengths.
Yeah, I think it is sustainable...unfortunately.
Franklin's just very charismatic.
As a Terps fan overall, I can't complain too much.
Yeah, I wish we had gotten Tabor and entered the B1G with a bang but it is what it is.
While our class could have been better it does fill some needs.
Maryland's biggest weakness was along the offensive line and they (hopefully) shored up that weakness.
We brought in 3 guys who will more than likely be starting in the fall.
5* OT Damian Prince,
4* OT Derwin Gray, Second-best prep player in the country, best prep offensive tackle
3* OT Larry Mazcyk Juco All-American
So like I said, I can't complain much.
I would laugh but given the last few years at Maryland I can't really say anything.