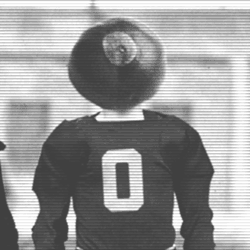 marvorama
---
Member since 30 August 2010 | Blog
Favorites
COLLEGE FOOTBALL PLAYER: Braxton Miller
COLLEGE BASKETBALL PLAYER: Mike Conley
NFL TEAM: Chiefs
MLB TEAM: Royals
SOCCER TEAM: Sporting KC
Recent Activity
I don't think we've ever gone into a football game here where we didn't think we couldn't win."
I'm not a grammar expert, but this sentence has a triple negative. I think if you simply the sentence you get the following:
I don't think we've ever gone into a football game here where we thought we could win.
Dantonio, maybe that's MSU's problem this year: You don't think you can win any games!
There's a typo in the table above -- the original Tweet shows that Lattimore has allowed 2 receptions on 14 attempts. Much better ratio.
And this:
www.sbnation.com/nba/2015/10/27/9621368/john-henson-wisconsin-jewelry-store-discrimination
What's the scale of this medal, about olympic medal sized, or smaller? Looks like it's meant to hang from your neck. I would most definitely wear this to work every day.
Read nothing into comments on ESPN in general; no matter the subject, trolls emerge there to spew hate. I find that the commenters on sbnation, while fewer, are better informed sports fans. Here's the latest from sbnation on this same topic:
http://www.sbnation.com/2016/8/24/12628454/chargers-statement-joey-bosa-holdout-offset-language-signing-bonus#comments
Commenters here are much more even-handed. I like to believe that "sports fans" will throw out their hot takes on ESPN, but their opinions count for nothing . More intelligent fans, like the ones generally on sbnation, are the ones you'd rather sit down and have a beer with.
Kyle Whittingham, for taking the Utes from the Mountain West to the PAC12 and sustaining the success that Urban Meyer had laid the foundation for. Utah isn't a hotbed for recruiting, either, making his tenure even more impressive. Similar to the success that Wisconsin had (and even a similar blueprint for building teams by winning the trenches and smashmouth football) under Alvarez and Bert, only under a single coach.
You got it. I couldn't force myself to type out the words, so I figured a picture would suffice.
This is apropos of nothing, but the first picture made me do a double-take. It looks like Garrett's hand is in Urban's pocket. I thought, "man, they really are buddies".
I think Deadspin is just trying to keep the story alive for clicks. Nobody in the comments in that Deadspin post actually agrees that Harball looks like the bigger man here (let alone got a better "burn").
That picture of Urban holding up the crystal football vs. Harball shirtless is priceless, however.
Hey, I live just outside South Jordan! Should I go personally recruit Tufele or is tweeting at him eighttwelve times a day enough?
Peppers seems to be a dynamic athlete from what I've seen, but his instincts need refining. How many times in The Game did he make a bunch of lateral cuts, only to get tackled for a middling gain? Running 40 yards to pick up 8 may demonstrate that you're a dynamic athlets, but does it help your team? It's as though he believes he's the best athlete on the field and relies on that to try to beat you, vs. a player with athleticism and discipline to not fall for his jukes and flailing limbs. I remember another former UM player who overinflated his confidence in his athleticism and ended up not doing so well -- Sam McGuffie. Peppers is larger than McGuffie, though, so he will fare physically better.
Perhaps he will improve in this area as he gains more reps,. However, if they are trying to use him as their Darren Lee, the biggest discrepancy is that Lee has tremendous instincts on top of his athleticism. That's what makes Lee so dangerous -- his overall abilities make him a tremendous football player ,not just a tremendous athlete.
All four of these guys are such great ambassadors for Ohio State. Eze is just a big, goofy kid who likes to hit people. Taylor Decker is already a pro. And Braxton? He just oozes charisma. There will be a bright future for Braxton even after football.
That Tressel interview is fantastic. Don't just watch the video, read the article. I loved this gem about his time with the Colts:
They need to win to get in to the playoffs, we're 0-13. We've got Curtis Painter as our quarterback (I'm better than Painter), and we beat them.
Great write-up, thanks for the insight. I will say that "McDoom" is a pretty great name. Even if he's doesn't pan out on the field, that would make an All-American name-only roster.
Great find. There's another little gem in there, after Schiano turned down the offer:
It was at this point the search careened wildly, with the internet (and myself) seizing upon any vaguely viable or terrifyingly DOA candidate: Jim Grobe. Brady Hoke. Mork and/or Mindy.
Sure, Hoke got a few more years of seasoning before he was later hired, but it's hard to go from a "DOA candidate" to "OK, we'll take you as head coach now" in 3 or so short years.
Wow, unbelievable!
...I mean, Shugarts stood perfectly still in his stance, unlike the multitude of false-start penalties called against him.
The Game, 1968 edition - the "Couldn't go for 3" game
Northwestern 2000 - The Spread says "hello" to Big Blue
In The Game, 2006 edition, the Shawn Crable late hit on Troy Smith would have to be a highlight.
Not sure why you got the DV. To my amateur eye, I first noticed Dontre's otherworldly second gear. Then I saw a block in the back as well -- and right in front of the ref, too.
It looks like Roby tried a spin move during his INT return. Buckeye spin move fever!
Utah's defense has been performing at a high level. Their win against TTUN is looking better each week and they shut down Oregon in Eugene...not an easy feat. I live in SLC, so I'm inundated by homers on local sports talk radio, but the Utes look legit at this point of the season.
Aw, you better not be disrespecting Bela Fleck and the Flecktones!