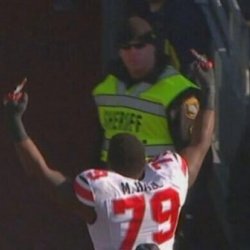 Marcus Hall's Middle Fingers
---
MEMBER SINCE July 29, 2014
Recent Activity
"What an insanely wild idea! Adjust the game plan to emphasize player strengths!! Just might work!!!"
The previous offensive coaching staff also adjusted the game plan to emphasize player strengths. The game plans changed for the last three games in 2014 when Cardale Jones became the starting QB, featuring a more vertical passing game. Dwayne Haskins certainly was not running the same offense that JT Barrett ran the previous year.
I always felt like where Meyer struggled a bit was with the passing game. Herman/Wilson/Day made him better because of their expertise with throwing the ball. Urban was really more of an option run game coach than a "spread" guy.
There's definitely something to say about the hunger of an up-and-coming new head coach.
Meyer had reached the point in his career where he was going to roll with "his guys", because he had the clout to. I don't think Day has any "guys". He doesn't have the clout to be loyal like Meyer was. I think he's going to find the absolute best coaches / players to give him the best chance to win. At this point in his career he has to be willing to fire anyone.
I get what you're saying, but it's worth mentioning that Urban was a leading voice in developing offensive concepts that revolutionized the game of football. He knows his X's and O's. It was obvious that he was at his best though when paired with offensive coaches with fresh ideas (Herman, Wilson/Day).
I like Coach Day and I hope he is enormously successful, but Urban Meyer had an inner drive that is uncommon. There's a reason why the vast majority of coaches never win one, let alone three, national championships. From a coaching perspective, I worry about a program where people are too comfortable. In my experience, at times (not always), comfort can lead to complacency.
I'll be watching for the results, and if Day produces on a Meyer level, I'll happily rethink my viewpoint. I hope I'm forced to do that!
Tathan Martell was not a viable option. The QB room was very thin.
On the high school level, I know teams that haven't tackled to the ground for several years now, and they win a bunch of games. Technique is taught on dummies, scrimmages are thud, no full contact to the ground. Then they absolutely bring it on Friday night! And again, they are highly successful.
Maybe it's the coach in me, but I'd be happy to pay $5.00 to watch THE Ohio State University Buckeyes practice. What a great way to spend an afternoon! Then again, as a ball coach, I probably enjoy practice more than a normal fan.
You should try my favorite New York pizza joint
Well done sir. Thank you for the laugh.
I HATE the team up north. Back in 2013, Marcus Hall was ejected during The Game. The Game was played in Ann Arbor that year. As Marcus Hall was walking back to the locker room, he flipped double birds to the crowd. I know it was wrong, but I can hardly describe how much I loved that moment. It was iconic to me. Guilty pleasure, I guess?
In my normal life I'm pretty buttoned down and straight laced. People that know me would be shocked if they knew how I secretly felt about a Buckeye player flipping off a rival's stadium. It feels good to come here and take on a bit of a different persona.
Being a great player doesn't necessarily transfer to being a great coach, but in Hartline's case it definitely has. He's been tremendous in his work with the wide receivers. The improvement in one year has been outstanding. Great move adding him to the staff.
Man, I've been involved in too many "bizarre blips" in West Lafayette, to the point I won't go watch the Buckeyes there now, and it's only about an hour from my house. Punched in the gut too many times, had to walk through obnoxious Purdue fans without lashing out too many times.
I took my kids to see Twenty One Pilots in Milwaukee on October 20th instead of watching the game in person or on television because I just knew it was going to happen again. Our weekends during the fall revolve around the family watching Ohio State football together every Saturday, but not that night. No regrets on it either.
I would argue that those guys are still the real winners though, because Memphis. If I lived there I my girth would be ridiculous. So much good food.
Could not agree with you more. That was exactly what I was thinking when I read the tweet.
I cannot stand coaches who make everything about them. Sorry, but PJ Fleck is that guy. He wants that spotlight for his ego. He couldn't be more different from our beloved former Coach Tressel.
When I talk to people in Carbondale and around Southern Illinois, they speak to what a great coach and person Jerry Kill is / was during his time there. There is still a ton of respect for him down there.
I have talked to people familiar with the program at Western Michigan. They talk about what a great job Fleck did as a coach.
Even though you are being sarcastic, I gave you an upvote because I agree with what you said!
I think I get the sentiment. As in "the ball was distributed just to keep people happy". That may be the case. Zeke's meltdown after the MSU game may have been evidence of it.
It seems worth mentioning though, there are very good offensive coordinators who consciously spread touches around as part of their philosophy. They have an assistant coach or G.A. chart touches by each position so that they can access that information during the course of the game. It's based on maintaining a "balanced" offense.
Often when people talk about "balance" on offense, it's in reference to run/pass ratio, or rushing yards vs. passing yards. Sometimes it's a good way to look at balance, other times it's worthless. There are offenses that define balance by "we can throw the ball effectively if we have to" or "we can run the ball effectively if we have to". These tend to be run or pass heavy teams.
A way that spread offenses look at balance would be "are all of the skill positions a threat?" If not, there is a lack of balance. After all, If you spread the field with athletes, but some of them never/seldom touch the ball, the defense will take that into account. You lose some of the threat presented by spreading the field the field in the first place.
Not saying this was or wasn't a factor in the play calling in 2015, just felt like talking a little ball.
It's ok. I'm also an asshole. It's how I recognized EarlFan for one so easily.
Well, evidently you're an asshole.
I'm not curious. Piss on his critics.
I agree. I've enjoyed his work very much.
When I was in college, I learned to play the harmonica from listening to the masters. Junior Wells was my favorite player, and biggest influence. I haven't played in years though.
My buddy that was learning to play the guitar during that same time stuck with it though. He put out a couple of blues albums, did a few European tours and one in Japan. He even got the occasional spin on B.B. King's old show on SiriusXM Bluesville.
Junior is the man.