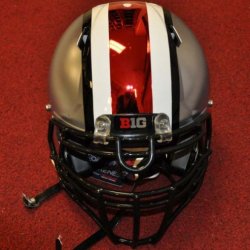 magruder80
---
MEMBER SINCE August 25, 2014
Favorites
SPORTS MOMENT: Sitting in the Big House watching Anthony Gonzalez make the Catch against TTUN
COLLEGE FOOTBALL PLAYER: Jake McQuaide
NFL TEAM: Cleveland Browns
Recent Activity
When does the season start??
Come on Andy, if you are going to create a burner at least try to not be so obvious.
The thing about heart, toughness, character is that it can be faked. Guys can show those characteristics when the schools show up to look at them or in the weight room. I can fake my level of determination at my job to but doesn't mean its real. With the analytics, you are right its not the end all for recruiting but its a dam good base line into that player. Things like, 40 yard dash cannot be taught, broad jump with a high baseline of explosiveness, 3 cone drill does the player have loose hips, that helps the recruiting process. The schools can look at that player and know they have something to work with lets look farther and then the heart, toughness, character come into play for them. But the analytics help them identify a player that could be great.
With the stadium itself, there is really not a bad seat in the place. The thing that shocked me about it is how small and intimate it feels. Most of the visiting fans sit in sections 102-104 (in the corner of the endzone) but lets me honest Ohio State fans take over that stadium. You really cannot go wrong with a seat in the place.
Thank you for speaking for every member.
Thank you for putting the numbers together to show the comparison because everyone is right, the last 4 years of Matta overshadow his true greatness. I would be curious what the numbers would show without those last 4 years because you have to think a bulk of the losses were from then. I am an Ohio State fan so of course I am taking Matta but I am sure if you ask AA they would say the same thing about their guy. Great numbers for both and helped elevate the programs they were in and left them in a better state.
Regardless of where he is from, if the guy you have been with since Day 1 and had success with and told every new job this is my guy pay him what he wants. You are telling me Mariotti wouldnt leave for that? I am sure Florida said the same thing.
Why on earth would anyone train anyone on how they got to be successful at their jobs? They have tricks of the trade they use and things they have learned over many years of experience. To expect them to be 'mentoring' anyone is not the right train of thought, it is up to that assistant to pay attention and learn not the other way around.
Motivation for this season, no I do not think it will be because if that is what the guys need for motivation I think they are doing it wrong. But making a name for themselves? Absolutely it is and always should be the motivating factor for them.
I mean, ya they are speakers 100% but honestly the noise coming from them is not even noticeable. I have stood next to them and really nothing at all and not sure why they are there to begin with.
If you could for me to learn, what is the difference in the 1-3 inch difference that you are talking about? Functionality reasons, what he was able to do was completely acceptable and would work for football functional lifts. Maybe in a professional weight lifting meet it would not count but what is this difference you speak of when it comes football lifting?
What a series for the CBJ and the city to come out and support so strongly. There was a topic that was posted here with the person wanted to fire everyone associated for the CBJ and ranting about the team. Its weird that that topic was deleted because I can't find it.
I was going to write something but a TTUN person is DV anything that criticizes them. If you want to hire someone badly, you tend to say anything to get them to sign. In all the years of JH coaching has he ever given up control of the offense? I am asking because I don't know the answer but I do know that he never has given up that control, there is no way Gattis is going to get him to change.
Not the 'we cant recruit DT again'. Its April 3 and you are talking about how this is depth gets depleted and seasons are over. There is a whole spring, summer and fall season. If come October 13 there still is no one on the radar then this is a great talking point but not on April 3.
Now I would generally agree with your point about Houston and Chicago having rings to show for it, there is universal agreement that if the Astros did not trade for Verlander they never would have won the championship and the Cubs paying Chapman that contract would be the same thing. Point is teams that are close open the checkbook for players.
I am a big time Browns fan and dealt with their whole history but at the end of the day I will always be skeptical of them and their chances, so I would have to go Buckeyes.
No they truly cannot get worse for Browns fans. 1-15 and 0-16 in back to back years is about as worse as it gets for an NFL franchise. Could you explain how it gets worse than winning 1 game in 2 years?
As a Browns fan, I am sick of drafting players with the hope they turn out. They have a top 3 WR in the game and they gave up a first for him. I would always take the proven player over the chance of a player any day of the week.
Who hurt you today? It will be ok I promise.
Why do we want to draw more attention to the B1G as a basketball conference? Analysts are saying the B1G is top 3 basketball conference right now with the depth of good teams in the conference. I don't know if adding a 'rivarly weekend' will change that but what will is start making noise in March instead of quit exits by majority of the teams.
I remember everything about the 1997 Rose Bowl against Arizona State. David Boston and his steps in the end zone will forever be imprinted in my mind. Also Brent Musberger going insane for Jake 'The Snake' Plumber and Joe Germaine with his band aid chin leading the come back.
The first game I attended at the shoe was 1998 Ohio State v Michigan State because it was my first ever game in person. I will not relive that game but that was also a big reason why I remember it so well.
While I agree with you, this is an owner of an NFL team. A league that tends to give punishment to players before any facts come out and likes to be the judge and jury of these players. The development will be what the league does in this situation.
As far away from students? If you are in the Veterinary School its the exact same distance but yet somehow that school gets students to attend. And its like 200 yards past St. Johns, I don't think its the venue location that is the problem.
I am confused here, what do you mean closer to campus? It is across the street from St. Johns its not like its a mile from campus.
To me my excitement for recruiting and signing day happened when Ted Ginn announced at the Army All American Bowl. I had no clue who this guy truly was or what he would come to mean for Ohio State. I just knew that this sought after player was coming to my favorite football team and thus began a love affair.