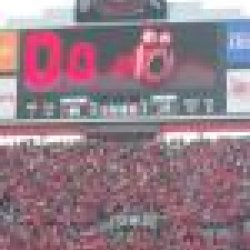 madhatterhater
---
Member since 02 February 2011 | Blog
Recent Activity
Great reply!
I think Sam Thompson should have seen some time in the 2nd half.
That possession at the end of the half was really a momentum changer, plus the two points were huge.
I blame it on the Dome.
I don't really know much about b-ball, but I do know some team will probably pay him plenty of money. Defense is not a real big issue in the NBA.
Matta got this team back from a late season wreck, but I guess everyone has forgotten about that.
On the bright side I don't have to use any sick time Monday.
Plus in three years Cal will be under investigation. I kid
When Sully would look to pass no one was around to give it too.
I would say they quit.
I am a bit disappointed, but hell of a run. Now into the sports abyss until August. I will spend the my time fishing until football resumes.
The ending of the game was weird. Louisville didnt seem to be in much of a hurry.
There were a lot of anticipated foul calls. It was almost as if the refs were not able to get in proper position. I think it was equally poor.
This teams really looks like the having fun together. Williams was amazing. I'm so glad I got to watch Hawii 5-0 instead of watching the boys cut down the nets!
I have to go to Cincy tomorrow for dinner with friends who all love UC. I'm not really the trash talking type (they are), but I'm going to rock my OSU gear. I am also glad I won't have to hear it from my inlaws.
I think Cronin is a good coach, but he always seems to whine all the time. I live south of Dayton and north of Cincy. I have to hear all the little man syndrome from UD and UC fans. I would actually rather play at UD than UC because their fans actually sellout the arena. I actually like UC, but get annoyed by the fair weather Cincy fans. Sure OSU has their share of a-hole fans, but they usually don't come and go like UC fans. What's the over/under on how many times the completely washed up Nick Lachey is mentioned.
Williams appeared to be more confident then he has in the past.
Michigan actually gets to play Ohio. Do they call them state.
I like the draw, Syracuse will be tough. Most teams are tough this time of the year.
I liked it too.
This team has no composure when it comes to small time.
He comes an unexplainable turnover.
I watched a big east game the other day. I was thinking how nice it was to not really notice the refs.
WB
Sully thrown to his back. No over the back?