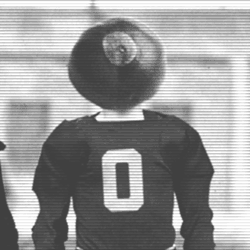 Mad4527
---
MEMBER SINCE April 26, 2018
Recent Activity
Throw Dennis Dodd on there. He has consistently lobbied against/trashed OSU for years.
That would have been the case before the suspension. This is different than Bosa. He's not currently injured. If OSU is undefeated while he's out, he'll be playing for the title.
Good! If it ain't broke, don't fix it.
We've been doing that all season and not given up points since the first game.
And give up less than 17.
After watching the Cowherd clip, I think he was just serving up some talking points for Klatt. He was so prepared for that, it seems like it was rehearsed ahead of time or at least he knew it was Colin's take. This is a show on Fox and they are pumping up their product (TOSU) the same way ESPN does Bama and the SEC. Colin is just doing his part by being the antagonist so Joel can "school him."
That's the Bengal way.
Yes, he does.
People hate to watch games with me. I'll leave it at that.
I think that is Young and Larry Johnson.
Name checks out. Canada huh? Almost made it.
Never forget. OSU beat Baker's ass the year before he planted his little flag. It bothers me that the OU win is all many outside the program remember thanks to Baker's theatrics.
I don't like Friday night games, but the silver lining is that we have one day less to wait coming off the bye week.
What did they say when you warned them?
Yep
We'll find out next week when FAU and Charlotte play, not that it matters.
Agreed. If we wanted two more ranked teams, we (as a conference) shouldn't have lost to AZ St and Temple last week.
Can't wait to see him back at DT. Imagine what he can do rushing the middle, being able to run down a jet sweep.
IMO, knowing "Bama Man" just sat down and sulked after that play is even more satisfying than making fun of Kiffin in that same moment.
Says, IGotAWoody, Lol. I agree though.
I have. It's beautiful. There are a lot of beautiful campuses around the country. The game day atmosphere is great, much like Ohio State, and that is wonderful for fans. But it doesn't mean much for players. What can Tennessee offer that OSU doesn't? Now reverse that statement.
Vrabel was gone in 97, but hey, we'll take it.
You wonder what kind of coach would allow stupid shit like revenge tours to be talked about openly, having a player go out and kick/dig the turf up over the Spartan logo, talk of little brother(after your 5 yr career is over, 2-3 btw), guaranteeing a win before the big game.... The idiot who does the same shit. He's off to a stellar start this offseason.
Just listened to him answer questions. He just so flipping awkward. The first reporter asked his thoughts about the B1G being left out of the CFP the last two years and he just bumbled for a few seconds, acted like he didn't understand the question and said you guys should research it. When asked what steps they are taking to finally beat OSU, he basically did not answer the question. He gave some canned responses about his team and left it at that. Just an awful interview.
Missing from the recap. Day did mention Browning and pretty much every other scholarship LB.