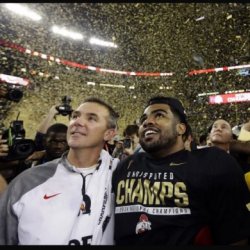 Macke777
---
from Seven Hills, Ohio
Member since 03 July 2014 | Blog
Favorites
SPORTS MOMENT: 2014-15 National Championship season; Honorable Mention: Every game we beat scUM and the 2002-03 National Championship.
COLLEGE FOOTBALL PLAYER: Every player to wear a Buckeye uniform(How the hell do you expect me to pick only one!)
COLLEGE BASKETBALL PLAYER: (Read above comment)
NFL TEAM: Teams with Buckeyes and Cleveland Frowns
NHL TEAM: Do any Buckeyes play in the NHL? If so, their team
NBA TEAM: Cleveland Cavaliers and teams with Buckeyes
MLB TEAM: Cleveland Indians and teams with Buckeyes
SOCCER TEAM: No. No. Hell No, you get your ass kicked for that.
Recent Activity
Wow. Ryan Shazier is an inspiration. The sky is the limit. Go Buckeyes!!!!!!!
Thank you. Any team that loses ten games in the SEC should be barred from tournament play. Hell, Alabama should be a fifth seed in the NIT.
To be fair, the Browns have wronged everyone that lives anywhere near the city of Cleveland for the last couple decades. I honestly think die hard Browns fans have Stockholm syndrome at this point.
The Panthers went from four awesome Buckeyes playing for a Super Bowl to one Buckeye playing for second or third place in their division within a couple years. It's a shame.
The pay scale might be evening out a bit. DTs are having a bigger impact on pass rushing with the Aaron Donald types and running is becoming more important again as well. A Guard that keeps the QB upright and provides yards for the RB is worth the cash, especially for a team like Jacksonville that is on the cusp of bigger things and just invested a top 5 pick on a RB with a history of injury problems.
Alabama's selection is even worse. The Big 12 is a good basketball conference and Oklahoma has been a good team recently, though not this year. On the other hand, Alabama is a crappy 19-15 team playing in a crappy conference with no recent record of success. They were picked for no reason other than ESPN's SEC preferences. 15 damn losses? I'd take Oklahoma over Alabama any day. I seriously think the selection committee held the Big Ten to 4 teams to throw a bone to ESPN. The NCAA is a massive joke of corruption, collusion, and fraud. Six SEC teams in with double digit losses is four or five too many. I guess they don't really care about objectivity anymore. I hope the FBI investigates them all, from Emmert on down.
I'll see your 18-13 Oklahoma and raise you a 19-15 Alabama. At least Oklahoma plays in a good basketball conference.
It's a circle jerk. The SEC got 8 in, including a 19-15 Alabama team, so quality doesn't actually matter.
Also, the committee dry humped the leg of the SEC. 8 teams in the top 36? Really? Did the committee smoke crack before they made the selections? Did ESPN make the selections for the committee? The SEC is a steaming pile of shit at basketball. What a freaking joke.
This was a classic Browns trade. Give up a former 1st rounder and a fifth for a late 3rd. Dumb. They could have made out as well if they cut him for a comp pick.
The Browns are pathetic. Mike Thomas is a pro bowl WR and a Buckeye. The Browns chose to pass on him in the second round, so they deserve every bit of shade they get. Go Buckeyes!!!!!!!
I take it you weren't around in 2015. Cardale was the starter and our fan base whined/complained like crazy about him and called for JT to replace him. Eventually, Meyer came to the same conclusion and switched to JT. Unfortunately, the drama caused that star studded team to underperform and lose in a rainstorm to the one team we couldn't afford to lose to. Hell, our fans booed both QBs when they were starters in the Horseshoe during games and Cardale even got some of those awful "kill urself" troll posts on his Twitter account. Since then, I decided to never bash an Ohio State player for any reason. Honest criticism is fine, but our fan base tends to drift into trash talking way too fast when our players do not meet their expectations. It's ridiculous.
Ironically, my height fluctuates a lot because of my spine. I ruptured six disks in my lower spine and some are practically non-existent now. After hanging on an inversion table for a while, I'm 6'3 in socks. On bad days, I'm 6'1.5-2.5. My doctor said that I could have grown to 6'5-7 if my spine wasn't injured at such an early age. A few football players probably have similar issues, though obviously not as severe or they wouldn't be playing football. Most are inflating their height to improve their rankings as high school recruits.
Really? Some players kill it at the Combine and fold like lawn chairs on the field when it really counts. Some players mess up at the Combine and become NFL superstars. The Combine has value, but it isn't the best indicator of future NFL success. The Combine is more like a track competition and there is a big difference between running there and running in practice. The Combine is extremely high pressure and it's not like every football player is a track star used to running in those situations, especially the Offensive Linemen.
My point is that differing Combine results do not mean that the staff purposely manipulated the 40 times from practice. The internal player runs are just hand timed in a low pressure situation in a favorable environment. They are just two different situations which will often lead to two different outcomes.
You got a typo with bettet, Nib. I think you meant to post that their oline will get beat up (at least once a year). Go Buckeyes!!!!!!!
Damn, that sucks. Consistency has been JT's biggest issue. When he's on, he looks like an NFL QB. When he's off, he makes his critics look smart. It would have been great if he was on fire at the Combine. Oh well. JT is still one hell of a leader and a very hard worker. That could be enough. He is a great Buckeye, one of the few record setting all timers like Archie. I hope JT gets drafted and makes a positive impact in the NFL. I wish JT the best. Go Buckeyes!!!!!!!
They are hand timed runs in a favorable environment (no scouts, nor crowds of spectators). They are not intentionally inflated; they are just less accurate than the Combine's laser measurements because of human error. In 2015, the Combine screwed up their times as well by up to a tenth of a second for the first two days, so it's not like anything is perfect. I think everyone is underestimating the pressure that comes when a player has to run in front of scouts with millions on the line. A single flinch or hesitation can make a great run average or an average run poor. It's a bitch, but that's life.
I'm not sure if the lasers could even catch Teddy Ginn Jr in his prime. Same for Joey Galloway.
Darron Lee ran a 4.41-40 and Shazier ran 4.37 at his Pro Day. Baker's 4.53-40 is still pretty damn good.
New Orleans Buckeyes just got stronger. Their secondary is going to be NASTY with lockdown Lattimore, Vonn Bell, and Kurt Coleman. Coleman is an INT machine, Lattimore shuts down half the field, and Bell just had a monster year bringing the pain on every player in his vicinity. Hell yeah. Go Buckeyes!!!!!!!
And he's gone for more money with Carolina's division rival. I wonder if they are intentionally tanking to get a replacement for Cam Newton? Will Luke K be next?
And now Coleman signed for more money with their division rival. I'm damn sure Coleman is going to bring the pain to the Panthers and Teddy Ginn Jr is going to bring the fire. At least Carolina's dumbass GM will be able to find a position with the Browns after he is justifiably fired. Sooooooooo freaking stupid.