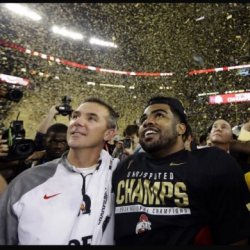 Macke777
---
from Seven Hills, Ohio
Member since 03 July 2014 | Blog
Favorites
SPORTS MOMENT: 2014-15 National Championship season; Honorable Mention: Every game we beat scUM and the 2002-03 National Championship.
COLLEGE FOOTBALL PLAYER: Every player to wear a Buckeye uniform(How the hell do you expect me to pick only one!)
COLLEGE BASKETBALL PLAYER: (Read above comment)
NFL TEAM: Teams with Buckeyes and Cleveland Frowns
NHL TEAM: Do any Buckeyes play in the NHL? If so, their team
NBA TEAM: Cleveland Cavaliers and teams with Buckeyes
MLB TEAM: Cleveland Indians and teams with Buckeyes
SOCCER TEAM: No. No. Hell No, you get your ass kicked for that.
Recent Activity
Responsible reporters? That made me laugh out loud.
You're still taking the book at face value though. I trust about 50% of the BS spewed by the sporting media, maybe less than that.
People make mistakes and I'm sure Urban's made a few, just like you and I have as well. I certainly wish Tressel would have done better by Maurice Clarett, among many other things.
Ok. I don't think you've been paying attention then. I love Coach Meyer and so do his former players. I'm also sick as all hell of people comparing him to Tressel, especially morally. WTF? That era is over and we are lucky that Tressel's mistakes didn't put a dent in Ohio State. I honestly don't know how many years we have left in this era, but I'd actually like to enjoy them. I'm not ready to sit around pining for the old days.
2016 was Clemson's best team ever. They had more talent than us, as painful as it is to say. In 2013, our talent was injured. Regardless, I don't think two games is enough to come to a conclusion on this, without looking at other factors and Urban dominates those other factors. If our 2014 and 2015 teams got to play Clemson's teams from those years, I think the series would be even, but our teams were more talented than their teams in those years. Head to head just isn't a great metric as a measure of coaching talent because all things are not equal. Hopefully, Ohio State will get to absolutely destroy Clemson sometime in the near future.
Triggered? Nope, just good old fashioned anger.
I do my best to avoid assuming things about other people based on a couple posts. So....there you go.
You should go post your wisdom on Twitter and Bleacher Report. You'll fit right in.
Damn straight. I'm not a Clemsuck fan and I'm not on a Clemsuck website trash talking their fans. I don't like coaches that develop players that grab an opposing player's crotch and act like the biggest bunch of douchebags outside of Ann Arbor. I don't like coaches that use negative recruiting to gain an advantage. Also, I don't like when our own fans prefer some jackass named Dabo over our own future Hall of Fame coach because their scummy team beat us twice. It's crazy when some random sportswriter gives more credit to our coach than some of our fans.
That is your opinion and I seriously disagree with it. Key word there is your Opinion. I think you should think about that opinion a little more, while reflecting on the fact that you are an Ohio State fan (I assume, though who knows anymore). We played Clemson twice. The first time, just about every important player on our team was injured or semi-injured (hamstrings-Hyde and Shazier; the flu-half of our OL) and we had a very flawed pass D that was missing two starters (Bryant and Roby). The second time another flawed Ohio State team played Clemson's best team ever. That is nowhere near enough games to come to an accurate conclusion about coaching talent, but feel free to continue giving the benefit of the doubt to opposing coaches and teams while holding our own coach and team to higher standards.
Piss off with that BS or go jump on the Clemsuck bandwagon.
Fisher is in the same league as D-bag Swiney. That second tier BELOW Saban and Urban Meyer. He even has a dumb ass nickname. They are basically the same shady person in duplicate.
I think that D-bag Swiney is blackmailing him to stay with incriminating evidence of some kind. I will continue to believe that until he hopefully leaves. The best part about being a fan is NOT always being rational or fair.
He receives my begrudging respect, but not a single speck more than that. He coached a team that crotch grabbed players on our team for fun and D-bag has taken multiple opportunities since then to talk trash about our team and spread rumors about coaching retirements to get recruits. Screw that douchebag.
One could argue that sometimes it's a better idea to avoid arguing over opinions. We're not getting paid by ESPN to be objective analysts on one of their dumb ass shows. The vast majority of us are Ohio State fans on an Ohio State website. There is no need to be neutral.
That was just tossed in to support my contention that head to head results aren't an accurate reflection of overall achievement and talent. I don't think Freeze is a good coach, but he has a good record against Saban, a coach generally recognized as the best in college football.
Your bad is actually thinking D-bag Swinney is a better coach because of two games.
You probably shouldn't cherry pick one line without context. They didn't get lucky in the games. They got lucky by getting to face two Ohio State teams with obvious flaws, instead of the 2014 or 2015 teams. Context.
I think the real issue is corruption in college football. The NCAA ignores when Alabama tosses cash and cars to recruits, flaunting the rules like Al Capone in prohibition era Chicago, and then the elitist committee of shills reward the Menstrual Tide by making it easier for them to get in the playoffs using the excuse that they have such a "great roster" of bought and paid for players and/or "only" lost one game (to the only team on their schedule with a pulse). The current playoff format is a spit in the eye of fair competition.
Also, ESPN was allowed to buy half of the SUC even though those shady bastards control the narrative in college football through their overhyped, brain dead coverage. At best, that is a massive conflict of interest. ESPN obviously benefits more by promoting the hell out of their lame ass SUC product. I doubt the playoff committee watches the games muted, so the announcers/production have an effect on the PC's opinions of the games.
Some of this could be chalked up to chance and corporate interests, but Saban's BFF is the freaking president of the NCAA and Alabagmen have seemed to benefit more than any other team from the system under Emmert. Impropriety seems to be the NCAA's new official policy. If the NCAA shitcans Emmert and actually enforces the rules, the playing field might eventually be level and then every team will actually have a chance to compete for a championship. Until that day, I'm happy that Ohio State is a blue blood that has some pull in this twisted system. Go Buckeyes!!!!!!!
It makes me cringe when our fans give more than begrudging respect to Saban or Dabo. Screw them both.
Maybe, Hugh Freeze should be on this list as well. His teams beat Saban's teams twice and almost beat them another time. Head to head is just as much about timing than talent. Clemson lucked out and faced two flawed Ohio State teams (and still almost lost to the 2013 team that was overwhelmed with injuries, illnesses, and had no pass defense). In 2016, we faced Clemson's best team in their history. I'd take our 2014 and 2015 teams over that 2016 Clemson team, but the timing just wasn't right. Hopefully, Ohio State will avenge that loss with fury in the coming years. Those crotch grabbing bastards deserve utter destruction. Go Buckeyes!!!!!!!
Venables is as great as advertised. I'm surprised he hasn't got a shot in the NFL yet.
I don't think it has happened. Our coaches are upfront and honest with our players. They tell players low on the depth chart that they just are not beating out the competition on one of the top two rosters in college football and they have opportunities to start at other schools. Then, they help the players find the best possible landing spot given the circumstances. I'm sure some of those players love Ohio State and wish they could stay. There may even be some hurt feelings over it, since it's never easy to lose. It's just not a rational decision for them to stay. It is what it is. Life is full of difficult decisions and I'm completely fine with the coaching staff's conduct in these difficult situations. Go Buckeyes!!!!!!!
I'm not surprised at all. Urban Meyer is the second best coach in college football in the only category that counts: National Championships. D-bag needs to win another NC to even be in the discussion.
3 National Championships is greater than 1. Period. End of discussion. Also, his freaking name is Dabo. I just cannot take any person that calls himself Dabo seriously. He might as well just change his name to Douchebag. It would be more fitting.