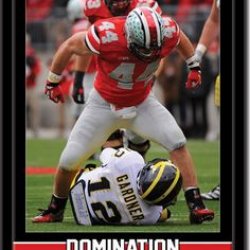 LWiegand91
---
MEMBER SINCE August 28, 2014
Recent Activity
Populations shifts due to costs, taxes, etc - Californians are moving to Arizona.
I would add Romans 12:2 "Do not conform to the pattern of this world, but be transformed by the renewing of your mind.
Our best D lines in recent history are when the interior eats up blocks but can still push the line back into the QB for pressure. Bull rush the interior and free the ends to make plays, or the LBs to make plays. Our interior over the last few years has lacked that. We have guys that are quick and can make plays, don't get that consistent push that 1) re-establishes the line of scrimmage against the run and 2) leaves not room for the QB to step up and avoid the ends. I love Landers and is a quick guy and makes plays in the backfield, but he also puts himself out of position a lot. Would love to see some of the new guys continue to progress and become "the guys" on this line. Togai, Garrett, Vincent, Jackson might be those type of guys.
Somehow other conferences are able to sort that out (Saban SEC COY 3 times, Sweeney ACC COY 2 times)
Also something that is great about these concepts is that they work against zone and man, as long as the receivers and QB can make that read - do I continue on the route or sit down in space (Northwestern) or take it to the house because a slow guy is chasing me (TTUN)
And yet somehow neither could win the Big ten coach of the year.
I have said this on a few posting, I still think that the Martell transfer had more to do with Baldwin than Fields. I think Day is very high on Baldwin.
Obviously the depth would be a huge issue if Fields doesn't get the waiver and Tate transfers, but I have a feeling that Day believes that Baldwin was going to beat out Tate. Baldwin was Days choice (similar to JT being Hermans choice) during recruiting and brining him to Ohio State. Similar with Miller. I think that, not Fields, is what drove Tate to this position. That angle is being talked about much.
maybe the frank conversation was about Baldwin and not Fields? per EW
Much like Tom Herman sang J.T. Barrett's praises in 2013, Ryan Day got Matthew Baldwin on Meyer's radar midseason and before Baldwin's high school season was over, he had committed to become the latest quarterback to become a Buckeye.
Maybe Mathew has proved enough to Day that having that pro style guy in this offense works best and Baldwin offers more of that than Tate and if Fields comes in, so be it. Just another idea that may involve the current roster more than the potential of Fields taking it over
Pet Peeve of mine. Since Bruce won, Every other big 10 school has had a coach of the year. In fact each school has won it at least twice. During this time OSU coaches won the big 10 (with ties) 16 times, finished in the top 10 - 21 times, Top 5 - 13 times, National runner up 3 times and 2 National Championships (rest of Conf 1). Expectations are fueled by recruiting, which according to Urban is the most important part of the job. When do you get credit for that? Other conferences seem to have figured it out, Pete Carroll, Dabo, Saban, Bowden, Spurrier, Stoops and Mack Brown all won their conference coach of the year during their prime runs. It is criminal that Tressel and Meyer never won it (Cooper's TTUN and bowl record might keep him off). Names of guys that won the award when OSU finished firs in the Big 10 and you can ask huh? Leon Burtnett 1984 (Purdue 7-5), Bill Mallory 1986 (Indiana 6-6), Gary Banett 1996 (NW 9-3), Ron Zook 2007 (Illinois 9-4), Bill O'Brien 2012 (PSU 8-4) and Jerry Kill 214 (Minn 8-5).
Illinois 5
Indiana 2
Iowa 6
Michigan 5
Michigan State 3
Minnesota 2
Northwestern 4
Penn State 5
Purdue 2
Wisconsin 5
Any rumors or thoughts on Freeman coming back. He has been and LB coach and a DC. Is younger, been a great recruiter down in Cincy the past few years. He could be an understudy to some of the vets on D side of things. Could have Washington, Mattison and Freeman?
No doubt about that - 39 years since and Ohio state coach won the award Since that time:
- 25 other coaches have won the award, all 11 other schools have won the award at least twice, Kirk Ferentz won it 4 times, Joe Paterno won it 3 Names that won it twice Dantonio, Alverez, Mallory, Mackovic, Barnett, Moeller, Chryst. Guys I cant believe won it once - Brady Hoke, John Smith, Leon Burtnett (Purdue 1984 because no one know the name) Mike White (Illinois 1983) Ron Zook
What Ohio State coaches did but DID NOT WIN the award:
- 2 National Champion ships, 13 times in the top 5, 3 times ranked 2, 21 times in the top 10 and most importantly to the Big 10 coaches award, 16 time 1st in the Big 10
Something that was bugging me during the game and seeing the stats etc and will post here because it has to do with receivers.
Snap Counts for receivers
Binjimen Victor: 41
Austin Mack: 38
Parris Campbell: 36
Terry McLaurin: 35
Johnnie Dixon: 35
K.J. Hill: 22
Chris Olave: 18
C.J. Saunders: 14
Jaylen Harris: 7
Demario McCall: 4
If I remove McCall from the conversation, the only receiver not targeted in the game was Victor, the guy wit the most snaps. All caught a pass except Saunders who was targeted for passes and obviously Victor. Thought he might be that outside deep threat with the way Haskins can through outside the numbers deep and his size, but didn't see that play once.
Is this concerning to anyone but me?
you never know what the teams will be like 7 years from now, but could you imagine the 2025 schedule if it were this year?
@ Texas, Washington, @ Iowa, @ Wisconsin, Northwestern, Penn State, Michigan State and @ Michigan? 8 teams receiving votes in AP poll, 3 in the top 10, 5 in the top 15, 6 in the top 25.
OUCH !
Take the stats further for a better breakdown -the teams they played were South Alabama, UT Martin, Cal, Bama, Auburn, Vandy and LSU. 7 Games total, 5 against Power 5 and 3 (Bama, Auburn, LSU) against top teams. Here were his totals against those breakdowns.
CMP ATT YDS CMP% TD INT
Total 166 260 2259 64% 17 9
Against Power 5 106 182 1341 58% 8 8
Against top teams 58 103 627 56% 2 5
He may become a great QB, but the stats from last year are definitely skewed by padding in the weak games (This after starting 3 full games in 2016 and doing decently against A&M, Vandy and Miss St) Compared to TTUN QB play last year, Power 5 -11 games, Top Teams Mich St, Penn St, Wisc, Ohio State.
CMP ATT YDS CMP% TD INT
Against Power 5 142 268 1618 52% 6 8
Against top teams 60 121 735 50% 1 4
Also, at Ole Miss, he threw 30-40 times a game, different offense. Not a great difference in stats.
Maybe he will maybe he wont be an upgrade - the season will have to prove that out. He is still as much an unknown as Haskins, although Haskins stats (for the limited time) are better than what Patterson's were and he had much more of an opportunity.
We will see - but the people saying "now that Harbaugh has a QB....." are making some projections based on recruiting rankings (2016) and not necessarily on the play and stats shown so far.
Drake - In my Feelings,
"Kiki, do you love me? Are you riding? Say you'll never ever leave from beside me.."
Maybe they are putting together a video for the challenge?
If you ask Alexa, " what is the airspeed velocity of an unlaidend swallow" she will give the correct answer
Id rather beat Oklahoman in the one semi, then beat Michigan (Who beat Washington in the other semi) - Not because I am afraid of Alabama and Clemson but because I simply don't want them in the playoffs, and would love to see 2 big ten teams. Plus beating Michigan to win the big ten east then again in the NC title game would be toooooooo satisfying.
One of the best cover corners, THE best run support corner. Did both as the best defensive player I watched. Pound for pound, best defensive player, maybe pound for pound the best player.
I wonder if anyone making comments took the time to even look at the companies web page?
4 colleges are doing this, OSU, Georgia, Univ of Washington and West Virginia.
You can have food catered in (raising Canes, Roosters, Giant Eagle Market District, Donatos or City Barbecue - so all you would have to do is bring drinks - cooler and ice provided.
Assuming 40 People, 5 drinks per person, City barbecue the full spread - the total for the day would be $70 per person for any game beside Nebraska and Michigan. No set up issues, no clean up issues - show up, have fun and leave.
Yes I can see small companies using this, people from out of town coming in and people who only go to 1 game per year with friends etc. Heck - go into the stadium, drink 5 beers, eat a city barbecue type meal and you are over $70 per person in a heart beat.
You can still bring your own food, grill, games, TV, Generator, etc if you want.
My only question would be if they pack them in like the picture shows, if that would make it less enjoyable, although most of the tailgates are packed in like that anyway.
was a big Ron Springs fan - although I think one of the more underappreciated players comes in here, Matt Keller. I know he didn't have the stats but from his freshman season on, the kid was very important to those teams, as a freshman in the Rose Bowl, blocking, running and one of the better fullbacks coming out for passes.
Landers is one of the most overlooked. When he has a single defender, he is in the backfield causing issues. One of the quickest first steps of any of the defensive Linemen. Only issue with him is that sometimes he loses position once he is in the backfield, but the linebackers should be able clean up those gaps with no blockers in front of them. Watched Landers in the State Championship game his senior year and he was In the backfield every play - they couldn't stop him. No doubt in my mind that got him the offer and he is one of those guys, smaller, with a chip on his shoulder that just makes plays all game long.
The one team not on here that could throw a monkey wrench into things is ND. Cant stand them, actually think I dislike them more than TTUN and think they will regress this year. but because they get this non-affiliation pass at times, they could screw things up if they win, which I don't think they will