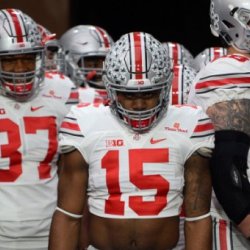 LW O-H
---
Miamisburg, Ohio (via Franklin, Ohio)
Member since 22 January 2016 | Blog
Long time Buckeye fan. Back when I was a younger man, during Woody era.
Favorites
SPORTS MOMENT: The championship games of Tressel and Meyer.
COLLEGE FOOTBALL PLAYER: Hard to pick a favorite. Archie right at the top. Many others.
COLLEGE BASKETBALL PLAYER: Jerry Lucas, seen him in high school against Franklin.
NFL TEAM: Bengals, before they were a team the Browns.
NHL TEAM: none
NBA TEAM: Cav's
MLB TEAM: Red's
SOCCER TEAM: none
Recent Activity
UGhh Italic. Where's my glasses. I gotta do better than this.
GO BUCKS!!
UMmmm remember the Buckeyes first game of the season was on an aircraft carrier in 2012. And they had so much trouble with moisture forming they had to cancel the game.
GO BUCKS!!
Waiting to see who is tops for number 45. More than likely will be Archie but "Big Cat" was good too.
GO BUCKS!!
Number 21 WR.
GO BUCKS!!
Getting closer with these fine recruits.
GO BUCKS!!
Burning the midnight oil looking for answers.
GO BUCKS!!
Happy Birthday Urban Meyer and many many more. (As Ohio State coach) !
GO BUCKS!!
Welcome Kane !
GO BUCKS!!
I know a lot of people want more Ohio kids playing for Ohio State. In this day of college football, to be NC caliber, you have to have a strong high star level of player. Unfortunately, Ohio only has so many fit that mold. So, with so few to chose from in Ohio, and the knowledge of HS kids around the nation that Ohio State is an elite program. It would be crazy to take a so-so player over a high ranked one from another state. One thing we should all remember. When a kid comes to Ohio Sate from Ohio or from Timbuktu <sp>. He is an Ohio Buckeye and always will be. All loved the same.
GO BUCKS!!
GO BUCKS!!
Glad to have you aboard Luke.
GO BUCKS!!
with sick edits featuring Ohioans who have carved their own paths by venturing out of state.
AHHHhhh.... the rivalry continues. All I can say is "It's great to be a Buckeye".
GO BUCKS!!
GO BUCKS!!
Love Zeke's jacket. 220 yards 2014 championship. Guy is proud to wear that. That picture of Zeke and JK...past and present. Only thing missing is Weber. Happy 4th guys.
GO BUCKS!!
Good "ol Rocky Top.....
GO BUCKS!!
Thanks for the update LFOSU. I always had it in my mind Tress had us in the top 10 at least.
GO BUCKS!!
Yep he played several positions in high school including QB.
GO BUCKS!!
Tress did beat Miami who was heavily favored over Ohio State. Although he struggled with Florida, (who was the coach of Florida at that time). And more important he got us back on the win train over TTUN. I see the one difference is the recruiting between Tress and Urban. But, that also has to do with the assistant coaches as much as the head coach. Tress had us frequently in the top 10 to 5 but, Urban has us competing for number 1.
GO BUCKS!!
Because we were not part of the SEC.
GO BUCKS!!
Martell was an example of that. Great Ohio State recruiter.
GO BUCKS!!
I would imagine the coaches at Ohio State wasn't absolutely sure Mathis would leave Mich State. Sure, they hoped so, but till then Maurer was their guy. So in honesty, they did want Maurer and probably found it not important to say. "that is unless Mathis flips". Why would you put a question mark in the mind of a recruit? So many circumstance in recruiting is NOT writ in stone and the coaches go with what they feel they need.
GO BUCKS!!
This is a good thing. The room is filling up with Haskins, Martell, Baldwin. Mathis, and Miller. And if needed Johnson could fill in. OSU is still looking for one more.
The future is bright at The Ohio State
GO BUCKS!!
BOOM it's Miller Time.
GO BUCKS!!
Add Battle, Hickman, and Shaw to our already loaded backfield and.....
GO BUCKS!!
BOOOOM Welcome to THE Ohio State University Lejond.
GO BUCKS!!