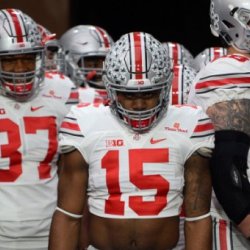 LW O-H
---
Miamisburg, Ohio (via Franklin, Ohio)
MEMBER SINCE January 22, 2016
Long time Buckeye fan. Back when I was a younger man, during Woody era.
Favorites
SPORTS MOMENT: The championship games of Tressel and Meyer.
COLLEGE FOOTBALL PLAYER: Hard to pick a favorite. Archie right at the top. Many others.
COLLEGE BASKETBALL PLAYER: Jerry Lucas, seen him in high school against Franklin.
NFL TEAM: Bengals, before they were a team the Browns.
NHL TEAM: none
NBA TEAM: Cav's
MLB TEAM: Red's
SOCCER TEAM: none
Recent Activity
Ohio State made the third offer to Austin Jordan. it was expected that would lead to a bit of a domino effect. It did
GO BUCKS!!
You can read about that on Eleven Warriors, where Ohio State's top recruits are texting their 5-start friends to come join them at The Ohio State. It happens a lot. Not only does being in the CFP help in bringing in 5-Stars, but playing in a weak conference that assures you of a winning record adds to that. Kids want national exposure and being in the CFP does that.
GO BUCKS!!
My cousin, from Ohio. lives about an hour from Clemson. He said not long ago he was shopping and someone yelled O-H. He said there was a huge shout from the crowd, I-O.
GO BUCKS!!
A weak conference. Good coaches. All makes it apparent that National Playoffs will be a continuous thing, and attracts top ranked players, and coaches, who want the exposure in the playoffs. So even though they don't play anyone and will usually have a qualifying record to get in the playoffs, they have a decent team because of all the highly ranked players they get. Until the committee recognizes this, and awards teams the playoff based on who they play and their record against those teams, Clemson has a clear cut path to the final four. Someone had a brilliant idea who came up with this scenario.
GO BUCKS!! Just go to the playoffs the hard way.
If the ACC does become a little stronger, and makes it harder for any of their teams to go undefeated. More than likely there will be a few more top recruits not going to Clemson. Because Clemson has a perfect set-up with a promise of a football playoff appearance every year, that draws the recruits to them. That's why I am hoping for stronger teams in the ACC.
GO BUCKS!!
Have all the assistant coaches,(except for Hafely's replacment at this time), that have left, been replaced?
GO BUCKS!!
Ask any LSU or Buckeye fan what they think of Joe. Their answer.....
GO BUCKS!! (makers of great QB's)
Donovan looks like a fine catch for THE Ohio State. But, that number 2 RB, who is that. Kind of runs like JK?
GO BUCKS!!
His single biggest strength as a college coach was recruiting
That being said. If his desire to coach again was just too much. Why would it have to be a head coach? If Ohio State is his dream school and he has said that numerous times, why not as an assistant to coach Day. The school he wants, a coaching job, who knows?
GO BUCKS!!
GO BUCKS!!
Can I hear it .....louder.....louder;;;;
GO BUCKS!!
Is it just me or does Gus Johnson sound a little more biased towards Ohio State than Kirk? You would think Gus was an alumnus of Ohio State.
GO BUCKS!!
One thing to ponder on future games. There should be more than one ref in the replay booth to determine which way a call should be made. And all the ref's in the booth (2 or 3 or whatever), should be from different conferences. Would be hard to argue any call that they would agree on. There were two different calls on the Clemson fumble, but the one in the booth had the power to over rule. But at least you would get a good interpretation of what happened. If something isn't done college football, and pro, is in danger of losing respect of the fans and players.
GO BUCKS!!
Monica Johnson. I hope you had a blessed and wonderful birthday. You deserved it.
GO BUCKS!!
GO BUCKS!! Ichigan unties shoes, Clemson grabs privates. Anything they can do to try to equalize their shortcomings.
In keeping with the holiday spirit....even if it is Halloween. Still a fantastic light show.
GO BUCKS!!
That's the whole plan. Get in the ACC which is one of the power 5 schools, but has a lot of teams that wont make the top 25. And be assured of a winning record each year. And a ticket to the NCP.
GO BUCKS!!
By Dec.28th Fields leg should feel a lot better to where he can possibly remove that leg brace that hindered him somewhat. Then he can be more dangerous moving out of the pocket to either run or elude would be sackers.
GO BUCKS!!
the only true pole....
GO BUCKS!!
It was well over with six minutes to go. Buckeyes move up to 5?????
GO BUCKS!!
GO BUCKS!!
GO BUCKS!!
With his physical development (he's already 6-foot-4, 220 pounds)
Talking about Powers and his size in high school. Don't forget, Andy Katzenmoyer was 6' 3" 260, and one of the best LB to play at Ohio State. So as Powers grows, I am sure he will gain more weight and could make a great LB for college and the Pro's.
GO BUCKS!!
Just like a birthday. It comes every year.
GO BUCKS!!