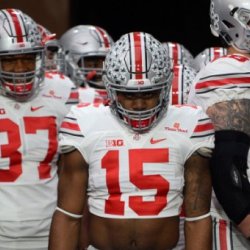 LW O-H
---
Miamisburg, Ohio (via Franklin, Ohio)
MEMBER SINCE January 22, 2016
Long time Buckeye fan. Back when I was a younger man, during Woody era.
Favorites
SPORTS MOMENT: The championship games of Tressel and Meyer.
COLLEGE FOOTBALL PLAYER: Hard to pick a favorite. Archie right at the top. Many others.
COLLEGE BASKETBALL PLAYER: Jerry Lucas, seen him in high school against Franklin.
NFL TEAM: Bengals, before they were a team the Browns.
NHL TEAM: none
NBA TEAM: Cav's
MLB TEAM: Red's
SOCCER TEAM: none
Recent Activity
GO BUCKS!! GO O-Line.
GO BUCKS!!
Welcome aboard Mick. Always glad to have another insight into recruiting. Looking forward to your posts.
GO BUCKS!!
Kbonay, you're talking to yourself again. Bad thing is....you even answered.
GO BUCKS!!
well......
Ho Hum...
GO BUCKS!!
When you can't give student athletes money, then take them on a free trip to another country.
GO BUCKS!!
In 2014 it did.
GO BUCKS!!
If the O-line is doing good, then you are right. QB's have time to pass, RB get their yards. Even this RB could gain 1,000 yards with a good O-line.
GO BUCKS!!
GO BUCKS!!
I believe coach Day and company will come up with someone who will please us in the end.
GO BUCKS!!
I just hope we can keep Day around for a while. Of course this is depending on his record but, so far 3-0.
GO BUCKS!!
Bates didn't recruit those guys. Honey chicken did.
GO BUCKS!!
He's recruiting at a much higher level now than he ever did before,
I would contribute that not only because he is a good recruiter but, he is recruiting for Ohio State, which carries a lot of clout.
GO BUCKS!!
Not so sure that Locksley actually did have a lock on Haskins as a recruit. IIRC there is a video of Haskins as a young kid saying he was going to go to Ohio State and be a quarterback.
GO BUCKS!!
Terrible news. Prayers for Beanie Wells and his family.
BBQ wins
GO BUCKS!!
Pulled up behind a car at the Dayton Mall. Had to take a double look at their license plate. A true fan, just being quietly polite.
GO BUCKS!!
NO more "stone hands" Very happy for you Parris.
GO BUCKS!!
Happy Birthday Coach Day !
GO BUCKS!
Actually not just OL , but first picks of the draft.....there were only three from TOSU since the first draft in 1936. They were...
Tom Cousineau in 1979 by the Buffalo Bills
Dan Wilkinson in 1994 by the Cincinnati Bengals
Orlando Pace in 1997 by the St. Louis Rams
GO BUCKS!!
While Woody was coaching, face guards were not called face guards at Ohio State. They were Woody grabbers.
GO BUCKS!!
GO BUCKS!!
So is Ahrens a Jon Diebler #2 ???? Only time will tell.
GO BUCKS!!
Sorry to hear Rd. My heart goes out to you and the Chapmans. I can only imagine how hard that is. It gets me emotional just thinking about it.