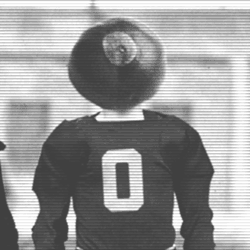 lunker76
---
midland michigan (via chillicothe ohio)
Member since 08 December 2011 | Blog
2 x grad from OSU, older than most, have had season tickets since 1988
my freshman roomate was a grad coach that pulled Woody off charlie baugh in the gator bowl knew Coach Hayes on a first name basis met coach Tressel when I delivered one of his kids at st anns when he was an assit coach with coach Bruce
t
Favorites
SPORTS MOMENT: have had some many great moments in the shoe, best would be in 2006 with my oldest daughter when troy and the boys kicked michigan ass, where i live now, that was sweet
COLLEGE FOOTBALL PLAYER: keith byars
COLLEGE BASKETBALL PLAYER: mark bayless , figure that one
NFL TEAM: green bay packer
MLB TEAM: reds
Recent Activity
over rated , pure and simple
Gobucks is right on. Barrett could run, Haskins, not so much. O line not helping. Defense is a real problem
Been a season ticket owner since 1980. Would not cross the street to support this place now. What a bunch of crap. Nothing but a witch hunt.
Capone did not die in a federal or any other prison.
Will be an ugly loss this weekend, U of M has a chip on their shoulder, Bucks are cooked. Hope for a out of the way bowl and on to next year.
Who thought this guy ever should start ahead of JT?
Maybe we could cut a few TV time outs, and make the game much more enjoyable , both at home and in the stadium.
What does it take to give the ball to Elliot , and push the line. Worst offensive coaching effort in a long time. Call Houston.
Just beat them. I recall what Earle did with his last game in AA, that wasn't supposed to happen. Hope Hoke doesn't have a fedora
Seemed like a long scare to me. Will be more focused next Saturday. Send Brady out Buckeye style.
Winning ugly is still winning. Need to have their best game next week. Go Bucks
Fun to watch. Great to see offense clicking both with the pass and the run. Live near East Lansing, now my friends will shut up.
Awesome effort. Take care of business the rest of the way, good things will happen. One Mi team down , one to go.
Have not played a team remotely as good as MSU yet. We have struggled against good d lines, and they have a very good one. I think the defense will be fine . Its the offense that causes the worries.
Hope the Bucks avoid the deer in the headlights the wore at Penn State. MSU is much better than every other team they have faced. Much better. Hope for better play calls, and a running attack that can pick up 2 yards when they have too. Live in Mi near E Lansing, don't want to take crap for another year.
Nice win, where does Braxton transfer to ?
Hope he is not planning an excessive force complaint with an injury that ruined his swing and budding pro career.
Hard to pick out one segment of a team. They sink or swim together. New week , another chance. Always a Buckeye, and always expect the win. But college football season has always been the best time of the year.
Of course all the guys on VT were fifth year seniors. Not an excuse, not an armchair qb, don't understand how so much talent can look so bad.
Going to have trouble explaining such poor execution in light of the recent supposed recruit talent. On the other hand, all those future stars in attendance must of wondered what the heck was going on.
Over rated and amazingly out coached. No other way to put it. Top ranked recruiting classes, but what have they become?