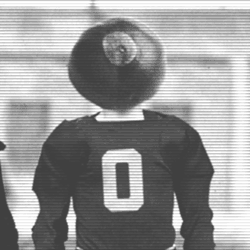 LunchMeat
---
MEMBER SINCE February 06, 2015
Recent Activity
And 2nd round picks and 3rd and 4th and etc, etc, etc;)
I honestly think this team has a chance to be one of the greatest teams in college football history. Loaded with potential 1st round picks.
I think the only I think between them and being and a legend is 2nd half intensity and execution. They really need to fight against their own domination.
Its hard to learn to fight and drop the hammer in the 2nd half when you're so dominant in the first half. They're biggest battle is against complacency right now.
Yikes! Malik is going to be a beast man as he continues to matures. He looks like he can easily carry another 15/20 lbs on that frame.
Being a great NFL QB you need fall somewhere high on the obsessed/ wild spectrum imo.
Honestly I was a little concerned about how Fields ran.
I understand walking the tight rope of not wanting him to get hurt, but at the same time you need to build the dog up in these guys too. Yeah you teach them to slide when it's indifferent down and distance, but you still gotta teach him to be build that dog up so he's still the mofo that's going to drop a shoulder if you the linebacker standing a yard between him and a 1st down when it matters.
Spot on!
Honestly they're just wasting their time with the other two. If you want football analysis it should just be the Urban Meyer pregame show.
And the reality of the situation is Bijan's destiny hopefully is going to take him far from home for the next 15 years. You want a family I hear there's a lot of Ohio State football players in the NFL and the number is going up rapidly. That brotherhood is the closest your going to get to family for hopefully the next decade+;)
I really hope Bijan's decision isn't just based on wanting to be close to home, and I certainly hope it's not family members pushing that.
i'd get It though. I'd completely understand. I know if my kid ever has this kind of opportunity when he's older it would be a tough pill to swallow..
At the end of the day though I'd merely say go live you're dreams.
And if those dreams are playing for a college football championship. If those dreams include being a 1st round draft pick. If those dreams include having a long lucrative NFL career..
Honesty you'd have a hard time convincing anyone that that Texas or USC is even in the same ball park over the past decade of helping young men accomplish those things. That's just the honest truth.
You can stay close to home, or you could go be a freakin dude;)
Hartline seems like the real deal. You don't come back to be a coaching assistant after making some real money unless you're passionate about football.
I always thought a 6 team playoff would be best with the top 2 teams getting a bye
I get wanting to avoid injuries, and not tackling obviously sounds like the best way to do that on the surface.
Is it though? Has anyone really analyzed it? Because it also seems kinda dangerous to change built in football instincts and create indecision of movement. That seems like it could lead to injuries as well.
I don't know if I'm missing something, but this seems kind of concerning..
There are a lot of physically gifted o-lineman already on the roster. It gives the impression that for whatever reason there aren't enough guys in the o-line room stepping up to the plate.
Go have you some fun knuckleheads!
But don't do anything stupid. Missing classes, excessive drinking, drugs, sweating crazy ladies, unprotected sex, drinking and driving and any other knuckle head things that put your health and future in jeopardy.
Otherwise have a ball;)
https://m.youtube.com/watch?v=W8xgDgTBmtI
Most important, he's 20 something years old in college having fun. He's king of the campus. If he comes back and handles his business it will probably be one of the best years of his life when it's all said and done.
And that's priceless;)
I honestly believe Haskins should come back. Given his ability to throw the ball the draft is always going to be there. I doubt there's much he can do to hurt his draft stock by playing another year.
i do think staying another year could make a huge difference in his preparedness and longevity of his NFL career. Thé NFL isn't really a good place for a QB to hone their craft. It's a big jump in talent and QB is the toughest position.
I fear if he walks this year he's running a high chance of getting shell shocked. I also think he's not going to be drafted as high as people are saying. Plus if he comes back and plays he's going to be drafted higher and have a much better platform for long term success in the NFL.
Plus Oklahoma guts shunned (as they should in this case) the whole Southern part of the country is angry! Highested rated game in COLLEGE FOOTBALL HISTORY
Nobody in the South wants to watch Alabama whip Oklahoma azz. They want payback on them Yankees!
Alabama vs Ohio State rematch! CLASSIC MONEY MAKER!!!;)
It's a compelling case for each team. I think The deciding factor is Ohio State is better ratings, better TV and much more money;)
That's an abomination against football. It's not pop a shot.. if you can't thro a football appropriately you should be disqualified
I feel we might have a bit of a spark problem.. A lot of tinder.. No fire starters..
Adrenaline is a powerful tool on the football field, and I just don't seemingly see enough of it.
IMO it's time to put the zone read on the shelf. It's just not an effective play with Haskins. It's easy to see he's not comfortable running it.
Its really trying to stuff a square peg in a round hole. Defenses aren't threatened by and don't respect it. It's only serving to give them an extra half second to close on the running backs.
Given the offense lines size they should just focus on a smash mouth run game between the tackles, and make the safeties and linebackers creep into the box