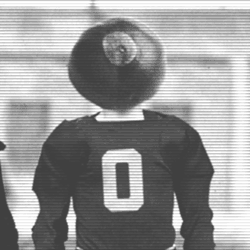 Lumpy Rutherford
---
Member since 02 May 2013 | Blog
Recent Activity
Love the video. Dislike the "music." Can't wait for kickoff!
I had a chance meeting with Cardale in the C Bus airport. He was the nicest, most accommodating guy. I'm pulling for him big time. The Perry HS anecdote speaks to his character and reinforces my positive opinion of him.
"He recently signed a free agent contract with the Seattle Seahawks after going not hearing his name called in the 2016 NFL Draft."
This writer needs an editor. Please! (I take no joy in critiquing but parts of his articles are nearly unreadable.)
I agree. Sorry to be negative but this author's writing skills leave a lot to be desired. Or perhaps he needs a good editor. I've seen more than a couple of cringeworthy articles under this byline. In any event, go Bucks!
Army? Really? We need better competition that. Sad. (No disrespect to the Army men)
Taylor gets the bigger picture. There's a lot of evil in the world. Lots of bad guys laying in the weeds for a chance to take this great county down. Taylor understands that without our unselfish protectors, we'd live in a very different world. Good for you Taylor. You made us proud once again!
He got stoned and he missed it. Well . . . He's gonna miss it. What a chump.
Go Bucks get it done in the Big D
We should have a MUCH better non conference schedule. I hate those cupcake Saturdays. They're embarrassing and earn us no respect whatsoever. Look at next years schedule. It's awful.
Agree RCDUNN. I certainly make my share of typos, but this article was almost unreadable. Still love the 11W site however. ; )
I nominate You're Unbelievable by EMF - or Fight for Your Right to Party. Ok I'm a little old but these would spike up the atmosphere.at The Shoe.
I'm a Buckeye all the way - but our strength of schedule really sucks. We need to be playing tough teams throughout the season: ND, WVU, etc. Bring em all on. Adding Rutgers and Maryland has done nothing for the B10.
Was in Chicago two weeks ago and met Coach Bo while waiting for an elevator. I have changed my opinion about him. He seems like a good, down to earth kinda of guy.
I like the video. Expecting big things from the Bucks. The music is awful. Had to turn it off.
How soon until the season starts? I need me some OSU football!
All this over confidence makes me very nervous. Ryan coming back, an away game in a hostel environment, hated rival, long OSU winning streak - what a set up for a shocker. Can't we beat these guys FIRST before all the preening about terminally ill patients, Bucks winning by 30, etc.?