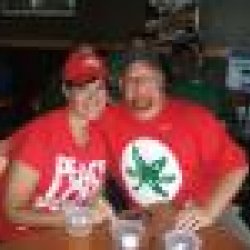 Lucys Daddy is a Buckeye
---
Findlay, OH-IO
Member since 04 June 2011 | Blog
Favorites
SPORTS MOMENT: Winning the International Silver Sticks hockey tournament in 1983.
COLLEGE FOOTBALL PLAYER: Archie, Chris Speilman, John Frank, Mike Doss, Tim Fox, Nick Swisher
NFL TEAM: San Francisco 49ers
NHL TEAM: New Jersey Devils
NBA TEAM: Who gives a rip about the NBA?!?!?!?!?!
MLB TEAM: New York Yankees
Recent Activity
^^^^
This. Definitely this.
Rafftery's best line???
ONIONS!!!!
If they knock down St. John's Arena, the Skull Session will never be the same. Is there any way to start a petition to save the place for this reason alone???
I don't totally understand everyone's reasoning that Appy State beating scUM was bad for the B1G. I get it that they are/were a D-II school, but they had just won the D-II National Championship the previous year and they had a heck of a quarterback and a pretty good defense. Appy State beating Michig@n is nowhere near as embarrassing as Toledo beating them. When Toledo beat them, I was MUCH more shocked.
Reminds me of a joke from that season...
Didja hear that Michigan is cancelling their trip to Columbus to play the Buckeyes this year?
They just can't seem to get past Toledo.
I am in Findlay. Definitely Buckeye country, but too damn many Wolverrat fans in the area.
Just when I think that this site can get no better, you go and totally blow me away.
Ramzy, you have just made 9/11 an even more personal experience for a lot of us here and I thank you for doing that.
No words can express my profound sadness at the pain that Kris' family felt that terrible, terrible day.
Commence slow clap.
Tito Paul. Well played sir. Well played.
Well done, Jeremy.
Also, I would be remiss without reminding everyone that we are David Boston days away from football!!!
So now the big question is...........
How do I get my free swag?????
HELLS YEAH!!!! T-shirt winner, bitches!!!!
I feel so honored...you like me!!! You really like me!!!
Sorry, my inner Sally Field just had to get out!
I made no categories...I think I should win free swag for just being an uninteresting commenter.
I went to the prom. Of course, my mom drove me and my date wound up going to the after party with my biggest enemy...but, still I had a good time sitting alone at the table.
Bitter???? Never.
While I agree in concept to the though of paying athletes, where does one draw the line? I mean, do you pay every single athlete at the school? Do you pay only those athletes that play "income generating" sports, i.e. football and basketball? Do you have a sliding scale or a meritocracy wherein you would pay football players at tOSU more than baseball players? What about at a school like UCONN, where the Women's hoops program is probably one of the biggest income earners for them.
Sorry, but I cannot see how paying college athletes to compete is a good thing, hence the phrase "student-athlete", not vice-versa.
The new Mountain West logo is pretty cool. But it gets lost in the fact that the only time anyone outside of Idaho or Montana will see it is when Boise State plays on Thursday night on the World Wide Leader.
Isn't Bill Stewart the hilljack that replaced DickRod? What a tool (a tool in the Anthony Weiner mold, no doubt).
John Deibler. The new Vinnie Johnson???
Seacrest out.