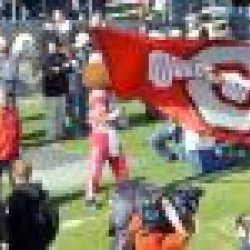 luckynutz
---
MEMBER SINCE February 02, 2012
Favorites
SPORTS MOMENT: Mo C pulling the ball away from sean taylor after he intercepted krenzel in the end zone in the 2002 NC game.
COLLEGE FOOTBALL PLAYER: Eddie George
NFL TEAM: cleveland browns
NBA TEAM: boston celtics
MLB TEAM: cincinnati reds
Recent Activity
I mean, they thought he was the best RB...
Perfect blend of power and speed. Patient and punishing. When the lights get bright, he shines brighter. Stoked he gets a second opportunity to overshadow Taylor in Indy. Best back in the country...change my mind.
I look at as they have extreme confidence in our Bucks winning to make that bet. And that the only thing better than a sad blue fan is one who has to wear a Buckeye jersey. That's a double whammy.
I was not pleased with the conservative nature he showed at times. Then I started thinking...the defense was controlling Penn State. The offense was moving at will on them. Fields was not as sharp as he has been throwing the ball early. It was a methodical, November in the Big Ten game flow. What he didn't account for was giving them 2 gifts in the form of turnovers deep in our own territory. He trusted his D to put out the fire the offense created with costly mistakes. And the D answered the call. It wasn't pretty. It wasn't fun. But it was a win over a Top Ten opponent. And clinched the East title and a spot in Indy. Now on to prep for that team.
We have the exact opposite of Chicken Sh*t Saturday...a top 5 matchup.
I pity the fool who tries to arm tackle Master T.
Did Tom Brady jump off the screen at you while he was splitting reps with Drew Henson? In all seriousness though, Burrow has absolutely changed LSUs offense. Lest you forget he spent 3 years honing his craft under the watchful eyes of Urban Meyer, the last of which was spent under the tutelage of Ryan Day. Hes the son of a coach as well. Kid knows the game and gas the physical tools. Tua is extremely overhyped...I mean, his receivers are YAC monsters that pad his TD numbers by making ridiculous plays. But he wilts under real pressure.
Taking Tua would be screwing up the pick. Sorry, I'm not impressed with him. He plays lights out against the underlings, but has struggled against the heavyweights. Not to mention he gets banged up very easily. Burrow is the best QB available in my opinion.
I'll take the defene. The whole defense. You could single out guys, but I'll give the entire unit it's due. Playing fast. Playing hard. And playing great TEAM football. And we haven't had our full complement of D linemen healthy together at the same time once this year. Werner, Arnette and Borland were all liabilities last year. This year, all 3 look like different players. Chase Young has stepped into the role locked down by Bosas of that game changing, elite edge rusher. Okudah is the next first rounder from the secondary. Where's the weakness here?
Dude is flat nasty. Throwing bodies around like they are playthings. Big bodies, too. Looks like the next in line of Rimington Award winning centers here at tOSU.
From how I read, it sounded like they froze him out when he told them he was early enrolling at Ohio State. Which made the decision for him to transfer easier. That's just how I took it though.
You said that there is still much left to be seen from Halfley and Hartline in game settings. That may be true from Halfley, but we just had a season of Hartline. And what we saw was a Renaissance at the WR position in Columbus. He saw Campbell and McLaurin drafted in the 2nd and 3rd rounds respectively. We saw a unit that underperformed under Smith come alive. Record breaking numbers from the passing game. Granted, having Haskins slinging the rock helped. But so did the play of the receivers. Recruits seemed to notice that too. Hartline isn't far removed from his playing days here. Or a decent enough NFL career. And his hands on approach received glowing reviews from guys in his room. I think we've seen plenty from a guy who is just getting started
That's just it...they lost to Notre Dame. With Brandon Wimbush starting. Then ran off 10 wins against so-so opponents. They got Penn State with a broken and bruised McSorley. A down Wisconsin team at home. An offensively inept Sparty. The wins aren't impressive. They simply patted themselves on the back for their #1 D. And then watched in horror as Dwayne Haskins and his stable of thoroughbreds ran roughshod all over it. They had no answer for our speed. No answer for Haskins arm. Funny part is, their offense sputtered against the worst defense statistically in the history of Ohio State football. If we didn't score so many points so quickly, they wouldn't have scored 39. Guaranteed. And they really don't have any more talent on offense than they did last year. And there's no way our D will be that bad again this year. They got straight Molly whopped by a better team.
If you live in the Cleveland area, you may want to lay low during the bye week. Or you might get blindsided by Garrett.
Alcohol doesn't help with much at all. Aside from making people feel better looking. Or like they are great dancers. Or that their ex girlfriend is just dying to hear from that at 4 am. I get it...sports in general divide people. And in large groups, it's worse. I've never wanted to fight anyone over sports. Aside from Ed Warriner and Tim Beck in 2015.
Two Words: Coach Mick.
Oh don't I know it. I've been a bartender for 16 years. It's amazing how much courage I serve up to the masses every weekend.
Mine goes way back to the 2002 National Title Game against the U. And actually, it paints Buckeye fans in a bad light. I was at the local BDubs. Full of Buckeye fans...except for 2 guys who happened to be seated right next to me. We traded the usual in game banter...nothing too careful. And during halftime, I talked to the 2 guys. They were both alums who were relocated to Dayton for work. Good dudes...not the typical, douche U fans. As the game went on, the rest of the crowd started getting real disrespectful to these 2. Because, shock of all shocks, they celebrated a Miami TD. How could they, right? Anyways, as it looked like we may be in trouble, a group of highly intoxicated Buckeye fans tried to get physical with these 2. 2 transplanted alums supporting their team in hostile territory. Respectfully. Not causing any issues. Are being physically threatened by some drunk tards over a game. I stepped up real quick, told them to back off. There wasn't any reason for that. They looked at me sideways, like I was speaking a foreign language. Kept coming towards these 2. I again told them to sit down and shut up. Took a few more times, but they finally backed off. I apologized to these 2 for these idiots, they thanked me for stepping in. I bought them a round, we watched the rest of the game and we won. They congratulated me, I said good game and they left. Just funny to me that people get so amped up over a game.
Were you in Park? That's where we all were in my day. And yeah, that sounds like the morons I played with. There were some engineering majors in my class. One pharmacy major...but he was a kicker, so he didn't practice or lift anyway.
Didn't they change the penalty to Shugarts? Before the snap, Shugarts on the offense...
Bosa was being held on the play he hurt himself on against TCU. Bigger than shit he was. Which is part of why he got hurt to begin with.
The OAC has been pretty competitive honestly. I played at Northern. Mounts just a different animal. But JC, BW and Northern have had some good years.
If you look at it, there's been plenty of DIII guys in the NFL. The OAC boasts several in recent history. Pierre Garcon and London Fletcher. So there is definitely talent there. I know from personal experience, it's not that simple. I played with some guys who had NFL talent at ONU. And we always got straight smacked by the Mount. Every year. But yeah, I got my ass kicked in daily by our first team defense. Only played my freshman year, because it was not easy. I love the game, but getting my ass pounded in by dudes that are 6'5, 280 on a daily basis is hard on the body.
You went to Northern? I did too. Played football. I had an academic scholarship...which I earned. I scored a 31 on my ACT. My GPA was a 3.3 in high school, which should have been higher. I was just lazy. So my GPA could have cost me, but my ACT saved me. I had an off from Miami(Oh), but turned it down to go to Northern. Was just a better fit for me. Much smaller, Ada was just like my hometown. And my HS colors were the same as Northerns.
No doubt. Their ends, Harvey and Moss, were just too quick off the edges for Boone and Barton. It wasn't even close.