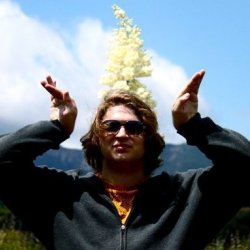 luckynewman13
Los Angeles (via Columbus, OH)
MEMBER SINCE October 10, 2010
Favorites
SPORTS MOMENT: Holy Buckeye or Will Allen intercepting John Navarre in the final play of '02 regular season
COLLEGE FOOTBALL PLAYER: Craig Krenzel
COLLEGE BASKETBALL PLAYER: umm...Scoonie Penn?
NFL TEAM: my fantasy team
NHL TEAM: do the Blue Jackets still play in CBUS?
NBA TEAM: which team currently has Cedric Ceballos?
MLB TEAM: certainly not the Yankees
SOCCER TEAM: haha, good one
Recent Activity
Video on the DM: https://www.youtube.com/watch?feature=player_embedded&v=8nkUuxc-new
Oh, it's on
I've never been a Browns fan. If Tressel gets hired, however, I wiill buy every piece of Browns gear I can off the internet within an hour of the announcement.
If the undefeated ACC champ is Clemson they will take priority, unfortunately, unless Georgia completely tanks. But I think Ohio State gets picked over Florida State if it is going to come down to those two.
I think I remember Ohio State beating Oregon in the Rose Bowl recently.
UA class of '03. I was in the 2000 marching band. Magic.
well, it's not like it's a big deal. If you "like" it then jif is all yours.
The G stands for "graphics" not "giraffe-ics", so that is enough for me.
Look at it this way: let's say you are a brand new father or mother. You put on the birth certificate "Thomas" but you say the name is pronounced with the TH in place of the hard T.
This is totally cool...the baby's name IS technically THomas, but you don't get to whine when people pronounce it with a hard T, those people are also correct...and you as the parent knew exactly what you were signing up for (in theory).
I don't know where this came from, I got it from a friend, but I post it every time someone tries to convince me it is a soft "g" in GIF (and no, I do not care what the inventor of the gif says):
*I apologize for the foul language, but changing the text does not do it justice IMO.
"GIF is an acronym for Graphics Interface Format. Pronouncing "Graphics" with a hard "G" has nothing to do with the pronunciation of the acronym because... **** it, right?
Since we're throwing out the logical explanation of the pronunciation of GIF, let's find another one.
We don't say G.I.F right? Just like only ***holes say A.S.A.P (because that pretty much defeats the whole purpose of the acronym). We say ASAP.
Conclusion? We pronounce acronyms like words. Still following me?
What is the closest word to GIF?
Anyone...? GIFT!
Motherf***ing GIFT. In no way is there a dispute on how to pronounce GIFT. So let's remove the "T". What are we left with?
GIF, ****ES. Read it and weep. DEFY MY LOGIC, I DARE YOU!"
I don't get this "at least he's impartial" argument.
He's often critical of our team in constructive ways: great. awesome.
My problem with Kirk is that we all remember how ESPN and SI ripped us over tatgate, most of us would probably say unfairly. I don't recall Kirk putting up the slightest defense of us that year (at least on espn, perhaps on local radio).
But every time the Cam Newton issue came up, Kirk was right on queue: "we don't know anything yet, let's wait for all the facts, innocent until proven guilty, blah blah blah."
It's not like I am a person who wants to hate the guy, he's a Buckeye. But from what I recall--from that very dark year--ESPN, SI, and the like, used a few unfortunate truths to paint a picture of Ohio State that was laughably false. And Kirk--as I recall--was mostly silent on the issue.
As I said, I don't want to dislike the guy. But I just look at him now and see a guy who's "sold out", for lack of a better phrase.
(I did not downvote you, by the way)
major difference:
Saban can develop OL talent
Bollman can't
pretty important for a power running game.
a blizzard just swept through Arizona. For all we know the weather in Pasadena January 1st 2014 could be worse than Chicago.
I see both sides of it as well. But this is the reason the NCAA will eventually adopt Olympic rules for "amateur" athletes.
I personally never questioned his character, I was ecstatic about this class with or without EZE and the thought of him playing for his hometown team sat just fine with me.
However, I do feel I have to echo UrbanWoodrowEarlTressel's comment that I feel bad for Mizzou now.
If the situation was completely reversed some of us would probably feel used. Used for drama, publicity, whatever.
But it's over now, so GO BUCKS!
I never doubted it for a second!
/finish lie
I thought they would be smart enough to drop the "Ohio" thing after the tsun bball team got trucked by Ohio University in the NCAA tournament, but I guess not.
the way the whole voicemail thing was dropped is very strange. When I first heard them I was sure it was a woman. And there a few voice experts who listened to the the tapes who confirmed the voice was a woman, isn't that right?