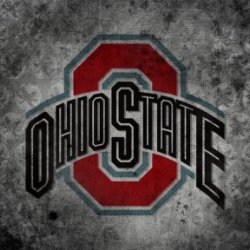 Lucky Buckeye 13
---
MEMBER SINCE August 14, 2014
Recent Activity
Congrats Coach! Can't wait until you have a granddaughter and name her Scarlet.
Day time at TOSU means the rest of the Big 10 will be left in the dark.
After those numbers, seems like there was only 13 people who didn't see it.
"But that's none of my business"
So was that a reference to Urban then?
It's looking more and more like we have Buckeye north and south. Congrats JT!
All of these recruits signing and coaches deciding to stay but Urban saying Johnson is committed to staying at Ohio State "For many years", just might be the biggest win of the day.
Couldn't J.T. just get a status update about recruits and DaVon at practice?
Just a question because to be honest, I'm not quite sure but could Weber's production seem down simply because he's being used in a lot of short yardage situations, such as punching it into the end zone and/or 3rd and 1's or 2's where the opposing defense is stacking the box? I guess my question is, did he really fall off a little or is he being used differently?
It looks like if we keep the ball on the ground, we will move the ball consistently. I think it may be a game for a quarter or two but I'm almost positive we will be too much for them in the second half.
This call "Hurt My Feelings!!"
That's the best bad news you can get concerning McCall. I was getting worried that we were going to hear another player left the team since he's been absent. Too valuable not to have on the field but this makes sense.
Heard. Understood. Acknowledged.
Urban Meyer at Ohio State: 62-7
2011 Ohio State: 6-7
Urban has saved this program. We probably should treat him like it.
Just being honest, I have felt bad over the last few days watching everyone (including myself) wanting a change at QB. But reading this has brought clarity to this situation. We as fans love this team like no other. Honestly, I have never seen passion for any team like I have Buckeye fans. I know for my family, it's more than just a game on Saturday's. It's a way of life. Imagine the passion JT has for this team... he doesn't take short cuts, he truly gives it his all. He is by all means the definition of a leader... doing so by example, by not giving up or wavering even when the very people who love him are clamoring for his removal. So thank you for this, as it was needed to get my head on straight because if there's one thing I want to be as a fan.... that is loyal, as loyal as JT has been to us. It may not end up being our best season but for everything he's done for us, we owe it to him to support him.
Lincoln Riley and Baker are both saying it was just a "heat of the moment" deal and not meant as disrespect. I guess you have to take in consideration though that this is the same coach that let his qb and leader of the team play without suspension after he tried to run and failed miserably from the cops.
There is a Dobbins, Victor, and Haskins though.
Let's see here.... lose the bowl game to Clemson. Check.
Lose home opener to good football team. Check.
Everyone go into a panic that the season is over. Check.
All that's left now is to run the table and win the national championship then.
Looks like our coach just got a dose of reality by a coach who's not even old enough to become president. Smfh
So does "somewhat impressed" equal 5/10 or a 8/10 on the Urban Meyer scaling system? Asking for a friend.
I had to sign in just to upvote this!
Has all of that smoke aged him? This dude looks like he's 40 years old.
Am I wrong in saying.... BOOKER, COME ON DOWN!!