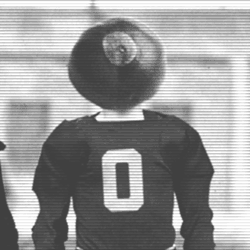 Luckobucko
---
MEMBER SINCE September 13, 2015
Recent Activity
Beam me up Scotty!
If you consider the no football scenario, just playing the games increases revenue substantially by getting the tv money flowing. The problem with the student section, in my opinion, will be behavior and the lack of adherence to the rules. You could set aside all of the south stands for students and the band, but the kids won't stick to the distancing guidelines. But you're right that high money donors will be the ones in attendance most likely.
I took Nuc 505 in either 98 or 99. That was a surprisingly easy class and it seemed like the professor used it to pad his new memberships for the nuclear magazine he had everyone get. Our trip was to Perry plant up near Mentor OH, but I was in spring quarter so it wasn't a game day. My funny story for that trip was that I had been out partying until 3ish the Friday night beforehand. When I got back to my apartment, it occurred to me that I had no chance at waking up at 7 am to get to the shuttle vans, so I made a pot of coffee and played NHL 97 on my PlayStation thinking I could at least crash in the van. So I wasn't able to sleep on the van, and when the class gets to the plant I'm starting to really feel awful. They split us up into smaller groups and I'm good as long as we're walking and there's neat things to see, like the pool of spent fuel rods that glows blue. When we get to the simulator room, our guide decides he needs to tell us what every button does which puts me out like a light. The tour guide was annoyed and after awhile he called me out and asked me to scram the reactor (code for shut the plant down.) I did my best Homer Simpson impersonation and hit the big red button right in front of me, and amazingly I was right! Lesson learned - take the four hours of sleep when you can and set a really loud alarm.
The old AstroTurf from the 80s, if it was similar to other turf surfaces I've played on, would have been almost like playing on a parking lot. 100%agree the old turf looked awful. Anytime I watch games from the 1990s and 2000s I pine some more for a return to grass. Another aspect that I believe contributed to putting in artificial turf is the lowering of the playing field and the resultant proximity of groundwater. I believe they have issues with drainage in heavy rain events. The condition of the grass during the high profile 2006 game vs scUM was the death knell for grass in Ohio stadium.
This is basically the 4/4 defense we played at mount union in the 90s. One of the outside linebackers is usually a safety that lines up close to the line of scrimmage every play. The positions were Mike, Will, Sam and Raider, the safety type player was Raider.
I've found hitting the red quote box at the bottom of the article skips most of the ads, but yes the recent development of way more ads and links to multiple other 11W stories is pretty annoying. Could they put it back the way it was and we could each pledge to tap on one ad a day and play along for a bit? Plus, if you scroll back up to the top of the comments, there's magically another ten ads that pop up and send the comments even lower on the page.
Nowadays he would have ejected for targeting. He didn't strike the players helmet, but he did lower his head to make the hit.
This was my third year of college, and first at Ohio State. As a transfer student, I wasn't savvy enough to get a season ticket, but I did sign up for the rose bowl student ticket lottery. Which I won. Being a broke college kid, I got a ground package designed for kids that won the ticket lottery. This was a 40 hour bus ride from Columbus to LA with a whole bunch of folks I didn't know. After losing to Michigan that year, the demand for this package wanted significantly, so they allowed non-students to buy in as well. It was a strange and unique trip I'll never forget, and this game is my most watched Ohio State game of all. I had two different versions on VHS and both have been watched extensively. Thanks for the trip down memory lane Ramzy!
In honor of this series, what about Eddie's 1992 (1993?) game vs Illinois? He was a freshman and had earned the redzone running back assignment. He had two fumbles that were picked up by the defense and at least one of those was a scoop and score. One of several losses to the illini in the 90s that were inexplicable. I wore 27 in HS in honor of Eddie, one of my all time favorite buckeyes.
Still feel like he was robbed in the big ten title match, but he needs to find his attack earlier than the last ten seconds of the match. Nevertheless, this honor is well deserved, way to go Sammy! I just hope there's sports again this fall, but I'm not so sure at this point.
The 1999 team was pretty bad too. Final record was 6-6, and there were several wins that I felt we were fortunate to come out on top.
Way to go bucks! Pletcher looks so much better at 141, I'm glad to see his offense open up this year.
I happened to be in Tampa for the holidays and went to the outback bowl with some friends of mine from Minnesota. I wore my undefeated out of conference t shirt and got several sideways looks and a couple comments. If you ever have a chance to go to a good bowl game, just do it, we had a great time.
672
I don't see how Clemson can get away with stopping our rushing attack in that 3-2-6 alignment. Once the safeties realize they have to crash the line to prevent us from getting 7 yards a pop up the middle, that's when we go over the top. I suspect we will run to set up the pass, and our passes will be long routes. Saturday can't get here soon enough!!
Welcome to the beach! I've had my place on Vina Del Mar for ten years now, I look forward to every trip south. Love the beach lifestyle, going to Pass-a-Grille is a way of life.
I'll be in st Pete beach that week, what part of town are you in? My brother lives in jungle Prada, I'll be there for the game
You missed 2008, 2009, 2010, and 2013. Not to mention 1995, 1996, 1997, and 1998
Thanks for the update! We're Pletcher and Moore the pair to get first place?
I haven't forgotten, actually picked up a pair of tickets last night. I'll be taking my daughter to her first ever game, she's 7 and has been bugging me to go to a game for awhile now. I figure it's a way to pass the time before our game tonight, and hopefully they keep the winning streak going.
Whoever gave this post a downvote needs to find some perspective in life...
I think this is a somewhat low scoring slogfest given the weather, 31-14 good guys.
One of those losses would have to be vs cinci, I dont see a scenario where we make the B1GCG with 3 losses in conference. Also, the final record would be 11-3. I could live with that assuming there wouldnt be any embarrassing losses.
Didnt luke fickell win state 4x at desales? He was a hwt
That picture of DK Metcalf reminds me of the time David Boston got obsessed with bulking up. He ended up ruining his career in the process, receivers dont need and really shouldn't be that big.
+1 for the reefer madness gif