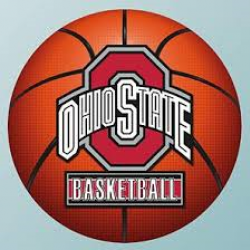 LowCountryBuckeyeinBluffton
---
Bluffton, SC (via Washington C. H., OH)
MEMBER SINCE March 24, 2015
Recent Activity
I have a similar opinion, except I think MSU hits a field goal on their first drive and nothing thereafter. 38-3.
Not necessarily the times we live in. While in junior high school, I umpired Little League games (early 1970s). A parent came after me after one game. Fortunately, my uncle was there to defend me.
Just like Sunday's game where Wisconsin lost a 22 point lead with about 7 min. to go. One team relaxes and can't make a shot, the other team plays with urgency and hits their shots. It happens.
No, I believe it was before that one you're talking about. The ball sailed directly out of bounds. CJ didn't even see it. And I believe the back door cut that CJ fumbled out of bounds was a pass from Kaleb.
I'd give Woods' first turnover to CJ. CJ made a cut toward the basket and Woods made a good pass, but CJ wasn't looking for the ball. CJ should have had a lay-up if he'd just turned his head around.
The Buckeyes lost at home to Northwestern in Jan 2017.
Coach brought the second team in too early. He had the Wessons, Lu, and CJ on the bench when OSU went into the scoring drought.
Nine of 16 from the line. Four of those misses were front ends of 1-and-1s. Potential 11 points. Nobody is perfect, but making 16 or 17 of the 20 opportunities would definitely changed how this game played out. SMH.
Also, 12 turnovers (not real bad), but Tate had 6 of them. Fouling, fighting with teammates for rebounds, forcing things. He had a horrible game tonight.
It wasn't just you. The refs were horrible, but I don't think their ineptness favored either side. You have to remember that the better refs will be doing the NCAA Tournament games.
I like photos 42 thru 45. Matta going crazy with frustration. Not sure what Dickerson, Boals, and Paulus are doing though.
Florida is 303rd in 3 point FG percentage. Hopefully, they'll revert back to their normal shooting against tOSU. BTW, North Florida is 8th in the country in 3 point percentage.
Agree with Polarbuck, GTF, and Niblick. Think about joining one of the military services. I joined the Air Force in 1981, and never looked back. Served my country, got my degree, and built a career. Whatever you do, just remember that hard work pays off.
JR, you are revising history. Sibert was given every chance to beat out Smith on that team. He shot 30% from the field, 26% from 3, and couldn't/wouldn't play defense. Meanwhile, Smith shot 47% from the field, 38% from 3, and played very good defense. Smith was also the better rebounder. Matta simply chose to play the better performing player.
I'm in. Prayers for the Mrs.
The above graphic is incorrect. On Thursday, Iowa will play the winner of the Illinois-Minnesota game 25 minutes after the end of the Northwestern-Michigan game (about 2:30pm Eastern).
That should tell you that it is not as easy as you think. If the stat is correct, only 6 out of the 350 or so D1 schools have done it. For those of you that are deficient in math skills, that's about 1.7%. This indicates that winning 21+ games over the ten year period is a rare feat.
You may argue that a cupcake OOC schedule allows for the success, but there are many other teams that have similar schedules over the same period and do not reach 21+ wins.
Is this sarcasm? The brackets were developed long ago. All that was left was for the teams to play their way into a seeding.
I'm thinking about the play where Donnel (I think) took a pass in the middle of the lane and banged into Tate. Tate went to the floor and it was called a block.
Ref had to call the block. Tate's feet were inside the circle under the basket.
Wow, time flies. I was a freshman living in Morrill Tower then. Brings back memories, and also makes me feel old!
I thought Harris played pretty well. On defense, he generally kept Sanders from driving. On offense, although he had 3 TOs and missed both of his shots, he did have 7 assists.
I am now firmly on the side of those who feel Loving needs benched. IMO, the team plays much better without him.
I agree with shaking up the staff, but the one assistant I would keep is Boals. He is the so-called "defensive coordinator", and defense is the one area in which I've seen the most improvement. Paulus runs the offense which seems to have very few sets and a lot of one-on-one basketball. Whether this is Matta's offensive strategy, Paulus' offensive strategy, or lack of player execution, I believe there has only been small improvement on the offensive side of the ball.
Game starts at 7pm Eastern. It's hard to win at the Kohl any start time.