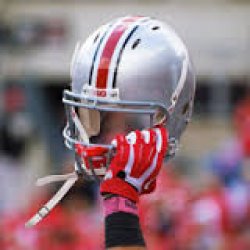 longstb
Batesville, IN (via Coshocton, Ohio)
Member since 05 February 2013 | Blog
Favorites
SPORTS MOMENT: Being at the 2002 National Championship Game in Arizona
COLLEGE FOOTBALL PLAYER: Braxton Miller
COLLEGE BASKETBALL PLAYER: Aaron Craft
NFL TEAM: Cleveland Browns
NHL TEAM: Buffalo Sabers
NBA TEAM: NONE!
MLB TEAM: Cincinnati Reds
Recent Activity
That was an amazing series of 3 clips. Very well done!
I am guessing they went all out and bought a Commodore 64.
Wow. As good as coach Meyer was, my hats are off to those three young men. Incredibly poised and articulate. I am sure their parents are very proud. As a Buckeye alumni, I can assure you that I am very proud of them. Well done.
Birm, Nate Craig Myers update?
I am excited to see the new design for the 15th Avenue renovation project. That said, as someone who spent some of the best years of my life living on 15th and Indianola, I sure hope this place doesn't turn into a new "Gateway". Sure places like the Distillery (Bernie's) and Mama's Pasta and Brew are dumps, but they ooze un-replaceable character. I am hopeful that these two little gems are retained with some new (affordable) digs. It is good to hear that this area will be developed and owned by multiple real estate companies. This should give the area 'character' that The Gateway District just does not have. I just hope the redevelopment does not price out the smaller independent shops, restaurants and bars that make this area classic.
I think it is a nice touch that she is wearing a hat with her dad's name on in.
Congrats Coach. What will it take to keep you here? You know next year is your pinnacle year. Call coach Meyer and Mr. Smith. Sit down and propose a deal. You know you are the driver's seat.
Go get it, and please stay here.
This team has to be one of the most 'fun to watch' Buckeye groups ever. In the past, I was always nervous watching the Bucks play every Saturday. It was more of chore, than it was fun. With this team, I just sit back and enjoy. Very well coached and very entertaining.
Brilliant! Especially the Purdue updates...
I think your takes on cut blocking is spot on. There are rule changes this year to more aggressively protect the QB from hits below the knee. What about the D-line? An injury is what worries me most.
You know, I have seen this happen before in some companies. Nameless, faceless investigators go into a situation with the end goal in mind - truth be damned. The RIGHT thing to do in this situation would be to do a true unbiased, thorough investigation.
Not simply talking to nine people and hastily putting together a report to justify a predetermined outcome. I do agree with the other posters that it will be unlikely for Drake to reverse his decision. I am guess this goes to litigation or more likely a settlement for Mr. Waters.
Be strong Kyle. This sucks, but through adversity comes your true strength.
Please remember that all of us commenting on this thread would give our left arm to don a Scarlet and Gray uniform. You have that chance, and you will.
All the best.
Art Schlicter came through the drive through of a bank that I was working at while in college...and yes, sadly, I cashed his bad check.
I also, have to jump onto the 'anti OH chant' bandwagon.
Call me the eternal optimist, but I firmly believe that if the Bucks take care of business soundly every single weekend, things will work out for them at the end of the season in the polls. Enjoy the run!
It seems like Gardner is thinking too much to me. When he is on, he gets into the flow and let's his athletic ability take over - then he is a real threat. Seems to me that he is trying to force things.
Take a breath, everyone!
It is a called a PROGRAM for a reason...much larger than two players. OSU will be just fine. Go Bucks.
I am normally not one to post comments, but I have to on this article.
PURE GENIUS. WELL DONE!