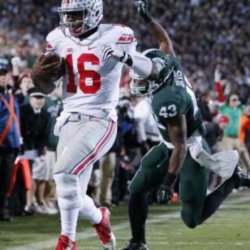 lonenutineastlansing
---
MEMBER SINCE September 04, 2014
Recent Activity
Wow... MSU's offensive line looks terrible. Is Wisconsin's dline actually that good?
Yeah.... Mayfield is picking apart our basic offense....
Does anyone else love our coach? I don't think anyone's overlooking Sparty.
+1 for defiance. I think the wildcat moving forward will have some component of option as well as short passes. Don't want to show more than you have to earlier than you need to.
372
We're really lucky to have Urban as our coach. Coolest cucumber in the country!
Are you kidding me? We can't afford a few more days of this.
Way too many injuries in the last few weeks.... but at least we're not Sparty.
About time we get some good news!
I'm curious to see where Tom Herman'so squad is ranked. I hope OSU is #3 or #4 - would be good motivation.
I'd give anything to bring back Devin Smith for November!!!
The Holiday Inn is a bad thing? That's a better breakfast than I'm used to! Hope he's not absent more than a game.
I was relieved to hearrive Taylor Decker's description of JT apologizing to his teammates. He knows his mistake as well as the importance of rewinning the respect of his squad. Urban will need to write another book after this season!
I'm sure Braxton would love a few shots at MSU's defense as payback for the 2013 BIG championship. ..
Need to save the Braxton trick plays for MSU and UM!
I suspect JT's repentance, return and subsequent destruction of both MI teams will reestablish him as emotional leader of the team.
Our "slobs" are infinitely more articulate than TTUN's head coach!
+1 for "Miller time" in the red zone!
More xbrax! Time for a spin move!!!
You'd better believe Sparty will give us headaches with their rush game. They have a few decent receivers as well.
My wife is a MSU grad. Not sure who was louder!
Urban Meyer's silhouette might have been a nice touch, but I like it!
Great story- can't wait to see him add a few grass stains to Hackenberg's jersey!
Seal those leaks!
Living in Michigan, nothing would be make my facebook feed funnier than MSU beating ttun again!!! (It's been an enjoyable 6 years... "little brother" has made sure those pretentious douche bags are miserable)