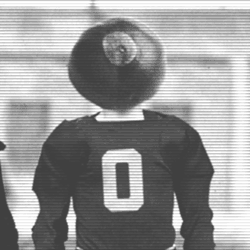 logamaniac
---
MEMBER SINCE January 24, 2013
Favorites
NFL TEAM: Browns
MLB TEAM: Indians
Recent Activity
Plus Damien Williams has been pretty uninspiring
Haha yeah Harmon said they wrote that dragon episode at the height of GoT and the obsession only to come out with it after all that subsided
I just wish there wasn't such a huge turnaround in episode development for r&m. Seemed like season 4 took forever to launch and then we only have what 4 episodes before the hiatus?
It certainly won't be as devastating if he has to fill in for an injury
Someone explain the Harrison blurb because I'm confused
Def not better than kiffins krimson korner
It's what makes the most sense. They've identified it with science as the most repetitiously violent play so just axe it if you're really concerned with player safety.
What if we do kickoffs in the giant bubble balls? You're down when they wedge you out of bounds.
I like it for the pro-bowl because nobody plays for real in it either.
yeah but part of the thing with onsides are the element of surprise. you won't have that with this now.
As of two days ago nobody is aware whether or not Holmes is going for the draft or for graduate transfer.
I think burrow is closest in comparison to Alex smith as far as toolset. But he's got a seemingly different personality. Hopefully he doesn't get 4 new OCs to start his pro career before destroying his shoulder ala Alex.
If the accounts that he was brutalized as a youth are accurate he may not have been straight or gay at all. He may have had a disfigured view and/or understanding of his own sexuality/identity.
He was abused as a child wasn't he? That's a whole 'nother series of documentaries and research to cover.
The patriots didn't draft him in what the first 4-5 rounds either so obviously they didn't think he'd be much either.
New head coaches retain the previous OC at what kind of rate? Get a clue.
Yeah... I guess they'll have to rely on the names gurley Michel Chubb and swift. Oh the horror.
How does getting multiple first round draft picks, cam newton and a couple 2nd round or third round picks than a question mark on a professional joe burrow?
he had an absolutely great collegiate season this year with a coordinator that radically affected his second year at LSU. But he wasn't a sure fire #1 to begin the year so to assume he's going to replicate his success isn't as assured as you seem to believe.

plus if you're mike brown and you can suck another year and stick to the salary floor and pocket another years worth of profits and draft Lawrence next year plus whoever else with your additional capital how do you not at least listen to Carolina?
well I think Carolina sends cam with all the draft picks so you have him for a season, maybe get a decent backup like keenum and then draft one next year because you're likely still in the top 5 next year
The bengals weren't just a qb away from the playoffs this year.

let's say he's really good for rookie standards next season that puts them at maybe .500 as a historically great first season? There's a lot of holes to fill and if they can turn this draft pick into 3 future firsts with maybe a couple 2s or 3s added for good measure because Carolina seems thirsty then that's the move you have to make.

there's no guarantee for burrow so you have to go with the option that gives you more opportunity at hitting a successful draft pick

if the bengals were REALLY convinced that burrow was their only option then I think they would have at least had a cup of coffee with joe Brady before he got snatched up by Carolina.
Dbag title probably coming from when he cold cocked that chick in college
Brees isn't under contract is he?