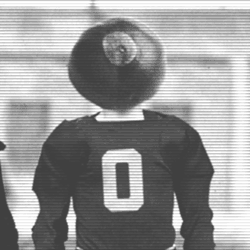 Log Jammin'
---
from Hilliard
MEMBER SINCE August 13, 2014
Favorites
SPORTS MOMENT: The last play in the '02 BCS title game
COLLEGE FOOTBALL PLAYER: Joey Bosa
COLLEGE BASKETBALL PLAYER: Aaron Craft
NFL TEAM: Bengals
NHL TEAM: Blue Jackets
NBA TEAM: Lakers
MLB TEAM: Reds
SOCCER TEAM: Not a sport!
Recent Activity
Group of us going to Wolfs Ridge and Landgrant for their annual b-day celebrations. We will be ready to run/stumble through a brick wall by the time 7:30 rolls around!
No offense but this is a stupid post!
BiG Terry fan and it is awesome to see how his season has started but can we stop with these stupid ass stats. It seems like there is a new stat coming out of the wood works weekly. I liken this to participation trophies where everyone is a winner!
Danny Kannel has not caught in either!
With the first committee poll, really hopeful that the rankings are a solid evaluation of each team, by that Ii mean not automatically ranking Clemson #1 because they are the champs.
Cincy, your annoying basis is tired.
Anyone d-bags from week 1 still hating on Dobbins?
Sure my post will not be well received but I think this is somewhat of a stupid post by a typical Clowns fan. Heat of the moment, in the field of play, guy from a team, that whipped your ass by the way, goes into the stands after a pick six, you have to sit back and deal with it!! How many fans were still in the stands at that point anyway? #fucknakemayfield!!
Another flag was just thrown.....
Went to the game in'02. Biggest bunch of d-bag fans I have ever been around for a game. They were badgering a couple of older ladies OSU fans to the point of being out of line. A buddy of mine, who is a big guy, threatened to beat their asses if they kept it up....needless they stopped running their mouths and we brought home the win!!
FAU has 23 yards rushing....fair to say some improvements have been made to the rush D. Another stupid comment from our fan base today!
The ever lasting optimism of Clowns fans....
All I care about is the Clowns sucking!!
Zebra can't change his strips....Baker is a douche, always will be!
So they didn't really kill chicken shit Saturday....
Crying on a Sunday about lost recruits and how some of our coaches can't recruit?!? Kinda like some folks obsession on this site with Michigan.....sad and pathetic!
Do you like vacations and sex Silverbullet?