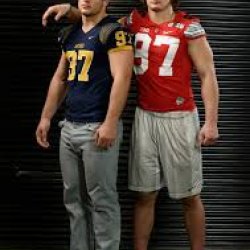 LJ's Ninjas
---
Westerville, OH (via Perrysburg, OH)
MEMBER SINCE July 01, 2018
Graduate of Perrysburg High School, Bachelors at Bowling Green State University, M.Ed. at The Ohio State University
Favorites
SPORTS MOMENT: 2002 Championship game against Miami
COLLEGE FOOTBALL PLAYER: Eddie George
COLLEGE BASKETBALL PLAYER: Jim Jackson
NFL TEAM: Cleveland Browns
MLB TEAM: Detroit Tigers
Recent Activity
Why did I just read that in a Jack Handy voice?
Nooneral. I had to re-read that one lol. Well done Kevin.
Does anyone know what injury Tyreke suffered? This is the first I have read of it. I am really excited to see what he brings to the table so such news was really disappointing.
It would seem, per that 2010 quiz, we need to get to know Matt Barnes a lot more. Time to put together a Barnes article 11W if you haven't done a thorough one already. That cat had me rolling, but at the same time, i don't think I would mess with him as a player.
Ha! Apparently I should have kept scrolling through the comments before making my own Stx.
Shocked there wasn't Captain Obvious behind that caption. Let's hope those plays hitched a trailer to the majority of defensive coaching staff from last year.
Keep them BOOOOOOOM's a comin'!!! Welcome Mr. Melton!!!
"Another way Day can instantly become popular among the fanbase is doing what Chris Holtmann: exposing himself."
Yowza. Here I thought Harbaugh having sleepovers was bad! Now excuse me, I have to get back to teaching at a school where our goal is to make sure our students are mentally challenged (this was actually stated in a brochure a private school I used to work for put into circulation).
I can't imagine coach Stud is a fan of this article. While JK and Mike should have some upset stomachs, Stud should be off puking in the corner. Here's to a much improved run game this season!!
Way to kick off, what we hope to be, a series of BOOOOOMS!
BTW, I need to know Taylor's definition of a Big Ten frame if 6'6" and 299 at the age of 15 doesn't meet it! That's a big boy!
If Jameson can catch and secure the ball cleanly, after seeing our return game last season, I hope to see him out there from day one. We haven't excitement at that position since Ginn (?) who apparently Jameson comps to. Excited to see what this newer staff does that is for sure.
This article makes me sad, not because of imagining the heartbreaking loss, but because I can no longer get my consolation pizza of choice. Myles pizza in BG. Why Chip, why did you have to end our relationship??!!!
Actually he said he is not making an MLB roster with only 2 pitches. Obviously Mariano is the extreme example, but the guy basically made the HOF with ONE dominating pitch...let alone simply making a roster. Point being, you can make an MLB roster with just 2 pitches. Success is a different story.
Agreed Suirrel. In just looking at the QB recruits themselves to me is telling. We have 2 of our biggest targets verballed through 2021 and of course Fields was a huge vet from the TP. I think this will have that domino effect for both WR and RB's which makes me believe Day has that chance of being a monster on that side of the ball. Now that we have competent and accomplished coaches on the defensive side too, the future has the potential of being even brighter than the past 7 years on the recruiting trail IMO.
Mariano Rivera would disagree with you.
Is it crazy or unrealistic to think that Day has a chance at out recruiting Urban? I am of the belief, that if Day wins at a high level this upcoming season, this could be the case simply due to the offense he implements and his reputation for developing quarterbacks. In addition to all of that, recruits and families talk about how genuine the guy is. You pair all of that with the atmosphere and program that urban has established that Day can carry on, and you have the makings of a recruiting monster. But.....he still has to win.
Bobby shut that interview down quickly in recognition of what he was working with. Props to him for not trying to fight through it. Hoping zeke sent him a thank you text this morning.
Their options are probably similar to the ones I had when I was a student at BGSU: eat, drink, or drink some more.
Nebraska = daaaaamn!!!! Never would have guessed they'd top the attendance charts.
Agreed, which is why I feel these next two years are paramount for us when trying to make the TE more of a weapon while at the same time attracting the top TE recruits. If we can't, how can we continue to use that stale sales pitch and expect recruits to trust it?
I'm so interested to see what autonomy Day gives to someone like Wilson. You would think that the guy that coaches the tight ends and ultimately calls the plays, would know how to get "his" guys involved. If it can't happen with that scenario and a talent like Ruckert on board, I would have to believe it will truly never happen. Is it August yet?
Lol! I was just recently informed as to where or what the New Addition was...and I have been a middle school teacher in J'town for the last 12 years. Go Johnnies! Home of the 2nd best damn band in the land!
The speed was a given. I think if they do a 60 yard dash it's not even close. The biggest thing was though, the dude was catching EVERYTHING and catching them smoothly. Add in that his breaks were clean and he showed body control, he may be a lock as a late first round now. Great to see him destroy that combine. Odds A.Rodgers is throwing to him next year?
I like Tuf...as long as he doesn't have to cover someone in space. The guy can lead, diagnose plays, and tackle. If he truly can get quicker/faster, I look forward to having him man the middle again. What I REALLY hope for is that Browning can get coached up and put his athleticism on full display. In the end though, now that I think we have unbiased and knowledgeable coaches in place, I think we'll see the best 3 out there one way or the other. Get em' ready Al!
No downvotes here Brohio. I reserve those for people with completely out of line comments, not ones that simply differ from mine...and mine differs from yours. I personally love the hire. I thought he was a stud for Hoke, holding that team up for a relatively incompetent coach. He was the DC then, he is not the DC now. For us he will be the DC, not a position coach, which I think makes a bigger difference when it comes to recruits. At the same time, I think parents of players will love knowing this man will be working with their kids and he is known for being a stellar recruiter on top of that. Why wouldn't you want his knowledge paired with that of a younger, less experienced coach? Leave LJ to work with the line, Hafley to work with the defensive backfield, and hire a younger LB coach, and let Mattison lead when it comes to the scheme. Also, to answer your Draft Kings question, I would have to see who else I could "buy" (who is actually realistically available) but I can tell you this, Mattison would be towards the top of my list.