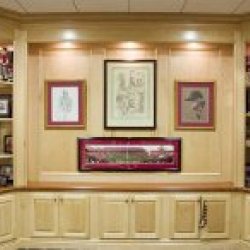 livinthedream
---
In front of my home computer in Western O H I O (via No, but it is where I currently live)
Member since 11 April 2014 | Blog
Favorites
SPORTS MOMENT: Wouldn't matter to Buckeye fans
COLLEGE FOOTBALL PLAYER: Archie, Orlando, Chris Speilman, Eddie George, and a thousand others
COLLEGE BASKETBALL PLAYER: Didn't play for OSU so doesn't matter here now does it?
NFL TEAM: K.C. Chiefs - nuff said
NHL TEAM: Bruins, Rangers
NBA TEAM: none
MLB TEAM: Reds of course, Red Sox in the AL
SOCCER TEAM: Whats that?
Recent Activity
Jeffrey O seems the popular vote sooo Browning.
I thought it was supposed to be white smoke for a new .... Pope. Nicely done Barf.
My bad, thought you were referring to real people and got them confused. Had completely forgotten the episodes you mentioned. But you made me remember the others I mentioned. So thanks for that.
Edit:. The wife says to add Phil Donahue and Johnathan Winters we're also Daytonians.
I think you mean Andy Travis played by Gary Sandy. Another Daytonian on the old WKRP was Gordon Jump, aka "the big guy".
You got the Club notice in first so UV to you. Also should be mentioned it was listed as food network's 2nd best steak house in the entire U.S.
Carillon Park has great exhibits of Dayton's history. And just a few blocks from the Pine Club (and UD).
There's so much more, like Dayton was at the forefront of the school desegregation movement.
Also home to the USAF museum and one of the largest and most important AF bases in the country. If you appreciate aviation (not just military) you need to visit. It can be a whole day experience and FREE since it's on the tax payer dime. Yea I know it's in Greene County but if not for the Wright's it wouldn't exist.
Thanks for letting us crow about our little piece of American history.
So Zeke goes to a bar, something happens but there is no allegation he was even involved. But being in the wrong place at the wrong time leads to innuendo, speculation and ridicule. Welcome to the modern US where guilt comes before innocence. Hmmm
You mean not some egotistical douche bag but a man of humility, a man who is a great ambassador for the game, the university, the state ? Could not agree more.
Well that's a bit of a surprise. Have to admit I was pulling for him to fulfill his legacy. For the unknowing, his father played at U of Dayton.
So lets finish this class by adding Babb, Carman, both Smith's and Ruckert. And if you can flip Silver and Goatete great. And by all means find room for (the) Pope.
The life after football thing seems to put tOSU an ND out front. They've promoted the forty year thing as long as I can remember. Since coach Meyer has been here there's been an increased emphasis on life after football. The real life Wednesday's being a big part of that and we all know about the Buckeye for life, take care of your own mentality. I don't get the feeling the other two compete at the same level which should give us an advantage. So as said above "Jeremy Ruckert come on down".
Great article about a young man who we (well I) knew nothing about. Props Andrew and to coach Coombs for identifying the talent and bird dogging this one.
Oh for the days when phones were hard-wired and only in homes, businesses and boxes usually on street corners.
Hey DJ, the Verizon link takes me to the road game story. But it could just be this cheap ATT phone.
Suggestion: GET THOSE (SHORTS) IN THE 11W DRY GOODS STORE! You'll sell out - maybe just to me.
PS sorry for raising my voice. But I want them.
If I'm uncommitted and on the squad with a bunch who are all committed to the same school I'll get the chance to see how they hang together and play together. How could I not let that sway my decision?
B K I couldn't agree more.
I just spotted this over on 247 and came here to confirm.
Well - We're waiting.....
Meanwhile get the FIREWORKS ready boyz.
Smells like a non-compete clause.
NOOOOOOOOOOOOOOOOOOOOO!!!!
So former Butler coach and current Celtics HC Brad Stevens?
Not a chance. No way the BB coach makes anything close to Urban's salary and NEVER more.
U guys need to send those over to our rival to the east. Their heads would explode. Now we need Mitchell (sp?). And Oats.
The bobblehead site has a real nice highlight clip of Zeke's OSU carries against bama, ducks, tsun, wisky, msu and more. Nice reminder of Zeke's greatness.
"Conley's lawyer now admits that Conley and the alleged victim had consensual sex, " So we finally see that one word that changes the whole dynamic. Turns witnesses to protectors, allegations and denials to one person's word against another. But once DNA was 'exchanged' how else does one redirect the narrative?