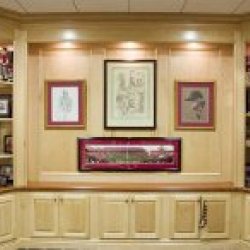 livinthedream
---
In front of my home computer in Western O H I O (via No, but it is where I currently live)
MEMBER SINCE April 11, 2014
Favorites
SPORTS MOMENT: Wouldn't matter to Buckeye fans
COLLEGE FOOTBALL PLAYER: Archie, Orlando, Chris Speilman, Eddie George, and a thousand others
COLLEGE BASKETBALL PLAYER: Didn't play for OSU so doesn't matter here now does it?
NFL TEAM: K.C. Chiefs - nuff said
NHL TEAM: Bruins, Rangers
NBA TEAM: none
MLB TEAM: Reds of course, Red Sox in the AL
SOCCER TEAM: Whats that?
Recent Activity
755
Buckincleveburg you got there first so I had to up the #
Really only care about one thing. Winning. Hate the orange from the acc as much as tnun.
Well I have been in that situation, it's called a contract. Both parties have a stake in meeting the terms. Professional people in all walks of life are engaged in them. They work incredibly well.
I believe coach Day has a contact. Why not his staff?
As for the players I would tend to agree they should be required to stay for two years before going pro or into the transfer portal. However there are these agreements with the NBA and NFL etc which complicate things.
I was screaming the same thing at my tv. Couldn't believe the no calls. One of their TD's would've come back if they had just made the right call.
With the incoming talent I would expect more of the same in years to come.
So what you're saying is the good guys win. - again.
On that play Jones collapses the left side of the line but Rossi put a great block on the DE in the backfield clearing the way for Teague to hit the hole hard and fast. Great execution by the second starters.
All the more important to crush them not just win in order to further enhance the OSU dominance.
Best compliment EVER:
"If you look at OSU's long runs plays its almost always because they have their receivers making ongoing, effective blocks downfield. The attention to detail on this team is amazing."
Thanks MM.
Now looking like what the 1st quarter should've looked like.
Disgustingl first quarter
I anticipated Harrison would be the one freshman who would play past his RS and contribute throughout the season.
Kinda hoped Wilson would too but if Saunders returns soon there will be enough depth in WR room.
Mangiamo's in Hilton Head S.C.
We vacationed there the week before Labor Day so I looked around before we went for a place to catch the first game of the new season. The place was packed with Alums and fans from locals to us vacationers. Food is good, beer cold and service friendly. Highly recommend it to anyone who visits the island.
What I was going to ask. No such thing as proof reading these days.
They surely made the same promises to Ruckert and with the transfer portal being so easily accessible it's time to put up or shut up.
But really it just makes sense. If you have the talent to add another option to your offense you'd be a fool not to. More options = more for the opponent to have to prepare for, more opportunities for missed assignment, more scoring options. Plus it fits Days desire for the more pro-style offense.
You gotta be in or from the area to know that. Your math is highly accurate. As is your knowledge of the uh hum 'shortcut'.
All I know is I want that game action mural on my wall in the man cave.
Lets see, a former OSU player and coach who attended the real life Wednesdays went on to get his MBA and is now an entrepreneur with a burgeoning company. Sounds like the kind of success story that one might want to impart to recruits.
Correct. First concern has to be the possibility of doing long term damage. One event is not important in the overall. Glad Miller got the chance to test it but respectfully 'don't push it '.
Just to pile on here, at least define the context of your analysis mr. list maker.
Here here. A voice of reason.
Seems like a certain interior defensive lineman is conspicuously missing.