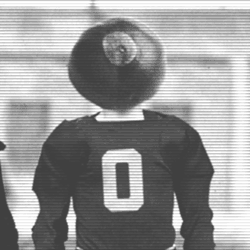 livinginthegrey
---
Member since 15 February 2013 | Blog
Favorites
COLLEGE FOOTBALL PLAYER: Troy Smith
COLLEGE BASKETBALL PLAYER: LeBron
NFL TEAM: any team with a Buckeye on it
NHL TEAM: are they still around
NBA TEAM: who cares
MLB TEAM: Reds
SOCCER TEAM: Chelsea
Recent Activity
Finally, a thread they won't shut down because of internal strife.
Are you saying alien kids don't eat laundry detergent?
That thing in the video reminds me of Harbaugh's success trajectory at TTUN. A bright flash to catch a few eyes, but always, always descending.
HOAs have a purpose and can benefit/protect like-minded home owners. They aren't for everyone and not all are run properly.
Under Johnson Friday will develop into a Saturday and possibly a Sunday!
You sure? Zone 6 hasn't been lighting it up on game days.
Is it that obvious I set-up a fake account just to throw gas on thier dumpster fire?
If a game is removed from regular season in order to expand the playoffs, the power 5 should look at revenue for the entire conference for a) conference champ game, b) conference games and c) non conference home games. My guess is c) generates the most revenue given the number of home games during the non conference week, but does the champ game generate 6x or 7x the revenue as a week of conference games?
I don't think he thought about those covering for him at all.
I think the B1G teams are better positioned because the top team isn't in the playoff.
Reading your past comments is interesting. You don't seem happy with any part of the program.
Agree! IMO, if someone is upset about yesterday or feels angst toward a teen, then they are simply following recruiting too closely. And they should take a step back and enjoy what we have on the field and what we might have on the field down the road.
I like reading about the kids interested in Ohio State, I read the Hurry-up every night at 7:20 (or there abouts), but at the end of the day, the staff is paid millions of dollars more than me to do thier job. They know how to handle each situation better than I do and the results are there, both in recruiting and in Ws.
Herm Edwards is pretty pompous for his actual coaching results. The guy is 20+ games under 50 as a coach. He talks like he won 3 Super Bowls.
Maybe that approach caught up with him.
No alarm clock here, the stress of my job wakes me....
Anyone remember the early comments about Urban never having a 1000 yard back? Yeah, me neither.
Is Smith the mysterious DE tweet from OSU coach from earlier this week?
So is it, "C U". Or "Center U"?
Oregon, the school that changes head coaches almost as frequently as they change uniforms.
And just maybe he said it so Wisconsin would spend 15 minutes focusing on DW instead of something else....
I don't think the committee changed their minds, "don't lose to Iowa by 31 points" is understandably implied.
This is bad. The ability to transfer is incentive for players to get a degree. The football program should not be able to influence an student's post graduate education.
If it were me.... i would share everything I know with every school on the schedule for next year.
Phil will likely double dip as coach and AD! Dilly Dilly!
0205's series of comments reinforce why I hate Michigan fans. The ones I encounter are long winded, blow-hards that think they are always right. Rationalize it however you want, we won.
What was the final sign for this year? Did anyone get a pic?