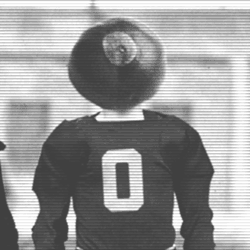 livinginthegrey
---
MEMBER SINCE February 15, 2013
Favorites
COLLEGE FOOTBALL PLAYER: Troy Smith
COLLEGE BASKETBALL PLAYER: LeBron
NFL TEAM: any team with a Buckeye on it
NHL TEAM: are they still around
NBA TEAM: who cares
MLB TEAM: Reds
SOCCER TEAM: Chelsea
Recent Activity
Michigan is not god. They aren't even good.
Again, just my opinion, but Zeke has a terrible history. Why did Bosa move out of their apartment at OSU? To remained focused? An all-American moves away from Zeke to stay focused??? Not good.
Zeke has been in the league 3 years and has been superseded once and had multiple other incidents. The trend is not favorable. Time will tell how close to Art he gets.
I have lots of favorite Buckeyes, and Zeke is by far my least favorite. It's only my opinion, but he's closer to Art Schlicher than Eddie George.
Here's to coach Franklin just being good enough to keep his job.
You can't go Full Rich Rod.
Yeah, but another kid at St X just moved up the ladder.
That Princeton prof might be smart but he doesn't know the age formula for dating. Half your age + 7 years. At 71, the youngest chick he can date is 42.5 years old. Anything younger is creepy.
If I wanted someone to click-on or talk about my playoff "predictor" in APRIL, I would leave out a perennial top 10 team with one of the largest fan bases. I might throw in that team's overrated, underperforming rival, just for fun. Then I would watch the clicks and count my money. Who cares about the validity, as long as I'm making money and talking about next year.
TTUN's marketing department to Hamilton's playwrite: "Hold my beer..."
Yeah, bring back the BCS computers! Take personal bias out of the conversation?
With his record, I hope he stays to see this kid's kid graduate from TSUN.
Salesman? yes. Exec admin? Nope, they aren't bringing in 170k. Janitor, nope.
FB? Absolutely. Soccer, Field Hockey, javalin, hurdler, CC, etc, etc, etc, nope. Not 170 each.
Averages.
IMO, complaining about underutilizing Thomas takes away from what he has done the last 3-4 (or longer) off the field. He's not the same player he was with the Bucks. He has worked his tail off to get better. I loved him here and follow most Saints games, but there are players all over the NFL that have better NFL stats/career than NCAA. (Brady, Kamara, Mahomes...)
This rule is actual incentive for the players to go to class and finish their degree. They then have the options do do as they please and are not beholden to the university. It's one of the few player friendly aspects of the whole scholarship relationship thing.
Grad transfers have graduated. Yes, that is special. They should be treated differently.
That bowl tweet.....the math is wrong in at least 1 spot. Clemson's NY6 bowls percentage is not 71%. It should be 83%. This might not change the story, but don't trust everything found on the internet. Bonjour.
Please define "best". Best hands? Best routes? Best blocker? Best practice player? Best effort?
my belief is that Urban always played the best player at each position. It's just his definition of best differs slightly from some of 11w posters.
Maybe ND and TTUN should schedule a 13th game on the open date the first weekend in December.
Any chance Tate loses the competition and changes positions? He's at a distinct disadvantage to playing QB at the next level. That type of change would allow him to see the field earlier and possibly longer than his 2-3 remaining years at OSU.
But, I'll watch Elf anytime.
IMO, the Big Ten is still fighting a perception problem from years ago, and winning 7 out of 8 bowl games for a few consecutive years can help fix this problem. You can't fix 10+ years of continued failures with 1 single good bowl season. It takes more consistent results.
For some reason, I love the video....
62.... my new favorite number!