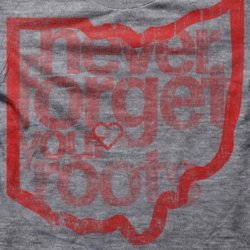 Live Look
Westerville, Ohio (via Westerville, Ohio)
Member since 21 October 2013 | Blog
Favorites
COLLEGE FOOTBALL PLAYER: Mike Nugent
COLLEGE BASKETBALL PLAYER: Aaron Craft
NFL TEAM: Minnesota Vikings
NHL TEAM: Columbus Blue Jackets
NBA TEAM: Cleveland Cavaliers
MLB TEAM: Minnesota Twins
SOCCER TEAM: Columbus Crew
Recent Activity
The CFP Committee will definitely not take Baylor, for PR reasons as mentioned above, undefeated or not. Washington could make it in as a 1-loss Pac12 Champ, but they'd save the Committee a bit by going undefeated.
2 teams from the same conference (Clemson and Louisville, Ohio State and scUM, Bama and A&M, etc.) could make it in if there's some upsets in conference championship games or if Washington State upsets Washington in the Apple Cup.
I happen to think that at season's end, there will be a lot of teams vying for that #4 spot, even non-divisional winners if they pass the "eye test." Let's say scUM runs the table until they lose to the Buckeyes in a close game (7 points or less). They would definitely have a case to get in if Washington loses a game they shouldn't lose or if a team that wins one of those conference championship games has 2 or more losses.
This is the year that the CFP definitely would benefit from an 8-team playoff. Right now as the rankings stand it would be:
(1) Alabama vs. (8) Wisconsin
(4) scUM vs. (5) Washington
(2) Ohio State vs. (7) Louisville
(3) Clemson vs. (6) Texas A&M
Those would be some great matchups. I know things will change, and teams will lose games head-to-head, but sooner or later the playoff needs to expand to 8.
Any chance we see the black jerseys for this game? Or is it maximum one game per year by contract?
152
... and a cloud of dust!
After a week in which it ran through pummeled Rutgers Penn State and lost a heart-breaker to Michigan State (due to, among other things, poor free throw shooting), Ohio State dropped one spot in the AP Top 25 to No. 24.
Fixed it for you, DJ. Blasting Rutgers aided last week's poll, not this week's.
Isn't it amazing that the Buckeyes could potentially play against the Top 3 Heisman Finalists in 3 straight games? To win the National Championship this route would be quite the feat.
J.T. will get it next year as we repeat as champions! Go Bucks!
If the B1G goes at least .500 with wins in the two that matter the most, I'll be happy with that. I think the B1G actually has a chance to rectify its national reputation in these bowls. Here's to hoping the Big XII doesn't win a single bowl which would tell the committee they made the right decision.
If they're infected with NOBOWLA, I wouldn't be surprised to see us rockin' these alternate unifor_s Saturday...
"It's Ti_e for War" is the one song Urbz has on his iPod that isn't so_e of Kenny G's s_ooth jazz.
I was at the game last night, almost froze to death, but the very high level at which the Buckeyes played warmed me up.
I was amidst a sea of green, and all the Sparty fans around me kept complaining about the refs like Penn State did. Mostly, they were very friendly, but they were acting entitled and harassing me when Ohio State was down and Dontre fumbled the kickoff in the first half. I couldn't see the non-call on what every Spartan fan thought was pass interference when Sparty was up 21-14 and their receiver laid out for a ball that was overthrown by Cook, the one right before their touchdown was called back due to holding. Was it pass interference?
Overall, the atmosphere was amazing, but didn't come close to the atmosphere of the Shoe at night. Their "300" chants were pretty cheesy. Mr. J.T. Barrett played like a champion last night. It was even more impressive to see him do this live in person. He put the ball right on the money when we needed big pass plays. So proud of our young QB and our young team!
Good Lord, I hope I'm not staying at the same hotel tonight. Go Bucks! I'll be cheering you on from Section 25! I hope they sell hot chocolate in Spartan Stadium to people in scarlet and grey.
Georgia lost to two teams with losing records yet is still 17 in both polls. This makes no sense whatsoever. Georgia should (at best) be ranked in the 20s. Ole Miss being ranked 12 in the AP is a bunch of crock. They do have one really quality one against Bama, however, they have two losses. I think they should be around 15.
If Ohio State loses next week at Sparty, how far do our Buckeyes drop? I say the voters in every poll find some way to knock us out of the top 25. This is why we have to win next week. I'm calling it a "must-win."
Notre Dame and Oregon both deserve to be higher. Florida State was gifted the win against Notre Dame, and Oregon beat a top 8 MSU team and has a "quality loss" to Arizona.
The way I see it is that 2 SEC teams get in this season no matter what, and FSU makes it in no matter what, even if they lose. That leaves one spot open for the Big 12/B1G/Pac-12 winner or Notre Dame. I project that Oregon will lose to either Stanford or Utah yet still win the Pac-12. Notre Dame should lose one more game, either at USC or at Arizona St. That leaves the Big 12 winner and B1G winner fighting for the last spot. 1-loss MSU has a better shot than 1-loss Ohio State, but at least there's still a chance. Heck, even MSU last year would have made it, and they were ranked 22 at this point in the season.
Just like you have to watch out for the "quiet ones," I predict that this "quiet week" of low-key matchups will provide some upsets.
Just my theory, however.
Possible nickname(s) for our Buckeye QB:
J.T. "Grin and" Barrett
"Mr. J.T., now what you got for me..." (Yes, I did just make a Justin Timberlake reference.)
​My score prediction: Ohio State 62, Penn State 13. One point less than last year for both teams. Should be something like 34-6 by halftime, because we will go for 2 a couple times in the first half. Mark May my words.
November 8 can't get here soon enough...
Penn State hasn't played an explosive offense like ours. It's a well oiled machine right now. They may hold us to less than 200 yards rushing, but I see J.T. Barrett putting up 300+ yards passing and at least 4 passing TDs. My prediction is 47-20 good guys.
Defense was suspect at times, but overall a pretty good outing. Lots of talent on both sides of the ball. At least good ole Verne and Gary got that right.
I'm not sure if this will work, but you could always try downloading the CBS Sports app and airplaying it to the Apple TV or streaming it to your Smart TV. I'm not 100% that they're going to carry it live, but the app does say it has live streaming of CBS Sports events. https://itunes.apple.com/us/app/cbs-sports/id307184892?mt=8