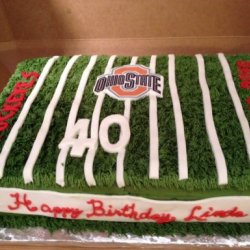 Lindabeezie
---
Maryland (via Washington, D.C.)
MEMBER SINCE June 14, 2015
Married into Buckeye Fandom. Been passionate about them ever since. Some would say a little TOO passionate. Bordering on fanatical.
Favorites
SPORTS MOMENT: Being in the stadium when the Buckeyes won the FIRST National Championship of the Playoff Era. Many more to come!
COLLEGE FOOTBALL PLAYER: Chris Olave!!!
Recent Activity
I've said it before and I'll say it again: Michigan tears are THE MOST delicious!
Yeah, it's a pipe dream I know...but let me have this, will ya? ;)
Let's look at this another way: Clemson won't be challenged all year...but they won't be CHALLENGED all year. It's like loss of muscle memory. They'll get so used to playing cream puffs that they'll lose their edge when it comes to tougher competition. If you don't use it, you lose it.
A girl can dream, can't she? ;)
What's "bonified" mean? Are you trying to say "bona fide"? I can't even comment on the content because I'm so flabbergasted at that nonsense.
Bears. Beets. Battlestar Galactica.
Classic.
Wow, that Spartans Wire dude at the 4:55 mark wasn't pulling any punches. Translation of what he said, "You were over-hyped and you've severely under-delivered. Annnnnnd...go!" I love it. And then dumbass Harbaugh gives the same answer as he gave to the 11W guy. What a schmuck.
This is gonna be a good year...
Am I the only one who hasn't yet forgiven Isaiah Prince for doing his best Swiss Cheese impression the last couple years?
Basically, an insignificant contender. Like in an election, someone who ran for the office but came nowhere close to winning.
I think you mean 68-14. No tellin' if Special Teams would have made the PAT on that day.
Good God, can the offseason just be OVER already? This last stretch is the most excruciating...
I'm all for good sportsmanship, but I can't stand when people accuse us of running up the score. You play football for 60 full minutes. We pulled our starters at the right time, and gave a lot of young guys a chance to play. I'm fine with "running up the score" that way. If you wanna stop us, STOP us!
(Of course, a lot of the naysayers were *ichigan fans and other B1G fans who are just haters, but still...). The pussification of football continues...
I know one thing is for damn sure: I'm going to miss Devin Smith! We need someone to step up to become our new deep threat receiver. I think it'll be Michael Thomas. He's proven himself time and time again, so he's the one I'm banking on.
I've been watching Devin Smith's highlight reel(s) on YouTube and he was the MASTER. He's got talent by the mile.
Hi Guys. New to Eleven Warriors but I have already learned a great deal from all of you passionate Buckeyes fans! I love it!
I married into a Buckeye fan family 15 years ago (husband attended; father-in-law attended and was a professor at OSU). Since then, I've become FANATICAL about the Buckeyes. I get a lot of flack from coworkers for not having PERSONAL ties to the school, but I don't care. I bleed scarlet and gray. My husband and I attended the National Championship game and it was one of the highlights of my life. I cannot WAIT for football season to start back up again! Happy to be here and get in on the BUCKEYE FEVER! Go Bucks!!!!!!!!!!!!!!
P.S. Is it crazy that I'm planning to move to Columbus from the D.C. area to be closer to OSU? I just gotta be in the mix! :)