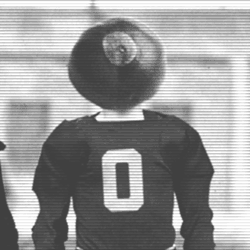 LilTrautie
Columbus, OH (via Mason, OH)
MEMBER SINCE November 05, 2017
Favorites
SPORTS MOMENT: Buckeyes 2014 NC
Cavs 2016 NBA Champs
Indians 2016... so close...
COLLEGE FOOTBALL PLAYER: Gosh... AJ Hawk? Braxton Miller? JK Dobbins?
COLLEGE BASKETBALL PLAYER: Aaron Craft
NFL TEAM: Cleveland Browns
NHL TEAM: Columbus Blue Jackets
NBA TEAM: Cleveland Cavaliers
MLB TEAM: Cleveland Indians
SOCCER TEAM: Man City
Recent Activity
Let's turn the tables... Colin what if you got one of them to interview you??
Agreed, I think the people make the atmosphere just as much as the building does. I don't like complaining, I think as a fan base we can take much more responsibility for this than we do.
Colin I'd definitely be interested in interviews with any of them. Not too much of a preference but I'm sure Etzler would be interesting as there is some friction on the site regarding him.
Which team gets better: basketball team gets Dawand Jones or football team gets Jae'Sean Tate?
Best/worst professor you had at OSU ;)
Which non-Buckeye team should Coach Duggs go to next?
Agreed, he got much better as the year went along.
I totally forgot to mention... Wimbledon would be up there too. Preferably before Federer retires.
US Open would be great. My parents live 10 min from the Western & Southern Open in Cincinnati so my dad and I go each year. Tennis tournaments are extremely underated IMO, they're a ton of fun.
I'd have to say The Masters though. Can't really get any better than that.
I always thought that was a Cleveland thing :)
CincyBuck, what part of Cincy are you from? I've always wondered :)
I've seen a few golf-related forum posts in the past week or so... what would it take to get an 11W golf outing some day? :)
Depends where and what time you're playing. Twilight hours really drop the price and there are a lot more municipal courses than there are expensive public and private courses. The tee time most people are used to seeing are the Saturday/Sunday morning which is always going to be the most expensive.
And I've noticed that Ohio courses are more expensive than other places I've played. I just played at Hilton Head last week at a nice course in one of the early morning tee times and it was only a little more expensive than playing an average Columbus or Cincinnati course at a similar or maybe even less ideal time. I also played in Florida last year and gosh you get deals on those courses - $20 each at a very good course at a prime tee time.
I've read somewhere that golf in Great Britain and some other places is pretty cheap comparatively. I think it really comes down to supply and demand, how much course maintenance is needed, and how often the course is busy. Ohio courses are at a disadvantage because they're only really busy in the summer, relatively busy in Spring and Fall, and basically closed for much of Winter.
Congrats, man!! Hole-in-ones are odd in golf - Tiger Woods had something like 19 of them before 2000 and since then has just had 1, and that was in a practice round a few years ago. Definitely get a display for the ball, you'll want to show that off :)
I picked up the game again last year. I used to play a ton as a kid but I took baseball too seriously that I had to drop it. When I graduated college I finally had the time and money to get into it again. I'm pretty addicted now, play a few times a week. Always glad to see more golfers on the site!
Anything like Moon City or in general related to the moon would actually be pretty sweet.
How are the teeth hangin?
The Air Force museum or whatever it's called in Dayton is pretty sweet if it's open - and it's free if I remember correctly. Almost the same amount of time to go through Dayton than up I-71 if you get off in the Mason area.
You could probably spend 1-3 hours looking at the ridiculous houses in the Indian Hill area too lol.
Cincinnati has a lot of cool parks and trails - there's like a bike trail in the Loveland area that is in a neat spot.
There's an outlet mall halfway between Cincy and Columbus on I-71.
If you are hungry Taste of Belgium is incredible - awesome chicken and waffles. The Eagle is great to. And Condado.
I know these aren't great ideas I'm just tryna brainstorm.
+1, because somebody has to recognize greatness.
I went through the DARE "program" or whatever you call it in 6th grade. I probably still have the T-shirt they gave us sitting around my parents' house somewhere.
Yup and that's a good point - they definitely could've done a better job of being clear to everybody what the intent was. Still is a very silly thing to be upset about lol
Thanks, man. Front 9 I played great, back 9 was a little different story. I should mention I'm playing in Hilton Head and absolutely love the grass here - the rough is basically like playing in the fairways in Ohio.
Agree on the waiver. I'll admit I'm confused on this - what are people upset about? It's not a legal document, it's a pledge to basically not be irresponsible while they're back on campus, which is what everybody should want from them anyways. It doesn't mean anything, it's for accountability. It's supposed to deliver good PR. It's silly because there is almost a double standard, like ok how do you think this could be handled better?
Those are my thoughts, I'm open to hearing the other side but I think it all will come down to "is this really worth arguing about?"
Welp, I'm up early. Go Bucks.
Wish me luck on my 7:44 tee time this morning :)
You have to change Ohio State's colors from scarlet and gray to another combination what do you choose?
No cheating, you can't use another combination that has already been used by the school.