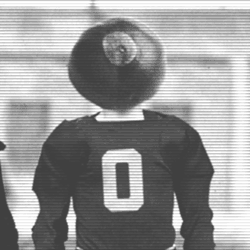 LilTrautie
Columbus, OH (via Mason, OH)
MEMBER SINCE November 05, 2017
Favorites
SPORTS MOMENT: Buckeyes 2014 NC
Cavs 2016 NBA Champs
Indians 2016... so close...
COLLEGE FOOTBALL PLAYER: Gosh... AJ Hawk? Braxton Miller? JK Dobbins?
COLLEGE BASKETBALL PLAYER: Aaron Craft
NFL TEAM: Cleveland Browns
NHL TEAM: Columbus Blue Jackets
NBA TEAM: Cleveland Cavaliers
MLB TEAM: Cleveland Indians
SOCCER TEAM: Man City
Recent Activity
What even is an Arby, anyways?
I've listened to Russillo since the SVP days... boy has he come a long way. I don't like his podcast as much anymore but I've always liked that he seems very well thought out and reasonable on his takes even though I don't always agree. It's refreshing to listen to somebody who doesn't have the same scarlet-colored B1G glasses as we do :)
Actually one thing I remember - I think there's definitely some validity that Holtmann could look at going to the NBA at some point during his career. Not saying there's any sort of timetable with it or that it will happen but they talked NBA and his relationship with Brad Stevens and you can tell that that level of basketball fascinates him. Just something that has come up every once in a while especially if you listen to the BuckeyeXtra basketball podcast.
I'd say nothing really was said that hasn't been said by Holtmann before but definitely worth the listen because it was good exposure for the program and you get to see a little bit of Holtmann's personality away from typical interviews we see.
Russillo is a good interviewer too and him and Holtmann are similar in some ways. Sorry I know that's a cop-out response but there wasn't too much to call out that I can remember.
Love the site since it's the same as 11W but I wish there was more activity.
Baseball was my favorite sport growing up but honestly I'm burnt out by it already this season. I don't want to put all the blame on Manfred because even though he's been a terrible commissioner I get that there are plenty of more factors involved than we realize... But I mean come on. The league is a mess. And they have already royally screwed up their best storyline of the year in everybody hating the Astros. And the new relief pitching and extra innings rules don't even feel like baseball anymore... too gimmicky. It's a shame because this game used to be THE sport in the US and has plenty of room for growth but has been screwed over time and time again by lack of leadership etc etc...
That's my soapbox. Go Tribe.
Which island? I've been to Oahu and Maui.
Bdubs or Roosters?
I have a theory on this that your answer depends on where you grew up if it was in Ohio. My Cincy friends are all Bdubs and my Cbus friends are all Roosters. I enjoy both greatly for the record, but I like the variety of Bdubs sauce collection more than Roosters.
Is there a legit possibility too that they just sit tight and don't add any big men?
The above got me thinking about Diallo too... have you heard anything about what the opinions in the program are for his basketball development? I know he's thought very highly of from a character standpoint but I'm wondering if he's made any progress from "raw, long-term project" guy to someone they actually think will contribute some day. I'm just trying to think with the current roster who our other potential big men could be in the '21-'22 season ya know.
As you said, optimistic of course with the crystal balls that are currently in, but with the team still not knowing what he's doing less than 2 hours before his decision I'm a little on edge. But it's also very on par with how Malaki has handled his recruitment thus far.
Maybe unrelated, but I'm from Cincy originally and we had to watch the Tribe on MLB.TV. However, since I've been living in Columbus for college/life their games get blacked out if you're trying to watch via that subscription on Columbus. It's dumb. I think normal cable gets the game though? I've only had YouTube TV for a few months so will find out soon.
Colin - admittedly am not paying as much attention as I usually do - will '21 be a 2 man class or do we expect more?
Let's turn the tables... Colin what if you got one of them to interview you??
Agreed, I think the people make the atmosphere just as much as the building does. I don't like complaining, I think as a fan base we can take much more responsibility for this than we do.
Colin I'd definitely be interested in interviews with any of them. Not too much of a preference but I'm sure Etzler would be interesting as there is some friction on the site regarding him.
Which team gets better: basketball team gets Dawand Jones or football team gets Jae'Sean Tate?
Best/worst professor you had at OSU ;)
Which non-Buckeye team should Coach Duggs go to next?
Agreed, he got much better as the year went along.
I totally forgot to mention... Wimbledon would be up there too. Preferably before Federer retires.
US Open would be great. My parents live 10 min from the Western & Southern Open in Cincinnati so my dad and I go each year. Tennis tournaments are extremely underated IMO, they're a ton of fun.
I'd have to say The Masters though. Can't really get any better than that.
I always thought that was a Cleveland thing :)