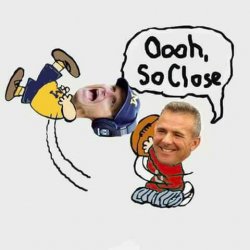 Lil-Buck
---
MEMBER SINCE October 20, 2018
Recent Activity
I guess you just logged it. +1
Pretty incredible he can't figure that out huh?
They got wind and deleted the blog already.
Go watch at a sports bar, or a friends house. So as not to boost the ratings.
Time to teach them a lesson & don't tune into the chip game. go else ware and watch.
Yeah... Anytime someone says something that is not agreeable, they should be fired.

She posted something for a reaction and got it.
Will that be your stance on the topic if tomorrow, someone accuses you of beating your partner?
Next play everyone hit a ref
MGO
AaronStark19
November 24th, 2018 at 3:45 PM ^
I'm 20 and can remember exactly 1 win, 1 fucking, win. Fuck this shit
About time you throw the hold flag