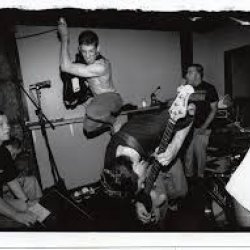 Lifetime45
---
MEMBER SINCE August 14, 2015
Recent Activity
Spoken like a true knuckle dragging meathead....
That Nike commercial was fucking awesome.
I knew a girl in college that was quite the expert on the mattress
I have one Buckeye t shirt I rarely wear and some Cuse stuff stashed away in the upper reaches of my closet/abyss.
I wear the shit out of old punk rock and hip hop shirts though.
"Talkin' Loud and Sayin' Nothing"—-
James Brown
Rudy had heart, toughness and character ( so i am told by this shit show of a movie).
It is important but that alone doesn't score touchdowns on Saturdays.
You collect all the data points that you can (speed, character, height, weight, hand size, mother's maiden name, etc) and try to draw conclusions.
Please tell me that is a joke. For humanity's sake, please. A joke right?
A few thoughts...
1. Your kid is not going pro so stop with that fucking pipe dream right now. It is the odds of a lotto ticket at best.
2. Never put yourself in the position that the ref decides the game. Your fault; not the ref.
3. Eliminate all replay reviews, VAR, etc. Human error is part of the game, including the ref.
4. If you get so mad at the result of a "game" that you fight other people, break TV's, sulk for 3 days... get a fucking hobby. Build ships in a bottle or take up needle point.
Used to be a 9.....
got older and now maybe a 4
My completely uneducated guess is that the elite will still be elite.
The borderline talents would benefit more from the elite training.
But what do I know, my kids watch videos of other kids unwrapping toys on YouTube.
I met a guy through work whose son is a promising hockey prospect. (Full ride to a great hockey college program, trying out for the US team for his age group.)
He told me he spends at $40K a year on hockey (equipment, travel, clinics, etc)
I am very happy that he can afford that and his son is certainly reaping the benefits.
But I am also sure Wally Gretzky did not spend $40K (inflation adjusted before someone chimes in) a year to mold the best player to ever live.
1989 at a jr high football game, my neighbor's dad showed up hammered, tried to fight the ref, the AD and the cops were called.
this shit has been going on since the first time assholes started having kids. Not a new phenomenon.
High School Harry's and Uncle Rico's
Still wear their class rings and lettermen coats; now living through their children.
If you can make it through his version of Hallelujah without tearing up a little; you have cold, steely void where your soul should be.
Hey Zach... go fuck yourself.
i can only assume it is you since you have been white knighting for ZS on any thread that mentions his name.
The Day family is doing a great thing and you bring this bullshit into it?
Tool played one of the small stages back by the merch.
Front 242 played right after Babes in Toyland. I think Tool was main stage after the Columbus date (they were for sure main stage at some point).
I still cannot believe Tool was playing one of the side stages during that leg of the tour. They should have headlined over Primus.
I saw them at Lollapalooza '93 at Buckeye Lake. I was right up against the barrier center stage.
They opened with Bombtrack and that place came completely unglued.
I have been to a lot of shows and I have only seen one other act make people lose their shit like that show.
Jawbreaker
Lifetime
Avail
Jawbox
Terrible woman but her dogs were great.
love St Bernards
Plenty.
But those don't involve being a lazy pig of a human being.
I am not falling for this "discussion"
Look up MC Serch's story about his night out with Bill... it tops the eyeball story.
Don't want a fine?
Don't throw your garbage out your window. I wish the fine for littering would be $50,000.
May Halloween eternally fall on the weekend
Barrio is about a 5 minute walk--- have to try the bacon tacos.