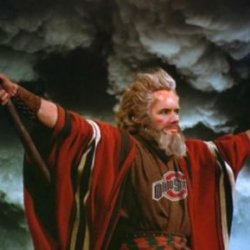 Liening
---
MEMBER SINCE December 20, 2011
Graduated from OSU in 1974. Still a huge Buckeye fan, and loving every fall. Well, 2011 way less than most of the others.
Favorites
SPORTS MOMENT: 2006 OSU-MI Football game
COLLEGE FOOTBALL PLAYER: Craig Krenzel
Recent Activity
(Sigh)
Shows how clueless the talking heads really are. It also emphasizes to me that the CFP should never have 2 teams from the same conference.
5-star running back from Ohio? We need him on board!
Good for Sawyer. Love to see the recruits excel in multiple sports!
I am totally on the side of Michael Douglas's character on this score. I am repeatedly annoyed at how my fast food does not look anything like the picture. More often than not, they cannot even get the burger or chicken fillet centered on the bun -- it hangs out the side with the toppings squishing out the other side. (rant over)
On an airplane ride many years ago I sat next to a nice young lady. I asked about her work, and she said that she was a "food dresser". I asked what that is, and she said that she is the person who stages the food shots used in ads and menus. Apparently, people actually make a living making your food look way better than it will be.
Bux -- that is hilarious, and so close to what I was thinking!
I suppose that we should not put you in charge of recruiting coaches.
Urbs -- thank you for what you have done for the OSU family, may God go with you on your journey from here, and I have every confidence our guys will deliver one final victory for you in the Rose Bowl!
...or maybe he reflected that Harbaugh is staying?
Conceded. It can indeed be read that way, and because you wrote it, i admit i was wrong. Please don't tell my wife and kids.
Yippee! This hardly ever happens, but it looks like today I get to be the grammar nazi. Try duel instead of dual for a confrontation between 2 adversaries.
Did you notice on Haskins pass to Austin Mack, Michigan #28 pulled the towel from Mack's waistband and waved it at the ball as it sailed into Mack's hands? I did not hear anyone comment on that during post-game commentary. Is it legal to use a towel to block a pass? Either way, it is useful as a metaphor for the futility of TTUN efforts.
The take in Michigan is that Wisconsin lost the Michigan-Ohio border war.
A 6'6" wide receiver -- like the sound of that! Figure that maturity and Mick will put 15-20 pounds of muscle on him -- could be a great weapon.
Massive is right. Like servers, delivery guys live on the tips. It is wrong to stiff them.
I took my teenage son to an OSU-MI game at the Horseshoe. I wore my Buckeye gear, and he wore his UM gear (he grew up in MI). OSU was the underdog, but won. He never got the first bit of hassle from Buckeye fans the entire day, even when he came with me down on the field after the game for the celebration. Of course, we stayed away from the drunk-frat-boy houses. Having said that, when I see ass-hat behavior from Buckeye fans, it makes me cringe. We should be better than that.
"This is a lot like '14"
Wow -- I would take that in a heartbeat!
Please tell me that you are not driving and posting at the same time.
Like those comments! I think we have a shot with him.
Even Purdue has 2 on the watch lists. Color me surprised.
It is interesting how early the recruiting process starts for top high school talent. These guys hear from schools, and even get offers, as Sophomores or Freshmen. I probably would not have handled that sort of attention well as a 15 or 16 year old. It is really important for these guys to have strong parental (or at least adult) influence at that age, particularly when everyone is telling them how wonderful they are. I love it when I see a families like the Bosa's and Elliott's supporting and guiding great talent.
I just love that I can start my Saturday morning reading 11W in my PJ's, drinking coffee! Bless the day I found 11W!
As a Buckeye fan in MI, I just love to see Coach Coombs show up at MI schools and camps. He really leaves an impression on the kids. It would be easy for OSU to be an auto-hate university in MI high schools, but I don't see that from the high school players. There is real respect.