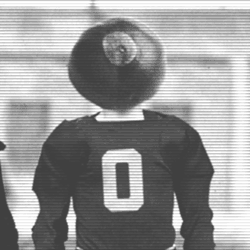 letsgobucks
---
MEMBER SINCE April 12, 2013
Recent Activity
i didnt realize how big of a guy Kendall Milton was..
Here i go again on the Knighton train..... I wholeheartedly believe this kid is going to be special!! He's tough, runs mean, has good vision and has a great burst. He's not an H he's a running back. And he's going to be a beasttttt! (I feel like no one is listening to me)
The team with Kaleb wins (assuming you can't foul out). Pretty much that simple for me...
I think the expectations for Victor coming into college were way to high based on what i've seen from him over his career. I almost wonder if it wasnt fair to him to have such high expectations placed on him. Hes not going to be a great receiver at any point in his career. If he can just be better than he was last year id be happy. We dont need him to be a star, just be a consistent receiver who gets open and catches the ball when thrown to..
No disrespect towards Victor at all but him getting playing time has always made me wonder about Jaylen Harris. Victor has been that much better than Harris that he couldnt even get a shot?
Not sure why Wilson gets a pass but not Olave. Olave has already shown he's a star on the college level. And all reports are he's an extremely hard worker. If we penciled in one receiver to get starter reps it would be Olave...
He's as much of a rb as Carlos Hyde was..
Im very anxious to see how things fall in the competition for carries next year. I think all of our backs have excellent potential. Mccall, Teague, Crowley, Steele (hopefully Robinson and Knighton) all have their strengths. Can't wait!!
Harris has waited his turn behind very good receivers. If he was behind bums I'd be more concerned. We'll see how he produces in year 3. I agree with Gardener and share your concern with Babbs legs. The more playmakers the better, until they transfer (I hope not)..
Agreed! This class is very very close
Assuming there isn't a serious injury, coaches a lot of times don't know who will redshirt until up to half way through the season. We haven't even had our first practice yet. Williams will be competing for time along with the other receivers this year. He's going to be a good one...
I hope no one transfers however there will be guys who undoubtedly have to wait their turn. This will be a very deep group next year. Olave, Wilson, Williams, Gill, Harris, Babb, Gardener, Fleming, Scott, JSN and Cooper will all be fighting for reps. Even with a rotation there will be a group who won't get on the field. As a fan I'd much rather have it this way than not enough talent tho..
Stars should have zero barring on who starts. Stars no longer exist once a player steps on campus. The player who gives you the best chance to win plays, period. And I believe the coaching staff follows this philosophy. It's most of Buckeye nation and the media who have a hard time with this concept..
Someone better tell Renfro we don't do fair competitions around here. The kid with the most stars starts.. Day isn't bringing Miller in to sit the bench!
When Jae'sean Tate drove left and dunked I thought "classic Tate". When he went right and dunked I shed a tear like a proud parent..
JSN's highlight film looks very, very good. I def agree he doesn't get talked about nearly enough. But I don't think that'll be the case once he gets to Cbus.. kid is a beast!
Glad to add this young man to the class. He looks like a pure baller who is a threat to score every time he touches the ball. With KJ Hill and Saunders both leaving, I dont see why we cant have him and Cooper in the class. We lose 2 we add 2.. We rotate receivers so shouldnt be an issue.
I was very excited to see Werner start last year. Like many of the above posters, i was extremely disappointed with his play. He looked to small and seemed to get pushed around most games. I realize every year is a new year so im optimistic that Werner will be a better, more physical player than he was and will use tape to learn from his mistakes. I think/hope he'll be much improved this year.
I wonder if Bowen would have played well enough to make the honorable mention list if he was healthy enough to play last year. let the competition begin...
I love Ricks attitude. He sounds like a true competitor. It doesn't sound like we're close to flipping him but I'd love to have him in the class.
Love this comment, Buckeye Phi. We have more talent in the wings than most have starting. The majority of the big would love to have our inexperienced db's. I think most position groups in college are inexperienced. Ours may be more experienced than most as they've at least practiced against legit nfl receivers for a year or two. I'd take that experience any day...
Isn't left guard open as well? I know we're expecting the transfer from Rutgers to win the job but he just got on campus. I don't believe he's had time to win it yet..
Knighton looks very, very fast and he runs with an attitude. I think he's going to surprise some people. I look for him to be a Curtis Samuel type. Once he's on the field, I predict he doesn't come off.
Robinson AND Knighton??? My top 2 targets??? I seriously don't know what I would do with myself!!!!
Very good article, IF, thank you!
I didn't watch the spring game until about 2 weeks ago. Based on the numbers and how down Buckeye nation was about his performance, I was afraid we might be in for a long year. After finally watching I felt much better about Fields and my buckeyes this year. He def didn't have his best day but it wasn't just him. But you can see the talent is there. With more time to prepare, an actual game plan, playing with all 1's and others playing better around him, we're gonna be just fine.