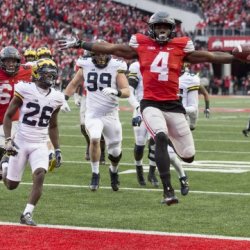 Let Urban Go For 3
---
MEMBER SINCE August 28, 2015
Recent Activity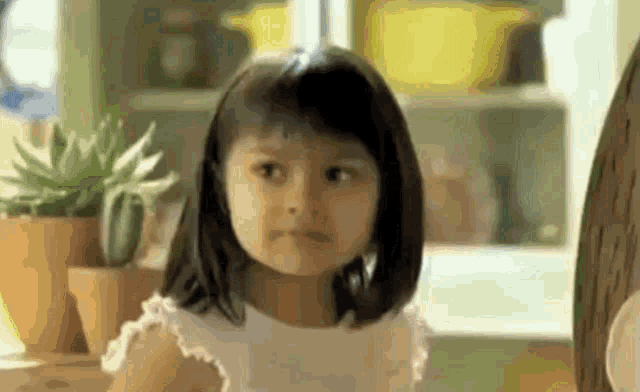 I crunched the numbers as well and came up with the same conclusion. There's no way they try to throw in a non-conference game I assume.
That douche Clay Travis tweeted something similar. No date on his but he said it was unanimous.
I think he has made it through all of the interviews with Cowherd without saying it. He's pretty good at being respectful without having to let that filth come out of his mouth.
Can't wait to watch this guy play, but his penmanship is atrocious.
Matt Campbell would be my guess, if he doesn't land a big job elsewhere first. I don't see Fickell doing that in a million years.
You're fine with them hanging up a banner!? I am way more than fine with it. That may be the only thing that can rival my joy in the Buckeyes destroying them 62-39. I am praying they are dumb enough to listen to Jack and hang that baby up. That is the height of embarrassment and it will give us something to laugh at until they take it down.
I think he makes the move to Louisville. My question is what kind of position does that put Rondale Moore in? The only reason he ended up at Purdue was because of Brohm and his connection to him because they are both from Louisville. If Brohm had already been at Louisville as the head coach, this kid wouldn't have even had a recruiting cycle. Would he transfer to Louisville and follow Brohm and sit out next year?
This is getting ridiculous at this point. Our tackles made Willekes look like a better version of Clay Matthews.
I agree that we'll be wearing something stupid for The Game. I wish they would just do it to add some interest to what should be bad games against Minnesota or Nebraska. I hate that we are forced to wear something other than our traditional uniforms for The Game. I want to look back at photos of that drubbing years down the road and not see alternate jerseys that don't represent the time period.
Call me a "get off my lawn" type if you wish. I'll gladly take it even though I am in my 20's still.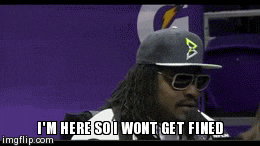 I'd be good with a healthy dose of this to be honest.
Agreed.
Once I got sick of listening to those morons on ESPN, I flipped over to B1G Network and they were just as bad.
Tomorrow morning Bruce Hooley is going to be horrible too. Guaranteed.
It honestly disgusts me that the media has decided to double down on this after the press conference even before seeing the full report. These people are absolutely certain that Zach Smith is entirely guilty and that Urban knew everything about it despite the fact that Zach was never charged or even arrested.
I keep hearing them say guilty in the court of law is not the level this should go before reporting, which I totally agree with. The problem is that standard of proof is entirely different for actually making an arrest in the state of Ohio for DV. If the police see any evidence DV has taken place, they have to make an arrest. They are not allowed to just walk away if the wife (or husband) doesn't want to press charges. This simply didn't happen at any point during the time Zach Smith was employed by OSU despite the fact that the police were called many times. Why are the media so certain that the police were wrong every single time?
Wow ESPN has gone all in.
"Brett did a terrific job at reporting the story" - Rece Davis
I think she specifically said both of them continued to track the investigation that was being handled by the police department and were in contact with them for months...so what you are saying is entirely false. They did not report it to compliance within the university, but to say neither of them did anything is simply incorrect.
Edit: Beat me to it Bd
Christ. These guys on ESPN aren't even attempting to give accurate accounts of what we all just watched at this point.
Awesome isn't it? Second person interviewed (legal analyst Ryan Smith) basically said "they specifically said he didn't report it and he deliberately lied".
Wtf was that moron watching while we were all watching the press conference?
Anton would certainly be up to the task.
I think he would still be 3rd but would close the gap significantly. Frank Leahy is sitting at .864. If Urban goes 15-0 this year, he would jump from .851 to .861.
Just for reference, if Urban goes 0-12 this year, he would drop to .805 and still be clear of Nick Saban by a margin of .024.
If Urban is reinstated, you may not have enough digits on our score...
Speilman definitely pushed back more. He went off after the interview too. I get the feeling that he had to try very hard not to call McMurphy a weasel live on the interview.
The crazy part is if Josh Gordon comes back and they somehow get Dez Bryant too, they will have arguably the best (but potentially the most volatile) WR room in the entire NFL. Callaway is going to be what Coleman should've been if he can stay out of trouble, Landry looks to be a top target in the league, Higgins looks solid, and you could add two more potential superstars.
I'm not a Browns fan by any means, but this team is starting to amass talent to the point where they can't possibly continue to be this terrible. It was already nearly statistically impossible for these morons to lose 31 out of 32. With these guys they have brought in, if they can't win 4 games this year, the fans should honestly encourage Haslam to move them out of Cleveland....again.
I would assume if Landers does get subbed out for a rushmen package, you'd probably see Bosa kicked inside and Cooper would be outside. I think from a technique and body type standpoint, Bosa is probably a lot more suited to go inside in those situations.
Admittedly, I don't know enough about Cooper at this point. However, I have a feeling we are going to learn a lot more about him as the season progresses even if he isn't starting.
I've just vomited all over myself simply thinking about losing to TTUN, so yeah a title would be tainted in my eyes.
My in-laws are all fans of TTUN though, so my views may be slightly different. Nothing in this world gives me more joy than to see the look of disappointment and shame on their faces every November. No chance I would trade a title for that.