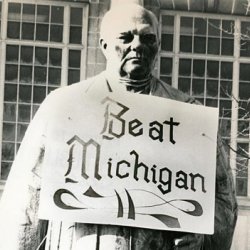 LessScarletMoreGray
---
MEMBER SINCE April 12, 2013
Favorites
NFL TEAM: Browns
NBA TEAM: Cavs
MLB TEAM: Indians
Recent Activity
Lunasa is coming to Medina and James Taylor will be in CLE for what may be his last time.
My question is, isn't that an NCAA violation to allow student athletes to drive the cars of athletic department personnel? That's not a perk that's available to all students equally.
Only if the NBA refs keep their whistles in their pockets the same as they did Saturday.
Before there were ratings, my parents took us to the drive in theater for a double bill. The first move was kid friendly but I cannot remember what it was, and the second was The Prime of Miss Jean Brody. The idea was that my sister and I would watch the first and then fall asleep for the second.
Either I woke up or never went to sleep but there was a nude scene, and I was super quiet, peering over the backs of the front seats, enjoying my first look at naked woman.
I like how Holtmann and Day, with Smith's blessing, focus on mental health. It's the next big thing to tackle. I'm proud as hell that OSU is leading the way on this.
Yeah, having to replace a manager and GM is a pretty big deal but it might be less of a punishment than using interims if the guys were going to come back.
Yeah there needs to be some additional moving forward punishment in light of them firing the GM and manager.
I can't name a particular game but it would have involved Kelvin Ransey and Herb Williams.
I occasionally check into MGoBlog, Here are some things I learned:
We cheat
The 4th down by JT was short because the conference favors us
SAT scores
On yeah, we cheat.
I was in first all year, went 11-2 and then lost three guys to injury. The waiver guys couldn't hold on and I lost last week but won this week so I finished third.
I'm happy to ride with an 85% Justin Fields
How did they get photos of the kids in Ohio State unis?
We need to add that Day only coached 67% of the Heisman finalists and only had half of them on the same team at the same time.
You could make a case for both, but either way but you have to win two games and second or fourth place don't really matter.
My wife put on an OSU sweatshirt, bracelet and earrings.
Thank you! I am now only six months behind on the lingo.
Old dorky guy question: I've been hearing the term boat race a lot lately, and while in context I can kind of puzzle it out vaguely, can anyone give me a definition of the term and where it comes from? Or at least compare it to something I may already know so I can enjoy the poster and the term in general more thoroughly. Thanks
The overarching themes at MGoBlog, which seem to be in the very dna of scUM fans, is that (1) we pay our players and (2) since UM is so elite they would never admit most of our players to the university.
The $$ thing bothers me, not because I think they're right, but I know we can never disabuse them of it. It's a lie that will never corrected. The whole academic thing is BS. If the guys who pick us had picked them, they'd find a way to admit them.
There are oodles of posters calling for the mods to ban the OSU fans.
who was the first guy on the far right before Cooper came out?
I think there's a really good chance it's this Saturday. Just a feeling.