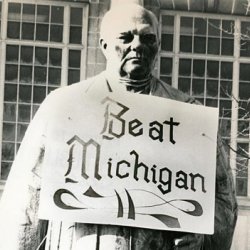 LessScarletMoreGray
---
MEMBER SINCE April 12, 2013
Favorites
NFL TEAM: Browns
NBA TEAM: Cavs
MLB TEAM: Indians
Recent Activity
Slight tangent: I always get a kick out of the highway signs in Canada that say: 100 kmh over the speed limit gets you $10,000 fine, roadside loss of license, and roadside confiscation of vehicle. They really mean it.
I remember when Ari was the most hated reporter at BSB. I've always liked his stuff.
All I remember about a trip to the Thousand Islands when I was a kid, is that we went to a place called Boldt castle, and I enjoyed it. Might be a family fun break from fishing.
This is exactly right. I read somewhere that Urban essentially tore up the playbook and rebuilt it in the 41 days or whatever they had. That, plus he's the master psychologist, and he worked on those guys the entire time feeding them the underdog/underappreciated angle. Sprinkle in their team speed, OSU overconfidence and partying and there you have it. But any sentence that starts with, "Urban Meyer has 41 days to prepare for a bowl game" isn't going to end well for the opponent.
every now and then one of the music channels on cable TV will play their Dreamboat Annie Live (the whole album in order) performance, which is just terrific. It's probably online somewhere too.
Head injuries are going to put football out of business. The world's favorite sport, soccer (futbol), will become our number one sport, and OSU will be a soccer school, sadly overshadowning basketball , who cannot catch a break. ,
Nope. Two of the three brokerages didn't allow it. I've had 'customers' but no dual agency.
The first thing you should receive when you start working with an agent is a Consumer Guide to Agency, which is a state mandated document. The agent is required to share it with you at the first significant contact and they will want you to sign it. Read it. It explains the various forms of agency and it explains dual agency. An agent has several fiduciary responsibilities under the law: Obedience, Loyalty, Disclosure, Confidentiality, Accountability, and Reasonable care. How many of those cannot be performed in dual agency, to either side?
You can buy a house from a listing agent without dual agency, and you are considered a customer with zero representation. You are expected to look out for yourself. Brokerages and agents can choose not to practice dual agency. It's a more honest way to do it.
Never forget the seller's agent always represents the seller and by law cannot do otherwise.
A seller's agent can run comps but cannot give advice. If he is a dual agent he can't really give the seller the same service as he can when he represents only the seller. So the seller pays for less service and the agent makes more money. I believe they are looking at eliminating dual agency in Ohio.
Dual agency is terrible for all sides and is the cause of a large portion of the agency law violations and penalties handed out. As to the OP, Realtor.com ,lets agents pay to get priority exposure and are rotated through all the listings in their area. The listing agent may never get featured with his own listing.
I'm not as young as I used to be. Less rosiness in the cheeks, more gray in the hair.
I do not understand how teams comprised of HS kids from Mexico or Canada can be remotely competitive with one from the US.
I only disagree with your use of the word 'gentleman.'
My favorite:
a bunch of African kids are getting Revenge Tour gear next week, so that's nice.
I'd rather just change fan bases and enjoy together what we have.
Answering original question. I don't like that it's come to the point where I only enjoy it when we're winning. Sometimes I wish I'd chosen a school where winning was a gift, rather than an expectation.
The short answer is yes. Never take it for granted. Pride cometh before the fall.
Carlos Hyde had a quietly effective day. Without his tough yards the Browns don't win.
The OP has a bit of tunnel vision.
"2) He has tarnished the Ohio State brand by apologizing for things OSU was innocent of."
Do you not realize that about half the people in the world think he didn't punish Meyer enough? Maybe more. The university got tarnished when Meyer failed to fire a terrible coach and shitty human being. This was a no win situation for the university, and Drake and the trustees had to pick the best of a handful of bad options. At best, only half the people people would think it appropriate.