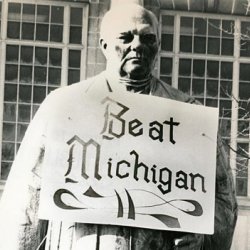 LessScarletMoreGray
---
MEMBER SINCE April 12, 2013
Favorites
NFL TEAM: Browns
NBA TEAM: Cavs
MLB TEAM: Indians
Recent Activity
This is no different than going to OSU for undergrad and to Penn State for your PhD. It's an important change of perspective.
This is my favorite site for content, but I've always thought the moderation was a bit heavy handed. I don't really like to post much anymore (which is kind of a win-win for us all). But I'll confess, it's still better than the free-for-alls at the old places I used to hang out.
Johnny should really add the "first 50 games" part to his lede.
The kickers is a walk-on who doesn't want to play kicker.
Dude, the only thing more delicious than a Buckeye win is a scUM embarrassment.
I'm glad Wan'Dale Robinson got on a lot of film. The D needs to be ready for him.
During the game I texted my buddy that Teague reminded me of a senior year Carlos Hyde
I disagree with the OP. I think MGoBlog is a terrific site. I enjoy reading Punt/Counterpunt, Opponent watch and Unverified Veracity, especially when the base is so angsty.
Paint before you move in. It's too hard when all the stuff there.
I always thought Urban left the starters in too long in blowouts, leaving them susceptible to injury. With the lack of QB and RB depth, Day needs to pull them early but not necessarily let up on the game plan.
I tried to stop at Popeye's today and there were twenty cars in line. I counted. I'll have to go on a weekday before the lunch crowd starts in. But I cannot compare it to CFA since they are on my boycott list.
In all fairness, if you're looking for the word podcast, you may just gloss over the word dubcast, even though both contain 'cast.' I sometimes have that kind of tunnel vision too.
Plus the IU campus is gorgeous.
One evening in January, 2007, I watched Teddy run back a kickoff, and I pronounced loudly for all to hear, "The rout is on!"
I was right in my horrible wrongness.
Oh gawd. Stay classy, Ohio State.
Two years on an NFL roster will pay for a lot of law school.
Raymont Harris--the Quiet Storm. Best nickname ever. People tend to skip past him when talking about great running backs.
I looked him up on Wiki. He's with the OSU athletic department. Check it out
"Harris joined The Ohio State University Department of Athletics in March 2010 as Director of Development. He is responsible for major gifts for all athletic priorities, including endowments and capital projects"
Without the suspension Carlos gives us Heisman #8
I will go to my grave believing that we would have beaten Clemson if they'd have put Guiton in. A 50% Braxton was not better than a 100% Kenny considering that the 50% missing was his throwing arm.
Do you really want these guys to go looking for trouble, when trouble has a way of finding us all by itself? And what sort of things do you think are out there that we need to go find? And how much do the ad rates need to increase to pay for investigating Ohio State things, let alone things "outside the program?"
I love journalism as much as the next guy (and more than many) but I'm pretty happy with what 11W covers just the way it is. And I rest easy in the knowledge that when something does come up, 11W strives for high integrity journalism I can trust. .
Put MoC in there instead of Beanie but it won't matter much. Team Urban wins 8/10 times only because of Haskins, though I do like a dialed-in Troy Smith. If you replace Haskins with any other Urban QB the series would be a tie.