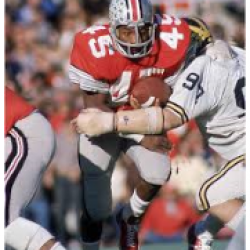 LeRegiment
---
Somewhere up north (via Nerk Ahia)
MEMBER SINCE October 14, 2017
Favorites
SPORTS MOMENT: Going to the Horseshoe for the first time with my dad watching a 10 10 tie with UCLA
COLLEGE FOOTBALL PLAYER: Archie
COLLEGE BASKETBALL PLAYER: Evan Turner
NFL TEAM: Bengals
NHL TEAM: Blue Jackets
NBA TEAM: Cavs
MLB TEAM: Redlegs
Recent Activity
Ha JUST thinking the same thing.
Best post on this site in years - nice job Kidd!
Most hated reality - one more year in this decade, we don't start counting 10 people at zero
Go Bucks!!
No turnovers, healthy tonight and solid line play and I love your call.
GO BUCKS!!
Screw it - forfeit at the coin flip.
GO BUCKS!!!
Usually a reason why player's end up where they do. Can't think of many in 45 years that we recruited, didn't come to Bucks and it was a miss. I get guys like Woodson but in general we have always landed the best BUCKEYE for the Buckeyes.
Go Bucks!!
Let's keep it going men!
Go Bucks!
So responding to being called "champ" is out of bounds? My sincere apologies Hove.
Go Bucks!
Comment removed for violating the site's commenting policy.
Wish it mattered? Strong response...
Good thought Major but I live up here and there's not a peep from these mouth breathers. I think they call it battle fatigue and shell shocked.

They Got Nothin'
This is just plain funny!
Wow there is justice and common sense in this world. Congrats Coach - "the future is bright" - biggest understatement in sports history.
GO BUCKS!
No Shit? Who would have thought?
Go Bucks and congrats to The Predator! See you in New York and let's boat race Whiskey...
While some great things can get ran into the ground on social media, that pic NEVER gets old!
Go Bucks!
Perspective - Academic performance was outstanding.
Awesome coach! As a parent of a collegiate athlete first things first - get that sheepskin!
Go Bucks!
He will step up and Bucks will be just fine.
Thanks - finally counted it righting in my head. I either completely forgot Big 10 championship or wasn't counting Rutgers as a legit game.
Sorry guys - Go Bucks!
You mean 6 games - fixed it for both of ya.
Go Bucks!
Hondo! Back in the day if the Celtics came knocking you were a serious baller and of impeccable character. The ultimate team player and original 6th man - how firm thy friendship...
Hellava Buckeye and a great Celtic. Go Bucks!
Let that wise man know it's
E+R = O.
Go Bucks!