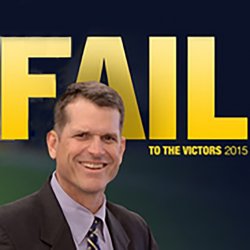 LeftCoastBuck
---
MEMBER SINCE May 03, 2013
Recent Activity
In the words of Mr. T: "My prediction?.......Pain"
Lol....the wine botas, the flasks. I remember when people would purposely mess up with the cards just to hear the leaders scream... "there's no yellow in this one!!!"
Absolutely! I hope the scUM faithful get completely jacked up just in time for us to dump them on their heads
Block "O" in '77...I remember very little...but in a good way
Google both and learn. The guy has no moral compass
in the case of Shembo the signs were always there. He was suspended from his High School for throwing a chair at a teacher and yet Kelly recruited him. He was thrown off of the Falcons for kicking and killing a Yorkshire Terrier (his girlfriend's dog). He claimed that the 15 lb dog bit him
I'll give you two reasons: the Prince Shembo assault cover up that caused the death of Lizzie Seeberg, and Brian Kelly's orders that caused the death of Declan Sullivan. Brian Kelly has permanently sullied the name of the whole institution
i am a Catholic that is permanently disgusted with Notre Dame for continuing to employ Brian Kelly.
The academic standards comment is offered without proof or even a reference. I guarantee that you won't find Wisconsin's roster loaded with engineering or pre-med majors either.
The guy really is built like the predator....but doesn't look like him much. He's also got a much nicer smile than the alien version
Urbs could have been reacting to what the locker room thought of the tweet. If Parsons really pissed off the team leadership, then the coach had to re-evaluate whether he felt the new guy was going to create a corrosive force in the locker room. But this is speculation. The only people that really know arent talking, and that is fine.
Schematic issues aside, the reason Borland overpursues is because he knows that he can't catch up with the play if he is even slightly behind.
he seems like a great kid...tough as hell and relentless. However, you can't teach speed
I'm sure Urbs saw the tweet as a Prima Donna move. Not sure I'd disagree
Franklin is a DBag, State College is a hell hole and the school is not so great either. They deserve each other
MGo posters have turned on each other like a pack of bleeding sharks. There's literally so much verbal "blood in the water" that they don't know who to bite.
in a word: glorious
Oh yeah.....it'll be at least that long for this game. But there's no Kryptonite in the grass either.
Darling daughter 2 is a buckeye alumna that lives in Chicago. She and her crew (all OSU alums) are cutting out of work early with a few NW grads to go up to Evanston on the train. They're going to Bat 17 if I remember right.
Now that I think about it, I'm not sure that any of those script Ohio's looked like any letter I've ever seen. More like Arabic I think.
...and script OHIO performed out on the street by the patrons. CPD used to just stand back and laugh
Where else can/could you buy a paint bucket of draft beer for about $12. There will never be another place like PaPa Joes
I see that we have a sighting of the Walmart "Sharty": the dumbest of the species Inhabitus Michiganus. Normally found in its hovel in East Landfill, it frequently gets lost and staggers in to Buckeye territory where it is beaten bloody and sent home whining like the Bitch it is
SoCal resident for 20 years, Toledo born, OSU Alum here
This state has the best weather and greatest natural beauty in the country. It has an entrepreneurial spirit and offers a really unique lifestyle.
it also has the most corrupt politicians, a lack of regard for its citizens and the most corrosive elitism in the country.
i enjoy living here, but am proud to be an Ohioan
Okudah's second pick looked like luck, but Jonathan Cooper caused it. He basically shoved the OT into Martinez's face....causing him to lean back and sail the ball.
It's great to have cooper back!
I would have said that it is a reference to HS Football, which has a Freshman team, a Junior Varsity team usually comprised of sophomores and a few Juniors, and of course, the Varsity team. Varsity teams in HS are usually Seniors, a lot of juniors, and the sophomores that will be future stars....and likely headed to play college ball
Blood-red popcorn...looks delicious
The Skunk Weasel Cognoscenti have discovered "Threat Level Michigan" and my favorite reaction is this one. Here is the link https://mgoblog.com/mgoboard/threat-level-michigan-where-we-are-now
You think a fanbase that systematically and religiously goes out of its way to remove every "M" from every single word, graphic, or tombstone during the month of November; sings "We Don't Give a Damn About the Whole State of Michigan" with more fervor than the Star Spangled Banner; considers Toledo to be a city in Michigan because Upper Peninsula; and, shouts the retort "...And Michigan Still Sucks" every time someone says "It's (you name the time) o'clock in the morning/afternoon/evening" is going to give up their obsession?

They won't even be moderately happy until our next 8 coaches go 0-fer in wins against them and they get to the point where they can run up the score to 100-0 because they had a sense of urgency going into the 4th quarter.
100-0 would only be a good start from my perspective....a mere downpayment for the Cooper years
My hope is that you guys stick with Patterson, win all of the rest of your games through Indiana, give Harbaugh a 10 year contract in appreciation for his fine body of work, only to have OSU come up to A2 and beat you 62-0
Those of us who lived through the cooper years will never delude ourselves about the pervasive evil in A2