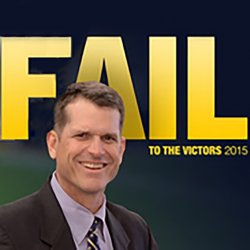 LeftCoastBuck
---
Member since 03 May 2013 | Blog
Recent Activity
... he's already used to losing in Ohio...
Pure Genius
I believe the facts; 1) he took a urine test, 2) he drank un-natural amounts of water/gatorade/whoknows, 3) the NFL detected this and called it a positive for drugs because of their substance abuse policy, 4) no one knows whether he had weed or PEDs because he drank a gallon or two of something and diluted the results, 5) his paid agents said he did this because he was "cramping."
As a prototypical scUM apologist, you're trying to offer up the implausible idea that a guy that has been in locker rooms all of his life is having trouble peeing in front of another guy?
My BS detector is pegged into the red zone with that one
I'm not worthy to even bask in the bright light of your humor
Bravo!
The schadenfreude on MGo live blog is legendary
Forget conference pride....this is going to send Hairball into therapy
I'm almost embarrassed for Harbaugh........................LOL Just Kidding
I vote for Watson and the Heisman curse!
Salty...you've completely missed it about Peppers: he's a "Michigan Man."
He's capable of giving the same girl the clap twice, spitting on "Block O" as he scuffs his feet in the pre-game, taunting fans during the game and punching them when he's trying to pout after a loss. About the only thing that he can't do is break a headset or throw a clipboard like Harbaugh.
But Harbaugh is coaching him up on this....so dont worry.
Maybe there's hope that Pridgeon can come back. This from around Halloween
"2. Malcolm Pridgeon suffered a major injury during fall camp and his time out was roughly three months, so there could have been a chance that he could come back this year. Meyer said that Pridgeon may be back for bowl practice, but he won't play this season."
Tosh is funnier, but Kiffin is a bigger joke
Close, but no cigar (pun intended). Turks is about 200nm north of the DR
Shoot Hairball had more than that all by himself... on one call?!?
Brilliant....well played
If you're going to Grace Bay....Turks and Caicos, I'll buy you a rum punch
You (singular collective for the great OSU conspiracy illuminati) seem to be the only one focused on butt-patting. I have no idea whether there was any reciprocity in the butt-patting category, but I am sure that one of you has the time, and will expend the effort to scour the entire game tape in search of same.
But in all seriousness, Harbaugh has done UM a great disservice, and has dishonored the institution with his puerile actions. You guys (you seem like a UM alum) are much, much better than that. Don't devolve any further toward the whiny, bitter, blame-someone-else Penn State-state.
At the risk of being self serving, I'll close by saying that UM is our rival and when you guys act like spoiled brats (with you meant in the singular collective again), you make us look bad too.
Go Bucks! Beat TTUN again, and again, and again, ad infinitum
Well, a quick check of the academic calendar says that the fall semester is over on December 15; the last day of fall exams. Graduation is on Sunday the 18th. Spring Semester classes actually start in the dead of winter on January 9th. My understanding is that a student that is registered for classes in the Spring Semester can start participating in athletics after the previous semester ends.
I think that there's a loophole if TG gets re-admitted for Spring Semester
I really doubt it. Even with a plate, he's looking at 6-8 weeks
Why go to the NFL when Hoke is already there? He's probably hungry for a raise (and a dozen Big Macs) anyway
The new Maryland look? Tampon with a hint of facemask
Well played: Area 51.....that is perfect
C'mon Hov....rubbernecking BSD is simply a guilty pleasure. If you're in the right frame of mind (up several cocktails) it has huge entertainment value
These are actually all from different posts and posters. This is the most entertaining and bitter fan site I've ever been on...it easily beats MGo
The best part of being a Buckeye?
1) Im an alumnus that went to two different graduate schools with better "names." My buckeye engineering training was easily as tough and thorough as my MSEE at Johns Hopkins Whiting School of Engineering.
2) My friendships from OSU have lasted me a lifetime. "How firm thy friendship" is an understatement.
3) Two of my girls are Buckeyes. One in Med School and the other an Undergrad. It is yet another bond between us.
4) My son just applied to OSU; I hope that he ultimately chooses this great University.
5) Football Saturdays are always a blessing no matter where I am if I can watch my Buckeyes: win or lose. I come out to CBus at least twice a season because "I want to go back, I've got to go back to O HI O"
6) The crazy things that happen to me when I wear Ohio State logo-wear. I have had people "OH" me everywhere from Costco to the lobby at the Burj Dubai.
7) My girls were able to convince two of our neighbors (Both Soccer Players) to play for OSU. Their parents are now huge buckeye fans.....as Doctors (both are) they now realize Buckeye Spirit is infectious.
I simply love everything about being a Buckeye and being a son of the Great State of Ohio
Well Played.....clapping twice would be more accurate I think