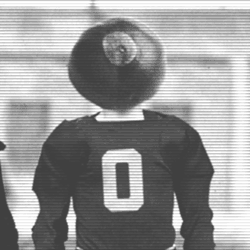 LawClub
---
MEMBER SINCE September 14, 2014
Favorites
SPORTS MOMENT: '82 OSU 24- Ann Arbor U.-14
COLLEGE FOOTBALL PLAYER: Tim Spencer
COLLEGE BASKETBALL PLAYER: Wally World
NFL TEAM: Bengals
NHL TEAM: Penguins
NBA TEAM: Royals
MLB TEAM: Reds
SOCCER TEAM: Wha?
Recent Activity
Ettiene's coming back for some more Daboing.
Austin Ward as much as said it, without actually doing so, at the time of the Shawn Wade announcement.
Don't know about that being roughing the punter.
Clickbait title.
What makes you think it might be a rebuild?
He had inside position on the post. No way that safety can play the ball, even if he stays with Olave (which he probably wouldn't be able to) without going through Olave. Either a completion or PI.
You can say that again
WE Aren't!
Way over the top. It will not be the end of the world or even a big issue for our program if we lose to a team as good as Clemson is. Yes, we have a really talented team but I'll bet we're back next year. Even if we lose.
Trevor Lawrence.
Don't agree Clemson has an advantage in almost every head to head matchup.
No profanity in front of the kids, ok but what about actions? Win at any cost?
Does he really stand for what he professes?
Two DV's right out of the chute? Dabo fans? Have an UV.
Hopefully, Justin's knee allows him to use that athleticism.
Love the confidence but they have quite possibly a better QB this time. He's elite, at least. Justin is, too, hope his knee is right.
Biggest fear is Justin's knee limiting his running and affecting his passing like in the B1G Championship. Second fear is the talent of Lawrence (with those tall receivers) being too much.
Agree with you on the silly calls but if "letting them play" means obvious grabbing and holding is ok, definitely not. That helps lesser players.
Venables sells out to stop the run. He'll blitz, change schemes and load the box. I think we may go with passing more early.
Link doesn't work. How much separation in SP+ was there in 2016?
Hafley
Maybe you're right but you're assuming a lot and overly devaluing Utah and the value of relationships, I believe.
No DV here but Phillips just flipped today and we are playing Clemson next week so it may be a downer but it makes sense.
I don't think it's odd, or conflicting for him to have doubts after his recruiter, with whom he bonded, jetted after a year and therefore, reconsider a program that has had a constant, consistent relationship with him and will likely continue that. I understand there are advantages to getting "climbers" on their way up but this kind of thing is a drawback. This will be the third DB coach for our DB's next year. Stability is valuable, too.
Absolutely not worried. Day will get an elite replacement for Hafley and we'll get our guys.