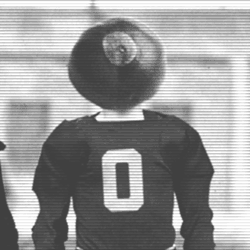 LawClub
---
MEMBER SINCE September 14, 2014
Favorites
SPORTS MOMENT: '82 OSU 24- Ann Arbor U.-14
COLLEGE FOOTBALL PLAYER: Tim Spencer
COLLEGE BASKETBALL PLAYER: Wally World
NFL TEAM: Bengals
NHL TEAM: Penguins
NBA TEAM: Royals
MLB TEAM: Reds
SOCCER TEAM: Wha?
Recent Activity
Hurts is great but he's not bigger or stronger than ANY of our LB's.
Some thoughts after reading these posts (No, I wasn't on the live game thread last night): 1. The team response in the second half was awesome. 2. We won. 3. Many here this morning weren't on the game thread last night (good for your mental health) and those that were are sober so the posts here may be more thoughtful and less incendiary. 4. Upsets happen for good reasons. 5.It's hard to hear you are the best ever all the time. "Rat poison". 6. it's hard to get up, focused, "right" for a team you dominated a month or so ago. 7. It's hard to get up, focused, "right" three weeks in a row. 8. Fields' injury changed things significantly. Not just in play calling. His passing was effected, too. 9. Wisky had a great game plan and played lights out, with the edge and attitude only an underdog can have. 10. That 2nd half! Showed alot about this team.
What they do matters but I still think it's almost ALL about what we do... and don't do.
It's been a thing for awhile. They must feel there's something to it.
I get the point of the article but our most important player is not completely "healthy". He's young, strong and brave and we have an excellent medical/ training staff, I know.
They couldn't do that.... could they?
I understand that generally, rematches are much closer games; it's harder to beat a team the second time usually. I'd like to see an in depth analysis of this phenomenon. My hunch is motivation and expectations, on both sides, play a large part. This team has been great so far at avoiding let downs and focusing on the task at hand but this is a tough one.
Florida beating them helps the SEC narrative.
Wearing the flag out of obligation is not patriotic.
Maybe they DV'd the "good for Coach Harbaugh.". Here's an Upvote.
You can try to limit his exposure but it's still risky. I hope the sprain is minor.
Especially with the wind that day.
I think the original injury against PSU was on a run.
Love your enthusiasm but this is the kind of praise that worries me. When there's so much of it, you can't keep it from seeping into the Woody. Satan calls it "rat poison". Hopefully, Day has poison proofed the Bucks.
They've been plenty fired up. We just put that fire out.
To be fair, this is his first year playing.
Nice!
Yes.
There are few, if any teams on our level. That doesn't mean they're not very good. Again, Geez.
Bet Troy would trade his Heisman for a Natty.
One breakdown I saw said the Nitties have trouble with RPO's because their LB's have to be on their heels. We haven't run much RPO this year (we're mostly zone read) so their LB's may be able to be more aggressive. They predict a score more in line with the spread. https://youtu.be/DJjGJCKHb8Y Will Coach Day run more RPO?
I don't expect a blowout as I think PSU has the ability to be close, even win and I'd rather be pleasantly surprised than bitterly disappointed. I also think that Saban's right about guarding against the poison of everyone saying you're the best.
Yes, I agree. It amazes me how quickly people forget that upsets happen and lack of respect for an opponent is asking for one.
They are very good. Geez.