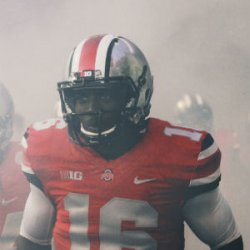 Larryp713
---
Olathe KS
MEMBER SINCE July 28, 2011
Favorites
SPORTS MOMENT: 2002 Fiesta Bowl; 2006 Victory of TSUN; My blocked punt returned for a TD against Midview JV in 1987
COLLEGE FOOTBALL PLAYER: Troy Smith
NFL TEAM: Cleveland Browns
NHL TEAM: Columbus Blue Jackets
NBA TEAM: Cleveland Cavs
MLB TEAM: Cleveland Indians
Recent Activity
I used to be a college recruiter, tough racket... *takes shot
The RB depth chart is thin, to this was probably the position that Xavier could make the squad. I am not as worried about the thin RB room, we have talented guys and I expect the WRs and TEs are going to be getting more and more of the touches, so there might only be 25 to 35 carries per game for the RBs.
Tuf Borland and Logan Hittle just sound like LBs...
I really like these two. It's fun to see them take a moment and reflect on the journey thus far. Good stuff.
I knew it, he's not a real Buckeye!!!
Seriously, there is nothing for him to gain from Pro Day. Enjoy draft day Nick, and get ready for NFL camps.
I thought there might be a few friends of Bill on this forum!
I understand this is a fan forum, and I probably give Buckeye fans way more credit than I should, but all these geniuses talking about how Borland only got a shot because of favoritism, and Mitchell is obviously the better choice, is just sad.
Until I learn something different from a source close to the program, I will assume a very experienced LB coach saw more consistent performance from Borland than Mitchell in practice last year and awarded the starting job to Borland despite not being 100% healthy and not as athletic as Mitchell and other guys on the roster.
My hope is that if Mitchell proves to be consistent enough to take the job from Borland, he is given the opportunity to do that. But if Borland is chosen to start, I will cheer on a guy who obviously works very hard to be the best he can, and he's shown during his freshman year to be a very good LB at times. I am going to once again trust the coaches on playing the best players.
I'm not sure if you realize how this fan thing works. I, as a lifelong Buckeye fan, have no direct control over the management of the football program, personnel decisions, or player/coach individual performance. All I have is faith and love, give a little passionate energy when I am at a game or event, and talk a lot of crap to other schools' fans. That's it. If I get overly disappointed in the product, I am less passionate and might find something else to do on Saturdays.
I hope Fuller and Munford recover and stay mentally engaged in the spring so they can be more ready to go in the fall and to make connections with the new coaching staff. They are two important pieces and have potential to be great. Go Buckeyes!!!
The need is for a free safety, it seems like Marcus Hooker would have a chance based on his athleticism. But Shaun Wade will be fantastic there if that is the way coaches go. Either way, Wade needs to be on the field from the 1st game barring injury or a major setback.
During the whole Zach Smith situation and firing, while explaining to some Buckeye haters why I thought we would be better of without Smith, I was shocked that it was the first time I ever wondered why all these incredibly talented WRs underperformed at Ohio State. Naturally, I blamed the QBs inability to throw the WRs open. While I think Haskins' ability to do this far exceeded Pryor/Miller/Barrett, I think it is pretty obvious the confidence and focus these receivers ran their routes, against man to man or zone, was at another level this year. Kudos to Coach Hartline - I don't know how long the Buckeyes will get to keep him, but the improvement with Zone Six was amazing, and with Mr. Wilson joining Mack/Hill/Victor/Olave, and you figure a couple other guys will be in the rotation, Fields or Baldwin should have an embarrassing amount of options to toss the ball to.
Garrett will need to learn to block more than when he wants to, but I think he is going to be terrific. He reminds me of Steve Smith, same skill set. It could be a very exciting year.
Obviously the coaches think he is pretty good. I think he has tangible things to work on this year, which is a good thing. We'll see how he does under the new coaches.
It says a lot about Damon that he didn't take offense at Cris's comment, but rather used it to assess himself and decided to dedicate himself to one more year. The fear is always that these guys might turn Bradley Roby, immediately regret their decision to return for one more year and end up having a bad, unfocused last season. It broke my heart to see that happen to Roby, but I don't think that happens to Damon or KJ. Damon is coming back with a chip on his shoulder and a belief in what the Buckeyes are doing. I really think Arnette is going to shock a lot of people, and I wouldn't be surprised if he is an All American.
Assuming he is a member of the Church of Jesus Christ of Latter Day Saints, the missionary rules have changed and he can serve at the age of 18. I wouldn't be surprised to see him leave for his mission after he graduates high school and will have him ready for fall practice in 2021. Sounds like a great pick up, aloha Enokk!!!
I think Okudah is ahead of Ward after each of their sophomore years, so I am feeling really optimistic that he is going to be a shut down corner next year. I saw a great analysis of the Buckeyes defensive backfield from a youtube poster (somebody on 11W shared it in the forums), and they made a strong case for Wade at FS, Fuller at SS, Brendon White as a star LB, especially on pass situations, and Okudah and Arnette on the corners. That is a really solid defensive backfield.
I never trashed Terry during his career, but until last year, I didn't really give him much thought. My appreciation of him as a player, both special teams and wide receiver, then as a man has grown significantly over the last twelve months. I think he should be considered an all-time great Buckeye and I would not be surprised to see him explode on the scene in the NFL. I wish him all the best.
I think with Sheffield's measureables, he is less reliant on a strong CFB season to push his stock value. He's a like Donald Washington a few years ago, who never made the starting DB for the Buckeyes but was drafted due to a great showing at the combine. Kendall Sheffield, while much maligned by the fans, had a far more productive career than Donald. I think it was a good time for him to declare, rather than try to push off Okudah and Wade, who are too talented to sit on the bench. Best wishes to Kendall.
Well that is pretty selfish...
/s /s /s /s /s /s /s /s /s /s /s
I think Dobbins can take the punishment of an every down back. His performance against Maryland was awesome, and he looked strong in the 4th quarter. I agree with those that say 70/30, but think most carries should be split in the first half and let him pound the ground in the second half.
I don't downvote and don't really understand why people downvoted your comment, but I also don't understand why you need to go negative on a very talented young guy who needs to learn to trust his eyes and speed more and not grab the receiver. Its all part of the game.
Whatever decision he makes, I am proud of all these guys who compete at a place like the Ohio State University. I think we fans take for granted how hard it is for even incredibly talented individuals to become truly elite football players. I wish Kendall all the best!
He sounds like a thoughtful young man. I wish him well with the Bull Dogs. I am pulling for Justin Fields to the Buckeyes now; losing Mathis makes that more pressing, despite the risk to the team and QB room chemistry.
If Fields comes to Ohio State, I hope it is an open competition and Tate and Baldwin get their chance to win the job. As long as Justin doesn't come in entitled and feels ready to compete, and sit if he loses out, then I welcome him with open arms. I think it would hurt the harmony of the team, already in transition, if Tate and Baldwin feel like they aren't given a fair chance to win the job.
Mike Weber will always have a special place in my heart. We see so many Ohio kids play for TTUN, here is a guy who grew up rooting for the Maize and Blue, had a gut wrenching decision to make with all the pressure on him after Harbaugh was named coach, yet stuck with his commitment. He was obviously hurt when the position coach left the day after signing day, but shook that off and played his heart out for the Buckeyes. A true convert - anybody who seen him play in the Game over the last couple years showed his love for the Buckeyes. Always a Buckeye to me - I wish him all the best in the NFL and in life.
I am sure that Tate wants to play QB in the NFL. He will not transfer because of the style of offense, unless its a bad offense. I think he would transfer if somebody (Baldwin) beats him out, because he absolutely wants to play. But he won't shy from the challenge of leading Day's offense, and Day will give him a shot. He's a competitor.
If Georgia and Alabama both knew they were definitely in the playoffs regardless of what happened in the SEC championship game, would they maybe rest players for the championship game, or hold back plays because they know they might play again in a few weeks? If they found a way to get rid of 1 week of the regular season (obviously for all teams), then expanding might work. But there would be a lot of teams out of money for that extra game, and for some athletic departments, every CFB football game is critical to their budget. I just think expansion will mean adding more stress to college kids, and we see these guys already breaking down. Not everybody is as fortunate as Nick Bosa, who has millions of dollars waiting for him.
Injuries are part of the game, but I think we push these young players far enough.