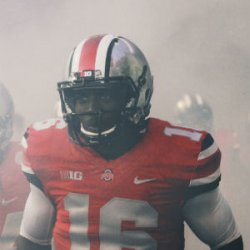 Larryp713
---
Olathe KS
MEMBER SINCE July 28, 2011
Favorites
SPORTS MOMENT: 2002 Fiesta Bowl; 2006 Victory of TSUN; My blocked punt returned for a TD against Midview JV in 1987
COLLEGE FOOTBALL PLAYER: Troy Smith
NFL TEAM: Cleveland Browns
NHL TEAM: Columbus Blue Jackets
NBA TEAM: Cleveland Cavs
MLB TEAM: Cleveland Indians
Recent Activity
Very happy for Justin. Here's to a healthy 2020.
People don't like his crap talking, and I am glad he acknowledged he is trying to keep in under control, but I believe all great defenses need a couple guys with that attitude. If nothing else, the other team's wide receivers lose a little of their focus because they are trying to shut this guy up. Damon has been heroic this year...
Austin Mack's last answer to what it means to beat TTUN every year he played against them was awesome. I appreciate all these Buckeyes - the 2019 team will go down forever as one of my favorite teams. Its right their with 2006 and 1996, 2012, 2014... Damn it feels good to be a Buckeye.
My unavoidable anxiety at the end of November increasingly feels like a personal problem rather than a reflection of anything approaching reality
You hit a little too close to home with this line - I was asking myself the same question - what is wrong with me that I was this anxious before this Game? Well written column, thanks for the opportunity for self reflection.
My reaction was like - dang, yes technically he went high and DPJ was defenseless, but this rule needs to change. Fuller totally held up and didn't try to hurt him. When they reversed the call and took the penalty off the board, it totally blew my mind and my faith in humanity has been restored. Go Bucks!!!
There is a lot at stake this year, and the Wolverines are playing their best FB, so I would agree that I am concerned (as concerned as I get about a football game that only impacts my life in the amount of crap I take at work). But the Buckeyes are still the better team and the Wolverines are not sneaking up on Coach Day and staff. My head tells me that this is a comfortable end to a perfect regular season.
I hate feeling overconfident going into the Game. It is probably the psyche of any football fan who has grown up in northern Ohio, but I just don't ever trust the "we can't lose" feeling. My head looks at both teams and says the Buckeyes are simply better, but that was the story most of the 1990s. Coach Day has the right mindset, I think the real question is can Justin Fields play great (again). He has done it all year, and if he is close to great on Saturday, I think the Buckeyes win, maybe easily. If he can channel Troy Smith's spirit, the Buckeyes will blow the wolverines out of the big house.
Arkansas is like the SEC West version of Tennessee. The only prayer this program has is for a big name to come in and have four years plus to turn around the culture.Only a big name (Les Miles or Tommy Tuberville?) would have a chance to stay long enough to really implement a change. I agree - Fickell would be better suited at Michigan State. I think he should just stay patient and keep building a program at Cincy. He's done an awesome job so far and I don't think he has peaked there yet.
That's a great point. Take it because of the incredible challenge, but if it doesn't work out, make sure they need to buy out your crazy contract and you are set up for a very nice retirement.
This deserves about a million upvotes. Awesome.
Personal note - Clemson's Isaiah Simmons went to school with my oldest son. I always told him to wait for the Buckeyes to offer and he would just laugh. Great young man from a great family, very happy for him.
Congrats to these Buckeyes, I don't know if I have ever been more proud to be a Buckeyes fan than having these guys, and so many of their teammates, represent Buckeye nation. We are truly blessed.
That is a great question.
Zach Harrison is really coming on. I watched a couple of plays and said, whoa who just flew in to make that play? #33. He's going to be fun to watch for a few years.
I've been watching the Silver Bullets for a long time, and with all respect to the 2002 and many other defenses, this is the best version of the Silver Bullets that I can remember. They are complete on all three levels.
Does TTUN still have the same limitations on defense - can they field 3 corners that can stay with Victor/Olave/Hill and Mack/Wilson/etc... Also, Justin has been late on some throws the last couple of weeks - Is that something he and the coaches are focusing on?
If they truly try to pound the rock with their stable of RBs, I wonder if the Silver Bullets will run the 4 LB sets and get Justin Hilliard or K'Vaughn Pope in there with Malik/Werner and Tuf/Baron? I just start thinking of all the options the Buckeyes have on defense and it is scary.
The Buckeyes definitely looked like they were just getting through this game for the most part. Some individuals made excellent plays, but overall the team lacked a real sense of urgency, which given the opponent is understandable.
I think my biggest takeaway is that Rutgers looks like they are improving. If I were a fan, I would hope they would keep their coach and try to build a staff around him. He might be a hidden gem. Their defensive front was pretty impressive, just need to get some of those 4 stars that litter that part of the country.
Thanks - that sounds about right, I hope he is on the mend. I think he will be very important against Penn St and possibly Minnesota.
I'll ask - does anyone know what's going on with Browning? Unfounded rumors are welcome at this point.
I think the Buckeyes have the best coaching staff in college FB. We as a fan base are truly blessed.
As I remember the story, it was Ryan Day. He basically came away from that visit that initially started as a QB eval and said we need to sign Olave. Great testament to Coach Day's eye for talent.
That absolutely needs to be a t-shirt.
How cool was the reception after the game for Keandre Jones? He seems like a genuinely good guy who just didn't find the field here. What were your thoughts on that?
Rashod is making Lorain proud, I hope they find a way to get this insanely talented athlete on the field over the next few games. He's done everything he's ever been asked and never whined about it. I hope he makes enough plays to have the Patriots take him in the sixth round.
In this case, staying on top of accusations early is important to his image. It is very important not to let the speculation get out of control. The fact they are commenting seems to be a good PR move, and a possible sign of confidence when the actual facts are released.