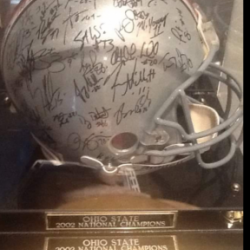 LankasterBuck
---
Florala, Alabama (via Lancaster, Ohio)
MEMBER SINCE September 06, 2014
Born and raised in Ohio. Home town Lancaster Ohio. Attended Baldwin Wallace and Ohio University. 1993 OU Grad. Reside in LA(Lower Alabama).
Recent Activity
I'm BLOWN AWAY! Amazing kiddo!!
Good Luck in the NFL:).
First I would like to say Thank You!!!
I was born in April of 69. So I don't remember, but proud I was alive when this stunning accomplishment happened.
Go !
Go Bucks!
My father coached for Lancaster. Said Big Kat was hands down the best player he ever witnessed in person.
Buster Howe - Zanesville - Ohio's First Mister Football. They ran the old Single Wing. Power side football. He played QB, Safety, Punter, and Kicker. He never left the field:). My senior year he put 300 yards plus on us, They were #1 in the Div 1 1987, we ending up beating them. Competed against him in track as well. Great hurdler. Ran against him several time in 100 meter, he never beat me:).
He was part of Coopers first recruiting class.
Go Bucks
Go Gales
Lancaster High School - Ohio - Barry Walker 1979/1982
Ohio State Running Back 1983/1986
Ohio Shot Put Champion - Ohio/National Indoor Shot Put Champion - At one point he owned the National Indoor Shot Put Record.
Ohio Discus Champion
Competed in the 60 meter indoor state finals at French Field House. Weighing 220 he was one most amazing athletes in Ohio High School History. Due to concussions his Buckeye career was limited.
We lost Barry to pancreatic cancer a few years back at age 49. Another reason cancer sucks!
Bring a good set of boots/waders. I heard it's really nasty their.
Just like Presidents, Astronauts, ETC!
GO Bucks!
Ohio has a GREAT HISTORY when it comes to college coaches! Just look it up.
Let me know when Alabama plays somebody. Arkansas 1-4 Indiana 4-1. I look forward to The Citadel kicking their ass:). Lmao!!
I live in LA(Lower Alabama). Local media saying it's been to HOT and playing at 11am is to early for students. I'll admit it's still in low 90's and helI I love drinking at 8am(OU Grad!). I called the local sports talk station and told them to pull their boot straps up. Our students and fans show up when it 35 degrees rain/snow and still party in the am.
Go BUCKS!
He is Canadian and yes he missed the yellow, blue and red line;)
Adnan Virk = Canadian
Bad call my a**!
Who cares how the ball was thrown down the field. Screen, bubble, out, flag, etc. A pass is a pass$.
Thank god for 11 Warriors. The TRUTH!
Recruits...the rest of nation. If u live outside of Ohio..media is beating us up. It sucks. If we were not winning WOW u just don't understand.
A pass is a pass. Don't care how it gets down the field. Setting up a screen is not easy. Why did espin make it an issue? Haskins showed us a Heisman moment and I didn't like the way they handled it. Sorry
I live in the the lower Alabama. My fault for moving here, but look at my below quote. I'm a fighter not a loser. F them it's time to fight back.
Chris my last response was to u not west. West go to bed!
I agree 100%! Had to click over just to see what they had say. U ARE CORRECT!
Bucks win...who cares? Let's clean up the rest of our schedule and move on. If we have play UCF for a natty LETS ROLL!
Love all Buckeye FANS!