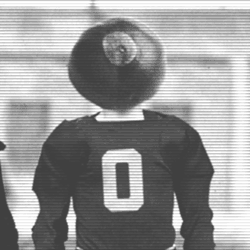 LandonTruckedCollins
---
MEMBER SINCE July 25, 2017
Favorites
SPORTS MOMENT: 2014, 3-game championship run
COLLEGE FOOTBALL PLAYER: Zeke
COLLEGE BASKETBALL PLAYER: Evan Turner
NFL TEAM: Cowboys
NHL TEAM: Red Wings
NBA TEAM: Pistons
MLB TEAM: Indians
SOCCER TEAM: USMNT
Recent Activity
52-17 is how I have this one, as well.
Thanks Josh.
I think we are an elite team too and I just get a special feeling about this season. Been brewing since Fields transferred in but now, through four games, the feeling seems to be getting validated.
Jumping the gun a bit here - if the playoff were today, who do you think are the four best teams in the country? And who wins the title?
Was that what the giant ass emoji was for?
So basically, Scott Frost is a coward on both counts?
His dad is a legitimate scum bag so I'm sure he paid alot.
Nah I like knowing something big is in the works. It gives me something to look forward to in life lol.
I think he was drunk and decided to troll us.
You're not wrong, they do show out.
But its a lot easier to show out when your starters are resting in the second half for 9 out of 12 games instead of being banged up from slogging through a Big Ten or SEC slate.
Clemson, Oklahoma, and Alabama (to a lesser degree) all have bullshit schedules.
Ok so its not just me that sees that in Latin. I tried to use google translate. Did not work.
Any graduates from Latin State University care to translate for us?
Holy shit. I thought he had to be joking around. No sir... He really did not know..
Echoing the stay healthy thoughts:
Get a 28 point lead going into half and then let all the fringe back ups and third stringers get reps. Fuck the spread, way more important to keep this team healthy.
I think that's more than fair, since they have given him a goal of losing weight and it seems like that hasn't happened.
Thanks Josh!
I figured Wisconsin would roll in this one but wanted to get input from someone much more in the know. My main concern with Wisconsin was whether or not the outlandish scores they've been putting up were just a product of the level of competition they have faced to date, although I don't think South Florida is a bad team.
I was hoping we would get a more honest look at them against some elite level talent/athletes in Michigan, but Michigan's offense may prove too anemic to really challenge in this one.
Who wins the TTUN - Wisconsin game next weekend?
Sadly, I find that game more interesting than the snoozer we have vs Miami lol.
Watching his highlights right now... he looks bigger than 6-0 170. Looks to have a really solid frame and is a burner.
Oh wow that's awesome. Those are some big names to have signing autographs out there for free!
I haven't booked one yet - not sure yet if we are going to drive in Friday night or early Saturday morning. Depends on work schedules. Any recommendations?
Please delete this dupe
Ok yeah that's not really very good. I understand putting the team first but he should be playing defense and honing his skills.
I didnt read the birm article, excuse the laziness in this instance, please. I assume he is still playing defense? I understand the concern, but aren't we glad that he is stepping up for his team?