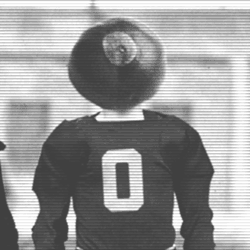 LandonTruckedCollins
---
MEMBER SINCE July 25, 2017
Favorites
SPORTS MOMENT: 2014, 3-game championship run
COLLEGE FOOTBALL PLAYER: Zeke
COLLEGE BASKETBALL PLAYER: Evan Turner
NFL TEAM: Cowboys
NHL TEAM: Red Wings
NBA TEAM: Pistons
MLB TEAM: Indians
SOCCER TEAM: USMNT
Recent Activity
Looks like Zach Harrison has put on some muscle.
Probably your cookies based on things you have searched. I live in TSUN, get ads for Michigan stuff all the time on here.
Family was always big fans. Surrounded by the rivalry since so much of NW Ohio is filled with TTUN fans. As a result I always paid attention to The Game in the late 90's, early 2000's when I was in elementary school because of the bragging rights at school. Started paying closer to the whole season after the 2002 National Championship and became a die hard in middle school around 2005/2006.
AE, has your opinion on our chances changed at all with Milton now likely gone to UGA and this confirmed as an unofficial visit?
Twitter handle is @runzekerun01. Day pulling off an Urban Meyer special?
LMAO that's great
Agree with the analysis. I was just more excited for milton because until recently, robinson did not seem as realistic an option.
Jesus. Do you want a list of 5 stars on the west coast or even in the south who never considered us due to distance? Or just gloat because Milton is an exception where distance doesnt seem to matter?
Hes not wrong. You just used one example that fits your narrative. You're fake news.
The Wisconsin game is the home game I'm making it to this year.
Guys, the grandparents are only going to keep the prostitutes at bay. Relax.
Yeah I think it has to be an error as well. 247 has him running the 40 in 4.42 seconds. Just wondering if anyone knows the actual shuttle number.
I was using that goal as an example. We celebrated every single goal.
Is Stellato's shuttle time really only 4.47? Pretty sure we have linemen quicker than that.
The tactics behind scoring as many goals as you can in game one make total sense. Sweden is a real threat in our group. We need to beat Chile and Thailand by more goals than Sweden, in the event that we tie Sweden, so that we can have the higher seeding in the knockout stage.
With that being said, us celebrating like we won the world cup itself after Alex Morgan scored her fifth god damn goal was disgraceful. "Act like you have been there before." Running up the score was necessary. The celebration was an embarrassment and unbecoming.
Did he really run a 4.20, or is that a typo on 247? High school kids shouldn't be that fast.
Because they are employees? I want to see your performance review. Why is it confidential?
I'm kinda starting to lean toward Robinson as well but I'm not picky. Either will be good.
You're probably right, but the the Ohio pride is part of what makes Ohio State what it is. Take it away and we'd be Florida or some shit. Maybe even meatchicken
Max was ranked the 121st best prospect in his class according to the 247 composite. Jake is currently ranked 311 and dropping.
Oh my Lord... here goes the next hour of my productivity. Sorry boss.
that comes w/ not being a millennial.
Lol, ok.