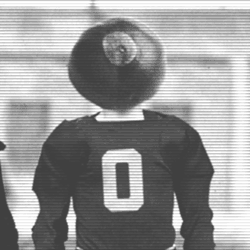 lakejamesbuck
---
Member since 26 January 2013 | Blog
Favorites
SPORTS MOMENT: Winning the 2002 National Championship
COLLEGE FOOTBALL PLAYER: Chris Spielman
COLLEGE BASKETBALL PLAYER: Aaron Craft
NFL TEAM: Miami Dolphins
NHL TEAM: N/A
NBA TEAM: Los Angeles Lakers
MLB TEAM: Detroit Tigers
SOCCER TEAM: N/A
Recent Activity
It is so easy to forget all of the great things JT has done for the Buckeyes. This brings it all back to reality. Thank you JT for 4 great years and hopefully an even greater 5th year. I hope he gets the Championship he deserves! It is so hard to understand all the sacrifices he makes along with all the other Buckeyes. Thank you to all of them!!!
So if he can't throw vertical passes game plan to his strengths not what the media is pressing you to do.
Well I guess you could say we have a 5th year senior that is not game ready!
I wonder what the punishment would have been if that was Bob's daughter that just had her face crushed by his star running back. She was definitely wrong to have touched him but I wonder if he really felt that threated.
Been a Matta supporter but man there is no emotion...the majority of the team looks like they don't want to be there. Sad for sure as I had high hopes for this team. Hope they can turn it around.
Not so fast...what if *ichigan drops a game before playing the Bucks and P State wins out, does that not mean P State would get the nod if the Bucks beat *ichigan?
327 w/ 3 throwing touchdowns
Stay away from the box store mowers...I recommend the Hustler Raptor 42" cut zero turn. Great warranty, fabricated deck, Kawasaki or Kohler engine. $2,799.00...you won't be disappointed and will last for years. I am a dealer in Northwest Ohio and these are the best machines dollar for dollar, I am sure there is a dealer in your area. Good luck!
I am hoping Loving goes pro
Love his energy but he is a MAJOR project
Leave him on the bench then. I would rather see Bell at least he has a good attitude.
I thought the way Giddens played tonight he did not want to be out there. I love his intensity but he needs to get his emotions under control. I don't understand why this team seems to think that if one guy is having a good game the rest of them can slack off. It has been this way all year.
This team is really beginning to be very fun to watch. Someone new always seems to step up and give a great performance. Williams gives big points, Thompson a double/ double and Mitchell with some timely big time assists. They really play more and more like a team each game... Great job Thad!