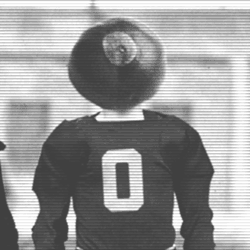 labuck
---
Member since 05 January 2011 | Blog
Favorites
COLLEGE FOOTBALL PLAYER: Eddie George
COLLEGE BASKETBALL PLAYER: Jimmy J
NFL TEAM: Lions
MLB TEAM: Cubs
SOCCER TEAM: Chelsea
Recent Activity
This was in his article he posted earlier today.
It just seems like those rankings are lazy. Brian Snead doesnt camp so no one knows what to do with him and the same with Teague as he hasnt really done the camp circuit either. After reading the recruiting article by Wasserman, I am happy with 2018 recruiting have even if some fall out of favor in the rankings.
You forgot Snead, who is also a beast!
8-4 Bucks. The faceoffs are pretty lopsided thus far and Bucks are captializing.
Dem girls are about to be pissed. Its probably because people didnt want to travel to Minnesota if they didnt have to. Which is a shame for both the team and the people not going there.
This is a great podcast for any college football fan and I highly recommend it if you enjoy receiving new about College Football. Stew and Bruce have great insight and also great contacts throughout the industry.
He is by the pillar in the back middle on the right side.
Because you asked, DeMarcus Walker went on day 2 as well. They are a young squad and didn't lose a lot this year. Regardless you point is that they haven't had many draft picks this year and you're correct.
Yeah but that conference schedule is going to be a good one. Both Nebraska and Wisconsin and I am sure NW will be tough not to mention the regulars in the East.
I think Justin Hilliard could answer your 2 deep question at MLB. If he continues to get the reps and does well with them he is in line for some PT. But he has to stay healthy and keep working. It shall be interesting.
A lot of these speeds are now tracked by new technology that the athletes wear to track top speed, total distance covered, heart rate, etc... Strength and Performance staff track these numbers to gauge how athletes are recovering and also performing on the field.
I think "Strength Sensei" is his new title. That is the way I read it anyway.
Not only the football program but the Gymnastics program is in a bit of hot water as well.
You are forgetting about Dre'Mont Jones. He may join them as well.
I think this becomes a Glenville type situation. I think he will hold out for a while so he can get his teammates additional looks from the coaches that continue to recruit him. Good for him. he is helping the rest of his team and his coach by allowing this to happen. Just hope he picks the good guys in the end.
Gotta continue to recruit the DMV. There is a ton of talent coming from that area perennially. Chase Young is the most recent example. A school like Dematha Catholic comes to mind but there are many others.
Congratulations on being Mr. Football in CA. I can't imagine there have been many O-lineman that have won the award in CA. That's a great accomplishment! What has playing football at one of the premier HS programs taught you as you ready for college? Also, what is your favorite thing about playing football?
Actually they didnt happen all that early. The drop happened on the first drive and the fumbles both happened in the second half. The first happened on the first drive of the second half and the second was recovered by AJ Alexander so no harm done, well until JT threw a pick on the next play. It is extremely hard to get into a rhythm when you only have 1 carry (on the 6th drive) in the first half. He was definitely trying to make something happen when he got his touches because he didn't know if he would get another one. Hell he only had 5 carries in the whole game and one of those was the last play of the game.
I agree that he will have a good season next year but he wasn't the reason for the shutout or the offense stumbling all over itself in the first half.
I know i know not everyone is going to Cincy. With that said, Cincinnati really wanted him when Tuberville was the coach there and that could be another landing spot. Not sure of what Fickell will do with his offense but would make a lot of sense.
Congrats! You got the job done at a high level for 3 years! Good luck in the NFL!
It will be interesting to see what else happens. If OSU hires Wilson as well, there will either need to be someone else moved off the staff or the NCAA allows 10 coaches which is rumored but not final. Interesting times ahead and hopefully it will allow the reigns to be loosened a bit.
Go Bucks!
I would only think it would affect guys that were already leaning somewhere else. OSU was in the CFP which is something only three other teams can say. I don't imagine that last night's game would alter the decisions of those left on the board.