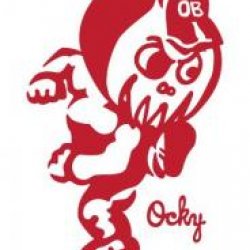 kyo
---
from Findlay
Member since 12 May 2011 | Blog
Recent Activity
"Guglia? Julia's name is going to be Julia Guglia? That's funny."
My keys fell out of my pocket in the stadium. Had to walk all the way back to the stadium and thankfully someone had turned them in. I then drove to Clarion, PA to stay at a hotel since there isn't any place around to stay and hit a deer 10 miles before my exit at 2am.
I'm never going back again either.
I was at Beaver Stadium last year and I will say that I have no problem with it being on top. It was an awesome experience up until the blocked fg happened. My night went down hill after that but I definitely recommend checking out a big night game there.
Highly doubt they would name Day the QB/O-coord with plans of bringing Chip in for a year also. I think this announcement confirms that won't happen.
However, it would be interesting to see if Ed moves back to the sidelines and coaches OL again. Don't know what Urban would do with Coach Stud since he is a friend. We do have tangible proof of what Ed can do when his focus is only the OL.
Yes, great point I TIT. I can't believe nothing ever happened from that (besides Hoke getting fired).
I also think that going back to a faster pace offense and limiting the shifts/motions pre-snap would be helpful for the young guys. It removes some of the thinking before the snap, allowing them to keep their eyes on the field and assessing what they see in front of them as opposed to additionally processing the shift/motion (on the line, off the line, do I motion, do I now have a different route once motion comes to my side).
It was hard to see cover 3 on tv since they typically zoom in or switch to different angles, but it makes sense why a lot of throws were 3-8 yards on the sidelines. It is a "take what the defense gives you" type of plan. I'm glad Kyle pointed out the post routes against cover 3 which is a great concept. With that being said, I think cover 3 is one of the easier coverages to throw deep against. In cover 3, you have to rely on your slot receivers becoming the deep threats as opposed to the outside receivers. They are matched up on an outside backer or a roll down safety which is a favorable matchup. Then you just pick on the single high safety.
As I coach, I absolutely hate to criticize the play calling when I am not in the film room all week developing a game plan. But you do start to figure out what they are trying to do throughout a game. Offense is about taking advantage of numbers and angles. It just doesn't seem like that is being done right now (ex. not accounting for a downhill safety on a speed option). A young team needs confidence and right now they do not have much. It only takes one game and a solid game plan to bring that all back. I truly believe they will find their stride again.
For those of you going this week, any idea what parking lot you plan to park in? Looks like my route will put me on the east side of the stadium.
I think UABuckeye meant subjectively questioning the ceiling of the offense.
And I think you, like a lot of people, have assumed his arm strength is less than adequate because the other guy known as 12-Gauge had a cannon for an arm. JT's arm strength is not limited, nor does it impact what OSU wants to do on offense.
Even if a QB has a weak arm, they can still be successful in college. Just look at what the BGSU QB did this year. It takes a good half-hour for the ball to get there on a 5 yd out but he still gets it done.
They have that one guy that can run good...Brent Confetti or sumthin?
The cab won't have to travel far. The Mauk clan moved to Missouri
He pry seen it on Dana Holgram's SnapFace.
Not going 5 wide down in the redzone would probably help too
I'll actually defend tennis helping a QB. Playing tennis really strengthens your wrists (dont take this the wrong way perverts). Get a lot more velocity on throws for some reason.
If anyone is questioning Beck right now because of the QB play then yes, you are overreacting. I think JT's issues are pretty simple. He has a case of the yips, trying to do too much with his opportunities.
Cardale, because he has a big arm, doesn't use proper mechanics at times which is why we saw most of his balls thrown short. He wasn't transferring his weight on those throws which resulted in him using mostly all arm strength on those throws. That is basic mechanics that are taught early on from a coach that knows the mechanics of the position. The only thing Beck could possibly influence at this point is teaching Dolodale his reads.
It's way too early to know how Beck is performing. It will be 2016 before we have an opportunity to evaluate him.
Dude in the back needs to stop playin grab-ass and get in there. Urbz would not grade him as a champion, that's for sure.
This happened on an actual football field during the season a ways down the road. Bluffton did the same thing. Maintenance guy sprayed weed killer all over the field and didn't realize it. It rained bad the night we played them and it obviously became known as the "mud bowl."
They've been doing this for a while now but Minn is never playing in a prime time spot so nobody really knew about it. Still hilarious
I feel like I can picture this. I'm sure Beamer was all like.....
Your post was relevant. I don't see what the issue is.