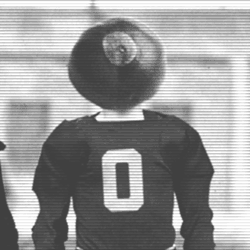 KYBuck
---
Flatwoods, KY (via Northern Kentucky)
MEMBER SINCE December 09, 2017
One-time OSU student (in the 1980's), but lifetime fan. Have hated *ichigan for as long as I can remember.
Favorites
SPORTS MOMENT: Buckeyes beating Miami for the national championship
COLLEGE FOOTBALL PLAYER: J. T. Barrett
COLLEGE BASKETBALL PLAYER: Aaron Craft
Recent Activity
Great job fellas! GO BUCKS!
And *ichigan still sucks.
Way to go, ladies! Congrats on the championship (again)! The hits just keep on coming!
GO BUCKS!!
Gotta love the Tressels. Great folks. And congrats to YSU on raising dollars for a very worthy cause!
Congrats ladies! Excellent accomplishment, repping the Scarlet & Gray and kicking ass!
Really rooting for Rashod to get picked in the draft, but he sounds like he's ready to get after it even if he doesn't get drafted. Wishing him the best at the next level!
Wondering the same thing. It seems like whatever happened in the WVU game absolutely killed this team.
I realize they were playing unrealistically well early on, but damn if I can figure out why the wheels have simply fallen off. I'm of the mind that (like an earlier poster mentioned) there's something brewing in the background that's pulling this team down.
I don't think this is all, or even a majority due to coaching (although the coaching staff sure isn't blameless). A big part of this mess is chemistry and effort. I think it's time for foot to meet ass with some of these players. You can only coach so much, then it's on the players to step up and respond. And I get it that this is a young team, but they should be more motivated to not embarrass themselves game after game.
Sure do hope this team can salvage some pride in the balance of this season.
GO BUCKS!!
Way to go Drue!
I have no doubt that you've gained some new friends from down under for your charitable gesture. Awesome stuff!
Happy for our Buckeye ladies! Hope this good fortune continues.
Way to go, ladies! Sweet win!
GO BUCKS!!
Good luck young Buck! Time to step up and get it on!!
GO BUCKS!!
Very proud of PJJ. Quality young man. So glad he'll be one of ours!
Donovan would be a real nice get. Sure hope he joins the good guys!
GO BUCKS!
Wooooooot!!! HELL YEAH!!! Now let's get Kerry back home!! GO BUCKS!!!!
Agreed. I think the way that Ryan Day and his staff have taken the talent and maximized it, moving to the next level is the big difference. I truly believe our Bucks will show up and kick ass.
Hell. F*cking. Yes. This, all day, all night long.
Time to kick Clemson's ass and shut up the naysayers.
GO BUCKS!!!
Live here in NE Kentucky. All these folks bleed blue. Was wearing my Buckeye gear today while I was out and about (getting strange looks), had to follow most of the game on my phone. Can't wait to see folks out tomorrow and next week at work. They'll be in mourning. BAHAHAHAAAA!!!!
GO BUCKS!!
"Now, young man....Don't do drugs. Drugs are bad. Mmmkay?"
Those clowns up north just never get it. From top to bottom, head coach, team and fanbase. Clueless and delusional.
It's always a great day to be a Buckeye!
Why would he want to go anywhere else? He's happy here. He's cranking out pro prospects, and building a sterling legacy just like LJ has done. People here love him. The recruits all want to be his guys.
No need to go elsewhere. It's all good in Columbus.
GO BUCKS!!
Really anxious to find out who the new defensive coach will be. My spidey sense tells me that Coach Day already has one in the works, just waiting for the right moment to reveal....
GO BUCKS!! BEAT CLEMSON!!!
I got the vibe from this article that Kenny is very involved with relationship building with the recruits. He might not be out on the trail like Coach J, but I'm assuming that he has plenty of contact with all the young men being recruited. I have seen his name mentioned in lots of articles about defense recruits over the past year or so when the recruits talk about relationships they have with tOSU staff. I think that when he is more than just a grad assistant, he'll do fine on the trail. His passion and fire will draw these young men to him.
Absolutely awesome! Congrats Chase, you deserve this! Keep kicking ass!!
Not giving up on my Buckeyes until the final whistle blows. Just need to make adjustments and come out with fire.
Really happy for Justin! Really hope this dude can stay healthy and kick serious ass next year!
GO BUCKS!!
Damn, what horrible news.
Lots of prayers for your full and speedy recovery, TP. Buckeye Nation is rooting (and praying) for you!
#4 Having to listen to their knucklehead fan base crow about "we're back" and other stupid stuff like that. (NO THANKS!!)