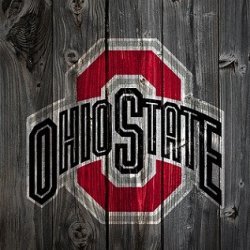 Kugel
---
Maria Stein, OH
MEMBER SINCE April 13, 2015
Favorites
SPORTS MOMENT: 2002 National Championship Game....I will never forget that night.
COLLEGE FOOTBALL PLAYER: Eddie George
COLLEGE BASKETBALL PLAYER: Jim Jackson
NFL TEAM: Cincinnati Bengals
NHL TEAM: Columbus Blue Jackets
MLB TEAM: Cincinnati Reds
SOCCER TEAM: USA
Recent Activity
Watching Shipley's tape....he is the guy I want in next year's class regardless of position.
This made me laugh out loud.
I am a Bengals fan, and I have this argument all too often. If they have the number one pick, it has to be one of the most can't miss talents in the last 10 years. Chase Young will be a game changer from day one for an NFL team.
Snickers hands down....no debate. Snicker, Snickers Ice Cream Bar, Snickers Blizzard, Snickers Cheesecake (in Bubba voice).
I know, I was surprised when they did the poll and so many picked Togiai as the most impressive. Don't get me wrong, Tommy has emerged as a stud, but you have to go with Hamilton and what he is doing. He is wreaking havoc. Then we have Cornell and Landers....this defensive line just doesn't make sense. No wonder we are the best in the nation.
I will forever love Joey Bosa.....dude is funny without trying and he is one of the best in the league. Buckeyes in the league are dominating the NFL.
The new schemes are more predicated on doing your job and making the tackles. Which Ohio State has done stellar-ly. Cool article.
I just have to question if you even read what the Heisman trophy was or the criteria is before posting these ridiculous comments. Thanks for the morning laugh though.
This game said what all of us Buckeye fans have been saying since early on in the season. "We are here, and we are the most complete team in the Nation!"
This team is great at every aspect, and I can't say this enough. I kind of complained about the OL early in the game and said that was the biggest weakness. Then in the second half they absolutely dominated the Badgers front. They knew we were running, and there wasn't a damn thing they could do about it. Gashing two of the best defenses the way they have has been incredible.
The lone Badger touchdown was a fluke, and sometimes that happens. But once Ohio State got that punch to the face, they hit second gear. This team is special.
They have been about as fraud as Manti Te'o's girlfriend.
I agree with sleeper, but I believe his break out year will be next year.
He is one of the guys I most look forward to seeing develop into a star. He has already flashed those elite ball-hawking abilities in limited time.
Last time we talked about Baker Mayfield I mentioned he was over hyped and overrated. I got slightly berated...so I wish I could give you more helmet stickers for this.
People who don't watch the games don't see all of the things you mentioned. Especially dropped passes on third down or would have been touchdowns. People rarely see the drops that would be 1st downs that stall drives.
I was talking to my buddies about the game and my thoughts. I said the offense played kind of ugly and still won 34-10 against a Top 25 team with a legit defense. I am more than good with that.
And I am still pissed about everyone of those 9 losses.
The Tom Ryan piece....I am not crying, you are crying. I didn't know much of him at all, but now I have to say he is one of my favorite people. What a way to take a tragedy and do positive things in life with it.
I agree with feeling bad....but that is a player safety issue. I was irate.
Keep these coming. I love reliving the plays with the analysis you add.
I almost have to say that I am most impressed with the offensive line as this season progresses. It along with Fields were huge question marks and they are looking like they have been playing together for years. This team almost doesn't make sense the way they are playing.
I have to admit, the fifth topic is the one I am most excited about. I will be honest that as soon as the Zach Smith stuff went down I immediately turned on the "Good bye Urban" bandwagon as I knew it would be his last year coaching the Buckeyes. I didn't realize what a coach we had waiting in the wings, and we may even be better for it (I know, Urban is one of the best coaches in college history and I loved what he did for the Buckeyes).
I quickly said to all of my friends that would listen that Ryan Day WILL be the next great coach. I wanted to be able to say I told you so in a few years. He has been amazing not only on the field, but in front of media and on the recruiting trail. Go Buckeyes!
And Car-DALE! He is one of the best for sure.
That is so tough to call there....but in all honesty these (3) DEs may be some of the best DEs to play college football ever. It is amazing that we have had them all play basically together. We have been spoiled.