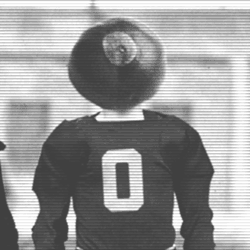 ktownbuckeye20
---
Member since 21 November 2012 | Blog
Favorites
COLLEGE FOOTBALL PLAYER: Braxton Miller
NFL TEAM: Carolina Panthers
MLB TEAM: Cincinnati Reds
Recent Activity
70 17 because f!ck @ichigan
204
247!
Hearing from my buddy that covers the team for osu that he has had a setback. Hopefully its b.s.
Shit I got a higher grade in the micro econ class we had, I guess I didn't have to play big time d-1 ball at the same time though lol
This article got me thinking about what is causing what. Are the receivers we have on roster really less talented than what we've had in the past or is it the man who's getting them the ball. Love Braxton, I think he's one of the best athletes in college football but i'm not sure he is getting off his first and second read fast enough and finding the open guy. He seems to spotlight the main route and if that doesn't pan out he turns to improvisation.
Bosa's huge but the dude doesn't have guts until he tries jacking Chris Carter's shit. That dude looks like he will pull someones jaw bone off their face. I nervously hide my lunch money when i see him on campus.
Hate it! Snapchat should clearly only used to obtain ten second images of girls who are having a lapse in judgement.
Raekwon sounds like a senior during that youtube interview. Sounds like he has a great head on his shoulders to match that grown ass man frame. Kid has all the goods to be a monster in the c-bus! Everything i hear around campus about his work ethic is positive too, kid is always in the gym. Go bucks
Is he ballin in some freakin chuck t's. what a g.
hacked on the lay up, fouled on the shot. Im glad Craft did his best Shazier impression at the end.